Some people toss their dirty clothes in a hamper while others throw them on the floor.  Some have drawers stuffed to the brim and closets jam packed with clothing that is falling off the hangers.  What you do with your everyday clothing may be of little consequence, but when it comes to your pricey corsets, you'll want to take a little more care than you would with your average $10 t-shirt.
Your corsets are an investment, especially if you're waist training and wearing them all day, every day, and you want to protect them to ensure the greatest longevity and use value.  While you may have no compunctions about mistreating a $20 fashion corset, you might feel differently when you shell out a couple Benjamins for a steel boned corset, or more for custom garments.
The good news is, you can get years of use out of good corsets when you care for them properly.  How can you extend the life of your corset?  There are several important steps to take, from the moment you receive your garment until the seams start to fray.
Seasoning
When you first slip into a brand-new corset, your fingers are itching to tighten away.  You want to take your shapewear for a test drive and see what it can do.  Resist the temptation!  There's a reason, I promise.
A new corset is like a first date.  If you rush right in and tell your date you're looking for a wedding ring, a penthouse apartment on the Upper East Side, and 2.5 children, you're very likely to ruin the relationship before it even starts.  You have to ease into things and make sure the fit is right before you launch into your 5-year plan.
The same basic principle can be applied to wearing a new corset.  If you want a lasting and mutually beneficial relationship with this trusty shapewear, you have to take the time to season it, or break it in, so it molds to your body shape.  How is this done?
The first time you put on your corset, you need to avoid overtightening.  When you put it on, only tug the laces until you have a snug fit.  You should have no trouble fitting a finger or two under the top and bottom band of the corset.
A good waist training schedule could last about 10-15 days.  You should start by wearing your corset 1-2 hours a day for the first 2-3 days.  Increase to 3 hours a day for the next 2-3 days.  Then increase to 4 hours a day, 5 hours a day, and 6 hours a day for 2-3 days each.
During this time, you should be able to pull the laces just a tiny bit tighter each day.  Incremental tightening and increasing wear time are the keys to properly seasoning your corset.  Once you've completed seasoning, your garment should be ready to wear throughout the day and you can begin (or continue) your waist training regimen.
Washing
The first rule of washing your corset is: you do not talk about washing your corset.  Just kidding, that's fight club!  The first rule of washing your corset is actually: don't use a washing machine.
I know what you're thinking.  Why can't I wash my corset with the rest of my clothes?  The simple answer is that the rest of your clothes don't feature heavy-duty hardware like steel boning, busks, eyelets, and so on.  When these things enter the washing machine environment, it's going to look and sound like a scene from Fight Club.
If you want to keep your corset clean, you need to have it dry cleaned.  End of story.  Spot cleaning with warm water or gentle cleansers approved for the textile is also fine.  If you want to extend wear between washings, either don a garment like a tank top under your corset or swap between multiple corsets during the week.
Storing
Another key component of durability is proper storage of your corset.  No, you don't have to lovingly place your corset in mothballs or hermetically seal it, but you do need make sure the busks are fastened, the laces are tightened to close gaps, and then the garment is laid flat in a cool, dry place, out of the sun.
You can also roll corsets or fold them flat for more compact storage, or you can hang them by pinning them to a hanger by the inner lining or opening the busks and draping them over a laundry line.  When you season, wash, and store your corsets properly, you're going to enjoy a long and fruitful relationship with your favorite shapewear.
---
Stay up-to-date with weekly blog posts, waist training tips, and the chance to win one of our monthly corset giveaways, like us on Facebook & subscribe to our mailing list today! Want to find the perfect steel boned corset? Shop some of our favorites: underbust corsets, overbust corsets, corset dresses.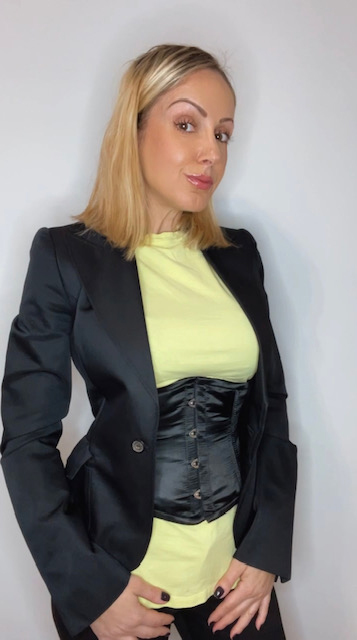 My name is Rachel, I am the owner of Glamorous Corset, a small business founded by me in 2010. Back In 2005, I was in a car accident that left me with a herniated disk. Much to my surprise I learned steel boned corsets were beneficial to several medical injuries including mine. I was always intrigued with corsetry, their history and their beautiful aesthetic. I love sharing knowledge about corsets, educating my wonderful readers and breaking the negative stigma related to corsetry. In combination with my years of research and personal experience I hope my articles are useful and can help anyone who has struggled with some of the same things I have. More about me…