Meet Rachel Barb
Founder & Owner, Glamorous Corset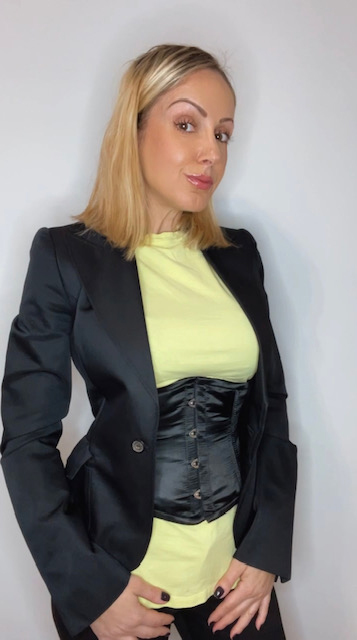 My name is Rachel, I am the owner of Glamorous Corset, a small business founded by me in 2010. I was always intrigued with corsetry, their history and their beautiful aesthetic. Back In 2005, I was in a car accident that left me with a herniated disk. After doing months of physical therapy and wearing a medical back brace (that I hated and which many of the times did not work for me) to control my pain I started researching steel boned corsets. Much to my surprise I learned steel boned corsets were beneficial to several medical injuries including mine.
I decided to bring this to my doctor's attention, even though I was hesitant and felt a bit uncomfortable due to the reaction I might receive. Pleasantly surprised and very excited after consulting with my doctor, I got the green light to use my corset in conjunction with physical therapy. Wearing a corset gave me that stability and much need compression and spinal support. I was over the moon happy because I was able to control my pain with the help of a corset and wear it over and under my clothing when I was out of the house. Till this day I wear corsets. I've used my corsets post-partum after having both of my kids, waist training, lumbar support, to style my outfits and keep my posture in check especially when I am sitting down at the computer. I also find corsets beautiful and love that extra boost of confidence I get when I put it on.
I love sharing knowledge about corsets, educating my wonderful readers and breaking the negative stigma related to corsetry. In combination with my years of research and personal experience I hope my articles are useful and can help anyone who has struggled with some of the same things I have.
My customers are the main priority. If you have any questions or need help with sizing please don't hesitate to reach out. We are available 7 days a week via email – [email protected]. Thank you for supporting my small business.