This review was originally published on comicsgirlsneedbras.com.
Ever since I was a little girl, I have always been in love with historical clothing. I mostly read children book from the 19th century and listened to historical documentaries at the radio to help me sleep at night. And although people seemed to hate the idea of a constricting garment and often picture it as a way to enslave women, I have always been attracted to corsets. I love how they can shape a body in so many different ways, not because they can give a small waist but because the way a construction can impact the body looks like art to me. The savoir-faire behind it is also impressive.
I honestly don't have much patience for consistent waist training as I am always moving around and I am this person that takes the most impossible positions while sitting on a couch. (If you see me sat in a normal way, that's probably because we are not so close yet, but I am basically a cat.) Nevertheless, I discovered that wearing corsets is something I enjoy. I paradoxically find it comforting.
[Disclosure: I received this product from 
Glamorous Corset
 for the purpose of a review, all thoughts and opinions are mine.]
Anyway, I was really happy when Glamorous Corset contacted me and asked if I'd be interested in reviewing one of their pieces. MY FIRST CORSET? How could I say no?
For those who don't know them yet, Glamorous corset is a New-York based company specialized in steel boned corsets. Their size range goes from 18″ to 40″ and they have a wide variety of style and fabrics (satin, cotton, lambskin leather, mesh, denim, PVC). They offered to send me their Lara mesh corset, which I already loved after taking a look at their website, and after looking at my measurements we agreed on a size 22″. The corset arrived quickly, in a lovely branded black velvet storage pouch, with 6 garters straps as a gift and a little guide to explain the basics of corsets wearing.
The Lara mesh corset features 22 steel bones and is lined with 100% cotton. I love that it already has its own modesty panel, as I know it is not always the case. It also has 6 garter loops. That is an important detail for me since I am always looking for a better way to hold my stockings up. I am a sucker for sheer lingerie so this corset was definitely the best choice for me. If you have a short torso, though, the Lexi and Bella corset could probably suit you better.
So, as I said before, I initially received the Lara corset in size 22″. I have a 26 inches waist but since my ribs and hips are very narrow, I could not only close it completely the first time I put it on, but there were still some gaps around my ribs and hips. I asked for advices to some corsets addicts and everybody agreed that I would probably fit better in a size 18″. So I exchanged it and was happy to see that they were right. But the Lara corset didn't fit perfectly right away. I had to "season it" first. Meaning that I had to wear it for 1 to 2 hours every so often until the corset got used to my body shape. I was not doing it every single day, but I made sure to do it several times a week for a little bit more than a month. Note that during the seasoning period you should not try to close the corset right away. Just wear it comfortably and make it tighter through the days. It will get easier to close with time. I can now wear it with a 1 to 3 inches gap (depending on the part of my torso).
I know some people think it is good to have a parallel lacing gap at the back of your corset but I find it more comfortable to have the lacing tighter at the ribs than it is at my hips. At the end, it is not a huge difference either. I find the Lara corset to adapt quite quickly to my body. I personally enjoyed the process of breaking in this corset. I think I like the sensation of wearing something so structured and the posture it gives me. Also, it was interesting to wear outside the house because I realized that it has an impact on the way I walk too. I am not sure if it is noticeable but it felt different probably because it is sitting around my hips.I also realized that it was not at all preventing me from breathing, although I do breath more slowly, it is not uncomfortable.
You know, being in the lingerie community for quite some time now, I tend to be used to see 500$ dollars corsets everywhere on my multiple feeds, and always wondered if it was necessary to pay that price to have a good quality product. When I received this corset, although it didn't look luxurious, the quality seemed to be quite good. The material looked strong and it gave me a great shape even before being able to lace it tight. The bones completely fill their channels and the seams seemed rather clean. Despite this little detail that the top and bottom apexes of the bulk don't touch each other when closed (hopefully you get what I mean), at this price point (84 USD), it looked like a good product.
After a month and a half however, I saw that the waist band at the extremities showed signs that it has been under pressure. It doesn't look like it is going to break but I wonder if these signs come from the fact that I didn't season it slowly enough or if it is a quality issue. I am no expert so I am honestly not sure if I applied too much tension the first times I wore it. I hope it doesn't get worst. I'll keep you updated if anything happens.
On the practical side, I thought it would be harder to put this corset on but I can now do it without help, if I need to. The bi-directional back-lacing is very nice as I think it would have been annoying to only have one lace from the top to the bottom, since they don't need the same tension. This makes it much easier to adjust. With that corset, I learnt that the belly area needs to be well-supported when it comes to waist training, so not every-corset would do the job properly, but this one does. It is not digging into my thighs when I sit, which is great too. This cut is really elegant, I love the way it hugs my hips and accentuates them. It is a really weird transformation to see myself in a corset, but I mean it in a positive way.
Although I took this picture with the corset against my skin, it is recommended to wear it on top of something else (maybe a camisole or your usual shape wear) to prevent the oil from your skin to get into the fabric. Since you don't want to wash your corset entirely it is better to avoid getting it dirty. If you really need to wash it, spot clean or dry clean it.
On a side note, I would advise you to buy your own garter straps because the gifted ones have very wide hooks, that don't stay inside the loops very long if you move. I might go ahead and change the hooks myself.**
Overall this first experience with a corset was really positive. I found this mesh to be very breathable and I love that the transparency makes the corset versatile and classy. The Lara corset is very comfortable and I can now wear it for quite a long time. It's an amazing accessory for plain lingerie and certainly helps me standing straight when I have to study for long periods of times. I love it.
Source: https://comicsgirlsneedbras.com/2018/06/17/glamorous-corset-review-lara-corset-18/
---
To stay up-to-date with weekly blog posts, waist training tips, and the chance to win one of our monthly corset giveaways, follow us on Facebook, Instagram & subscribe to our mailing list today! Want to find the perfect steel boned corset? Shop some of our favorites: underbust corsets, overbust corsets, corset dresses. You can also shop our corsets by material: cotton corsets, denim corsets, leather corsets, mesh corsets, pvc corsets, and satin corsets. Have questions about getting started with waist training or finding the right size corset? Contact us!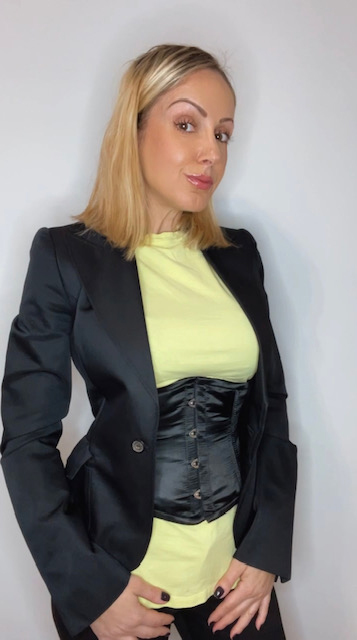 My name is Rachel, I am the owner of Glamorous Corset, a small business founded by me in 2010. Back In 2005, I was in a car accident that left me with a herniated disk. Much to my surprise I learned steel boned corsets were beneficial to several medical injuries including mine. I was always intrigued with corsetry, their history and their beautiful aesthetic. I love sharing knowledge about corsets, educating my wonderful readers and breaking the negative stigma related to corsetry. In combination with my years of research and personal experience I hope my articles are useful and can help anyone who has struggled with some of the same things I have. More about me…