This review was originally published on comicsgirlsneedbras.com.
You know, it's funny but, I am one of those people who always need to go all the way into things or I do nothing. A year ago, I had never tried a real corset. I wasn't really into it actually. I thought corsets looked amazing but would probably look better on other people. These type of things… But for some reasons, 2018 brought a whole different mindset and I ended up getting pretty obsessed by corsets. I even want to know how to make one.
[Glamorous corset generously provided this corset for review purposes. All thoughts and opinions are my own.]
Last Summer, I reviewed my very first corset, the Lara mesh corset in size 18″. I was quite happy with it, it was breathable and got seasoned relatively fast. However, when Glamorous corset offered to send a cotton version of Lara, I was worried that the 18″ would take a very longtime to fit me properly. But since the first Lara fitted so well, we decided to try it like that. Note that my waist is in between 25 and 26″ inches.
The fit
The Lara cotton corset is made of pure cotton and features 22 steel bones. It also comes with a modesty panel. The material is very thick and almost feels like denim.
When I put it on the first time, it felt so rigid, I wasn't sure if it would ever fit me. But I thought that maybe it would simply take longer than the other corsets I own, so I started seasoning it anyway.
To be honest, I really think I should have gone for a size 20″ because even now, I feel like this corset is too restrictive to wear it for more than a couple of hours. It does give me a nice defined waist, but I really can't close it as much as I could close the mesh version. 
Update: At the time that I am updating this review (a few weeks after taking the pictures), the corset feels more comfortable and the gap is a little smaller. I just feel like it's annoying to season a corset for more than two months. With my size 20″ corsets, I just needed to do this for a few days. I guess it depends the reason why you are wearing a corset. Then again, maybe the 20″ Lara would be too wide for my ribs and hips.
Now I am wondering if all cotton corsets feel so sturdy or if it depends on the designer's preference. That being said, despite this sizing issue, I think this corset is a good value for money. It does the job of creating shape quite well and I found it to be well finished for this price point (84 USD). It features 6 suspenders loops and, unlike the Lara mesh corset, I didn't have any problem using the provided straps to hold my stockings.
I think a black cotton corset is a great and versatile addition to my closet, and once it feels sufficiently comfortable I am sure I will get great use of it.
My only complaint about this piece, is that it gets white marks very easily if you touch it too much. These are not stains or anything irreversible but it does make the black look less black and neat. I would also recommend to size up if you can in this corset. The satin or mesh corsets seem to be much more flexible and easy to season.
If I have the courage I will customize this corset to make it shiny. I am so inspired by the burlesque world these days. I am sure it will look amazing!
Source: https://comicsgirlsneedbras.com/2018/12/07/glamorous-corset-cotton-review/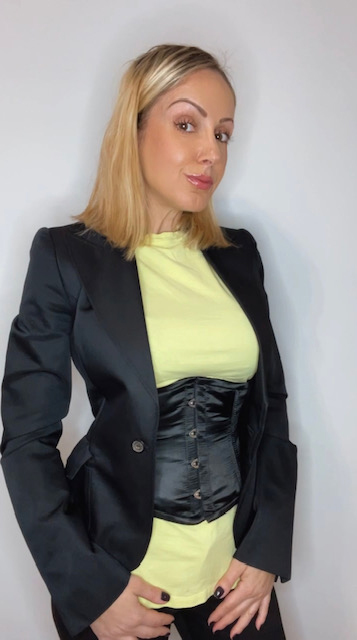 My name is Rachel, I am the owner of Glamorous Corset, a small business founded by me in 2010. Back In 2005, I was in a car accident that left me with a herniated disk. Much to my surprise I learned steel boned corsets were beneficial to several medical injuries including mine. I was always intrigued with corsetry, their history and their beautiful aesthetic. I love sharing knowledge about corsets, educating my wonderful readers and breaking the negative stigma related to corsetry. In combination with my years of research and personal experience I hope my articles are useful and can help anyone who has struggled with some of the same things I have. More about me…