Bespoke is not a word often used in women's fashion.  For some reason, we've been trained to believe that if something doesn't fit us off-the-rack, we're somehow defective.  This wasn't always the case, though.  Once upon a time, clothes were made for the person.  Of course, many women also had to make their own clothing.
Today, we walk into a store, sift through sizes, try on the one we think is right, realize it's too small, and die a little inside.  Ugh.  Why do we let a number on a tag dictate our self-worth?  Men, on the other hand, can turn to the tailoring world for bespoke suits that are custom made to fit them perfectly.  How many women do you know who go to a tailor to have something made?  My guess is zero.  Most don't even realize you can often get simple alterations like hemming done at your local dry cleaners.
And yet, there are certain garments that need to fit you like a glove.  While you're going to pay a little extra for custom, it's well worth it, especially when it comes to corsets.  A steel boned corset needs to hug you in all the right places if you want it to be comfortable and durable.  In other words, you're going to get your money's worth out of a bespoke corset thanks to use value.  What is a bespoke corset and how do you go about getting one?
Ready-to-Wear vs. Bespoke
Mass production has become the norm, so that most of us now believe we have to walk into a store, find a size, and make it work, even if it doesn't fit quite right.  This is the world of ready-to-wear, or off-the-rack fashion.  We've come to believe that we simply can't afford bespoke, or custom-made garments.
In truth, you needn't splurge for your average tees, jeans, and casual wear.  These garments often feature some stretch to accommodate variations in size and you can always pay a few bucks at your dry cleaner to hem a really long pant leg or nip in a waistline half an inch.
Corsetry is different.  Although most off-the-rack corsets come in a wide variety of sizes, they're still not right for everyone.  If you're finding that ready-to-wear corsets won't cut it, bespoke is the way to go.  You'll get a garment that skims your curves and delivers the body-shaping benefits you prefer without any pinching, poking, or undue discomfort.
The Importance of Measuring
If you're going to pay for custom-fit, you want to make sure it's perfect, and this means taking precise measurements.  These generally include waist size, underbust, hips, and torso (from the underbust to the top of the thigh when seated).  If you're looking for an overbust model, you'll also need to provide your bust measurement and cup size.
That said, many corsetieres will ask for additional measurements to finely tune your garment to your body.  They will ask about your preferences for length and spring (the ratio between waist and hip).  You may have to go for fittings once mock-ups are created.  This gives your corsetmaker the opportunity to tweak and correct.
When you pay for a bespoke corset, you're likely to shell out $250 to $500 in most cases.  However, you're going to get the perfect fit you paid for, and the comfort and longevity you enjoy will prove to be worth every penny, especially when you wear a waist training corset all day, every day. [Also see: Corset Sizing Chart: Choosing the Right Size Waist Training Corset]
---
Stay up-to-date with weekly blog posts, waist training tips, and the chance to win one of our monthly corset giveaways, like us on Facebook & subscribe to our mailing list today! Want to find the perfect steel boned corset? Shop some of our favorites: underbust corsets, overbust corsets, corset dresses.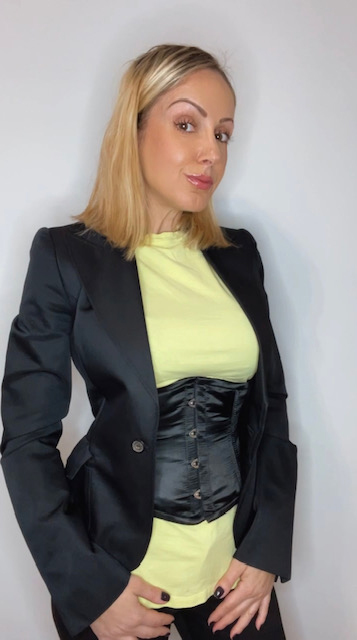 My name is Rachel, I am the owner of Glamorous Corset, a small business founded by me in 2010. Back In 2005, I was in a car accident that left me with a herniated disk. Much to my surprise I learned steel boned corsets were beneficial to several medical injuries including mine. I was always intrigued with corsetry, their history and their beautiful aesthetic. I love sharing knowledge about corsets, educating my wonderful readers and breaking the negative stigma related to corsetry. In combination with my years of research and personal experience I hope my articles are useful and can help anyone who has struggled with some of the same things I have. More about me…