When asked if you'd rather have something made for the masses or made specifically for you, the knee-jerk response is probably to reach for the custom-made item.
Who wants a blank keychain when they can have one with their name on it?
Of course, there are often other consideration, cost chief among them.
You might not mind paying an extra buck for the custom keychain, but when you're looking at a $500 price tag for a custom corset, versus paying a fraction of the price for perfectly suitable off-the-rack garments, it should give you pause.
This is especially true when you consider the other benefits you'll gain with off-the-rack corsets.  Here are a few things to think about when choosing the right corset for you.
What You Get with Off-the-Rack
Off-the-rack waist training corsets are designed for function, although many also aim to deliver aesthetic appeal.
First and foremost, these garments feature steel boning, the gold standard in waist training and a must for proper fit, function, and longevity.
They are crafted using robust materials like leather, cotton canvas, high-quality satin, brocade, and even modern mesh, and they are often fully lined with a textile like cotton coutil meant to provide comfort during wear and protect the structure and integrity of the garment.
Boning is inserted into reinforced channels meant to hold up under the stresses of tightlacing.
Even better, these garments come in a wide range of styles and sizes, allowing the average customer to find the form and fit they prefer thanks to waist sizing in inches and cup sizes for overbust models.
Even customers with a larger ribcage and smaller waist/hip area have the option to flip an off-the-rack corset upside down for better fit.
The point is that most customers can find an off-the-rack corset that meets their functional needs, and often one that provides desired aesthetic appeal, as well, at prices ranging from about $70-200, depending on the model, the materials, and so on.
Why Custom?
When you purchase a custom corset, what are you getting for your money?
You'll get pretty much the same thing as when you buy an off-the-rack model, but with more options.
You can choose the textiles you want and of course, you'll provide measurements so that the corset fits your body precisely.
The major benefit of custom corsets is that you can order features that are hard to find in off-the-rack options.
If your figure is outside the standard size ranges, a custom corset can give you the fit you're seeking.
Or if you want features like ultra-longline construction or added laces on the sides that aren't very common, custom corsetry can provide.
The Downside of Custom
There are a couple of potential drawbacks of custom corsets, aside from exorbitant pricing.
You'll have to wait, for one thing.  Custom corsets are made to order, which means you could wait weeks for delivery.
There's also no returning a custom corset if it doesn't fit, so you'd better be very certain your measurements are correct.
All in all, your best bet is probably to peruse off-the-rack corsets and be very sure you can't find what you want before you jump to the steep prices of custom corsetry.
---
Stay up-to-date with weekly blog posts, waist training tips, and the chance to win one of our monthly corset giveaways, like us on Facebook & subscribe to our mailing list today! Want to find the perfect corset? Shop some of our favorites: underbust corsets, overbust corsets, corset dresses.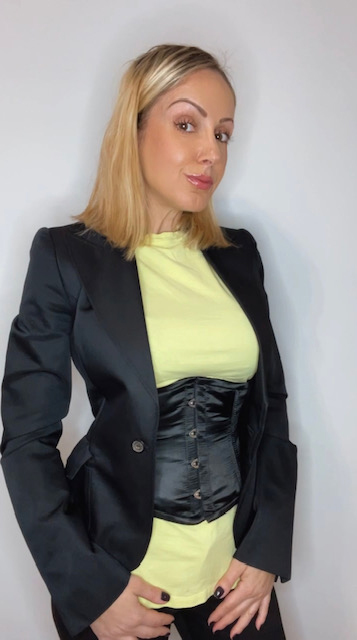 My name is Rachel, I am the owner of Glamorous Corset, a small business founded by me in 2010. Back In 2005, I was in a car accident that left me with a herniated disk. Much to my surprise I learned steel boned corsets were beneficial to several medical injuries including mine. I was always intrigued with corsetry, their history and their beautiful aesthetic. I love sharing knowledge about corsets, educating my wonderful readers and breaking the negative stigma related to corsetry. In combination with my years of research and personal experience I hope my articles are useful and can help anyone who has struggled with some of the same things I have. More about me…