Shopping for something that's custom-made certainly sounds exciting, doesn't it? A few years ago, a couple I know bought a custom-made couch. They were able to pick out the shape, size, pillows, and even fabric, but the end result was … meh. It had been very costly and did nothing to personalize their home if visitors didn't know the story. They both agreed that it had been a tremendous waste of money.
Here at Glamorous Corset, we've found custom-made corsets to be very much the same way. Sure, we've given them a try here and there over the years, but never been quite satisfied with what we've found. The majority of the time, we don't think that a custom-made corset is a necessary purchase. Why? Let us explain …
Custom-Made Corsets Are Very Pricey
To start off, custom-made corsets are very pricey, typically in the $250 to $500 range. That's quite a leap from our collection, which ranges from $69 to $144. While the more expensive an item is sometimes relates to quality, that's certainly not the case for clothing or corsets. The jump in price for custom-made corsets is due to the fact that someone will be making a corset specifically for your body, which brings me to my next point.
One Wrong Measurement Can Ruin Everything
A custom-made corset should have a fit that is completely customized for your body, but if one measurement is inaccurate, the corset will not fit properly. Imagine shelling out the money for a custom-made corset, only to find that it doesn't fit properly. To make matters even worse? Most custom-made corsets are nonrefundable, so the hope of returning it and getting one that fits better is pretty much out the door.
Orders For Custom-Made Corsets Take Weeks To Fill
If you want your corset and you want it now, custom-made is not the way to go. Orders for custom-made corsets can take anywhere from three to six week to complete, while corsets from our ready-made collection are typically delivered within two to three days.
Corsets Already Come In A Large Variety Of Styles And Sizes
There are so many different styles, materials, lengths, and sizes of corsets in our collection that we published a full guide to finding the corset that's right for your body type last week. However, this is not unique to just us – most reputable corset sellers will offer quite a bit of variety. There will be  corsets for long-torsos, short torsos, large busts, small busts, wide hips, narrow hips, and everything in between!
Exceptions – When To Buy Custom-Made
Can't find your ideal corset off the rack? Looking for a particular cut or style? Is there a special fabric you'd like to use? If so, you may want to buy custom-made. What Katie Did lets customers design their own corset, picking everything from color to style to trim. It's not suggested for those who are new to corseting, but it can help bring special visions to life.
Another exception in which we suggest buying custom-made is particularly hard to fit body types. For instance, if you have a small underbust, let's say 34", and a larger waist, at 46", it's going to be difficult to find a ready-made corset that fits well; however, these cases are rarer than you'd expect. Most of the time, our in-house specialists can help you find your perfect fit.
Call or email us today, and don't forget to follow us on Facebook, where we give away a corset from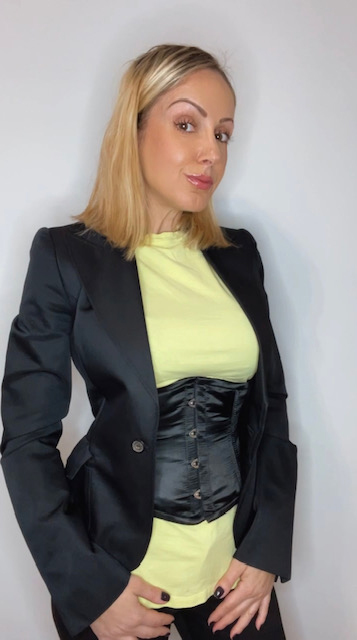 My name is Rachel, I am the owner of Glamorous Corset, a small business founded by me in 2010. Back In 2005, I was in a car accident that left me with a herniated disk. Much to my surprise I learned steel boned corsets were beneficial to several medical injuries including mine. I was always intrigued with corsetry, their history and their beautiful aesthetic. I love sharing knowledge about corsets, educating my wonderful readers and breaking the negative stigma related to corsetry. In combination with my years of research and personal experience I hope my articles are useful and can help anyone who has struggled with some of the same things I have. More about me…