Whether you have narrow hips and a flat chest or you're voluptuous and curvy, finding clothes that are right for your body can be tough at any size. After all, it's not like clothing manufacturers from around the world agreed upon universal measurements. You could easily wear a size small t-shirt in one brand and a size extra-large in another, and if you happen to have a large bust, long torso, or anything else that's not quite "average?" Well, you already know just how hard shopping can be.
As a rather short and large-busted gal myself, I was delighted to learn that things are different in the world of corsets. Unlike a t-shirt or pair of jeans that you might wear a few times and forget about, a corset is an investment, as well as something that you'll develop a close, personal relationship with. A corset isn't just any old item of clothing – it's delicate, requires special care, and will work with your body to create and maintain the hourglass figure you've always dreamed of.
Such an important item needs to fit just right, but don't worry. Here at Glamorous Corset, we take a lot of the guess work out of shopping. For starters, all of our corsets are made with steel bones, making each and every one suitable for waist-training purposes. From there, however, you'll have quite a selection of lengths, styles, materials, and more. Check out the five tips below to easily navigate our collection and find the corset that is perfect for you.
1. Overbust Vs Underbust
The very first thing you will want to consider are overbusts versus underbusts. While underbusts stop just below the bust line, overbusts extend to partially cover the breasts, adding support and eliminating the need to wear a bra. Therefore, they are often favored by large-busted women, but there are things that small-busted women like about them, too. Overbusts can be cinched tighter than underbusts, provide more cleavage, and can be padded for a fuller bust line.
On the flip side, underbusts are easier to hide under clothes, and can help your breasts look up to a whole size larger.
2. Torso Length
Torso length is often directly related to height, but not always. We've seen plenty of tall customers with short torsos and vice versa. As a result, you'll want to carefully follow the guide provided in step five to get an accurate measurement of your torso. From there, you'll find that you probably fit into one of three categories.
Short: For an everyday corset, check out the Emma or Lara; alternatively, for fashion purposes, the adorably micro Bella.
Standard: The Dita is a customer favorite, and can be worn by just about everyone. For first-time waist-trainers, we often suggest it or the Jenna. Each comes in a variety of styles that are great for everyday wear or a special night out on the town.
Long: As for longer torsos, the Elvira and Kelly are good for everyday wear, while the Shane or Brandy will add a little spice to your life.
3. Waist Line
As you peruse our collection, you'll notice that our corsets have a variety of waistlines. Some provide partial hip coverage, a style known as longlines, while others rest atop the hip bones. To decide which is right for you, you'll want to think carefully about your wardrobe. Do you wear a lot of pants? Belts? Leggings? If so, a longline corset may look bulky around the waistline. On the flip side, they accentuate an hourglass figure nicely when worn under dresses and skirts. For a full guide on wearing corsets under clothes, click here.
4. Material
For everyday wear, we suggest cotton or satin, simply because they are breathable, easy to clean, and look good under most outfits. If you're buying a corset for waist-training, this is definitely way to go. However, we also offer corsets made of leather, PVC, and even denim! These make great fashion statements, especially as outerwear. While they have steel bones, they won't be very comfortable as your primary waist-training corset.
5. Size
Ok, so you've picked either an overbust or underbust and decided on torso length, waistline and material. Last but not least, you'll need to take five measurements, of your bust, underbust, waist, hips, and torso. To learn more and see a full guide on sizing, click here.
As always, contact us with any questions about sizing or finding the corset style that is right for you. And don't forget to follow us on Facebook!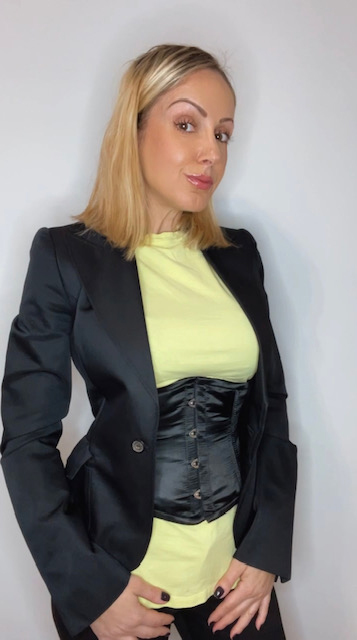 My name is Rachel, I am the owner of Glamorous Corset, a small business founded by me in 2010. Back In 2005, I was in a car accident that left me with a herniated disk. Much to my surprise I learned steel boned corsets were beneficial to several medical injuries including mine. I was always intrigued with corsetry, their history and their beautiful aesthetic. I love sharing knowledge about corsets, educating my wonderful readers and breaking the negative stigma related to corsetry. In combination with my years of research and personal experience I hope my articles are useful and can help anyone who has struggled with some of the same things I have. More about me…