You've finally decide to buy a corset. That's great! But do you know what size corset to buy? How do you even figure out your size? We get this question regularly from our new customers shopping with Glamorous Corset. Steel boned corsets have many uses, waist training being the main purpose. Figuring out your corset size is actually quite simple!
To determine which size corset will work best you will need the following five measurements:
Your full bust*
Underbust
Waist
Hips
Torso
*If you are looking for an underbust corset you do not need to measure your full bust. Full bust measurement is crucial for overbust corsets only.
When you take your measurements, make sure the tape measure is snug but not too tight. If you measure too tightly your skin will start to bulge and you will not have accurate measurements.
Helpful Measurement Tips
A – Underbust: Measure right under your breasts.
B – Natural Waist: Measure at the smallest part of your waist usually right above your belly button.
C – High Hip: Measure around the iliac crest, this where you low rise jeans sit. Please do not measure around your butt, that's too low.
D – Torso: Start with the measuring tape at the underbust, sit in a chair, and measure to the hip crease (where your leg bends at the hip when seated). Do this at each hip and use the shorter measurement, if one side is shorter.
All the above measurements will help determine not only which size corset will work but will help us establish which style will best suit you. Having the right size corset will give you the right fit, and with the right fit you will be able to fully benefit from your waist training corset.
Choosing Your Corset Based on Waist Size
We recommend ordering corsets 4-7 inches smaller than your natural waist, depending on what your purpose is for buying a steel boned corset. For instance, if your natural waist is 32" and you plan on waist training we recommend a 26" corset. But if you plan on using your corset for fashion purposes, back support, improving your posture or as part of a costume, the corset should be 3-5" smaller than your natural waist. So for the same 32" natural waist you could order a 26" corset.
Every person is different, and if you ever need assistance with choosing the perfect corset size, please contact us anytime, our experts are more than happy to recommend the best size corset for you!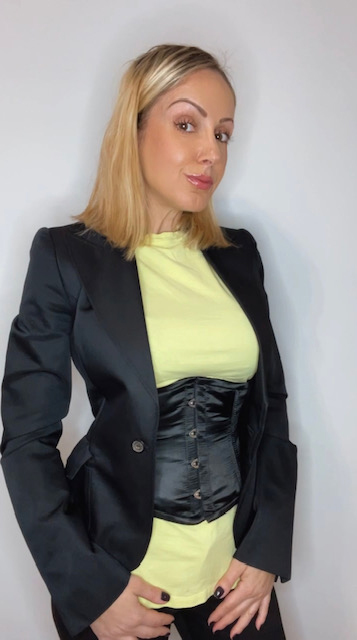 My name is Rachel, I am the owner of Glamorous Corset, a small business founded by me in 2010. Back In 2005, I was in a car accident that left me with a herniated disk. Much to my surprise I learned steel boned corsets were beneficial to several medical injuries including mine. I was always intrigued with corsetry, their history and their beautiful aesthetic. I love sharing knowledge about corsets, educating my wonderful readers and breaking the negative stigma related to corsetry. In combination with my years of research and personal experience I hope my articles are useful and can help anyone who has struggled with some of the same things I have. More about me…