There are a few things to consider when examining the difference between overbust and underbust corsets – and deciding which is right for you. While the names make the difference seem pretty straightforward, there are some qualities to consider when determining whether your body type or goals are better suited for an overbust or underbust corset. Below you'll find some helpful bullet points to help you choose the right corset for you!
Overbust corsets provide coverage from hips to over the breasts- which means you don't need to wear a bra.
Several different neckline styles available
More restrictive than underbust corsets
Excellent for both back support & improving posture
Lifts breasts higher and creates more cleavage
Work well for both large and small breasted women
For women with larger breasts, you can tighten the waist more – creating the desired hourglass look
For women with smaller breasts, you can increase the look of your bust line by inserting breast pads, inserts or padded cups. Tightening the back pushes the breasts upwards creating the dramatic hourglass look
Overbust corsets can be worn under clothing, as a top paired with pants, skirt, jeans, etc. or as part of a costume.
The title speaks for itself, underbust corsets sit under the bust – a separate garment such as a bra is needed to support the breasts (if you need the support)
Can be worn to make a unique costume, under clothing for shape and support, over clothing to make any outfit stand out, or for the bedroom
Provides lumbar support – improving back pain and posture
Underbust corsets work better underneath clothing and look more natural (compared to overbust corsets)
For large breasts/very busty women we recommend an overbust corset for a more sleek and polished look
For women with smaller breasts an underbust corset will help you look larger – increasing your bust appearance by a full cup size
Regardless of whether you choose an underbust or overbust corset, a steel boned corset is the recommended way to go when waist training (all of Glamorous Corset's are authentic steel boned corsets). To view some of our available options, view our inventory of underbust & overbust corsets now.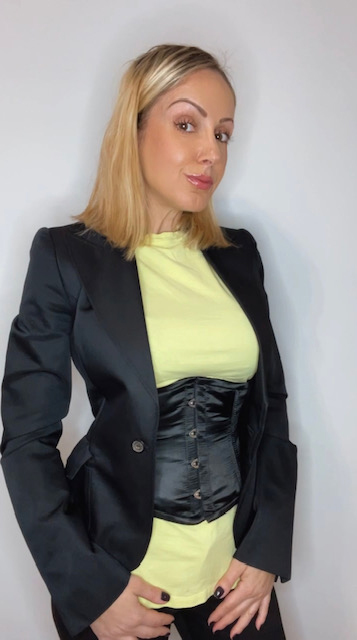 My name is Rachel, I am the owner of Glamorous Corset, a small business founded by me in 2010. Back In 2005, I was in a car accident that left me with a herniated disk. Much to my surprise I learned steel boned corsets were beneficial to several medical injuries including mine. I was always intrigued with corsetry, their history and their beautiful aesthetic. I love sharing knowledge about corsets, educating my wonderful readers and breaking the negative stigma related to corsetry. In combination with my years of research and personal experience I hope my articles are useful and can help anyone who has struggled with some of the same things I have. More about me…