Here at Glamorous Corset, we get a lot of inquiries from our customers about waist-training. Does it really work? Is it uncomfortable? Which corset is best for beginners?
This week, we wanted to take the time to answer all of these questions and more. With this handy guide of FAQs and what to expect, you'll be ready to get started on the exciting journey that is waist-training!
What Is Waist Training?
Waist training is the process of reducing your natural waist size with a steel boned corset. Just as braces straighten your teeth over time, waist-training shapes your abdomen into the much sought after hourglass figure.
Does Waist Training Really Work?
Yes – if you are dedicated. Any person with any body shape can train their waist with a corset, but results are semi-permanent. You can't simply wear a corset until you reach your desired waist size, then kick it to the curb. To maintain success, you'll need to continue to make wearing your corset part of your daily routine.
How Many Hours A Day Do I Have To Wear My Corset To See Results?
A simple guide that is easy to follow is the "rule of two:" wear your corset for two hours a day for two weeks, and you should see a waist reduction of roughly two inches. However, not everyone can start out at two hours of wear per day, and there is absolutely not shame in that! It's kind of like going to the gym – anything is better than nothing. Make time to wear it for 15, 30, or 45 minutes a day, then slowly work your way up from there.
If your corset is brand-new, it will need to be broken in before it can be worn for hours at a time. By seasoning the fabric, laces, and steel bones of your corset, it will not only last longer, but feel more comfortable and provide better results. While breaking in a new corset, do not wear it for more than two hours a day. Also, be sure not to tighten the laces as much as you can on day one, but to leave them a bit loose and gradually increase your cinch with time.
Do I Need A Steel Boned Corset?
Yes, yes, yes, a hundred time yes! While there are other types of corsets on the market, most notably plastic boned and latex corsets, they are not for waist-training. Plastic boned corsets are generally used for outerwear, fashion statements, or Halloween costumes. Latex corsets also look cute as outerwear, but most people wear them while exercising – something we strongly advise against.
Unlike plastic bones or latex, steel bones will support your body without bending or snapping. As you cinch them tighter and tighter over time, they mold to your body, allowing your core and back optimal support as they are trained into a position that is stronger and slimmer.
Does Waist Training Hurt?
This one is simple – if it hurts, take it off. While you might experience some soreness akin to a gym workout as your muscles get used to new positions, there is no reason that you should ever be pain while wearing a corset. However, if you do experience pain, reduce the time that you are wearing your corset and give your body time to adjust.
Is Waist Training Dangerous For My Health?
The short answer is no, if you are following best practices and not over-doing your wear time or trying to achieve impossible results. That said, if you have scoliosis, back injuries, sciatica pain, etc., it's a good idea to talk to your doctor before lacing up. In many cases, corsets have been known to reduce back pain and even help with posture, but if you've experienced past or current issues, the decision is best left in the hands of a healthcare professional.
What Corset Is Best For Beginners?
For beginners, we suggest our Dita Black Cotton Corset. It's 100% cotton, making it comfortable and easy to clean, and, like all our corsets, is made with steel bones. It's durable enough for everyday wear, and looks great under or over clothes. At only $79, it's a steal!
How Do I Measure Myself For A Corset?
If you don't already have a fabric tape measure, be sure to pick one up at your local drugstore or Amazon. Next, remove you shirt and use your thumb and index fingers to find the base of your rib cage and top of your hips. The fleshy middle, which is generally the thinnest part of your waist, is what you want to measure. Now, exhale and get your measurement! Don't pull the tape tight – it should sit against your skin without pinching it.
You'll also want to measure your torso, bust, underbust, and hips. A complete guide to measurement can be found here. Still not sure if you got it right? Just call us or send us an email! Our in-house experts will be happy to help you find your perfect size.
And, don't forget to follow us on Facebook for more corset news, tips, and our monthly giveaway.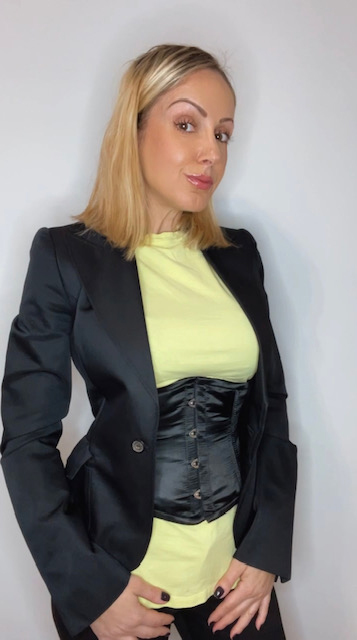 My name is Rachel, I am the owner of Glamorous Corset, a small business founded by me in 2010. Back In 2005, I was in a car accident that left me with a herniated disk. Much to my surprise I learned steel boned corsets were beneficial to several medical injuries including mine. I was always intrigued with corsetry, their history and their beautiful aesthetic. I love sharing knowledge about corsets, educating my wonderful readers and breaking the negative stigma related to corsetry. In combination with my years of research and personal experience I hope my articles are useful and can help anyone who has struggled with some of the same things I have. More about me…