It was fifty years ago that feminists gathered outside the Miss America Pageant in Atlantic City to toss bras, girdles, and what they deemed to be other symbols of oppression into a "freedom trash can".  They were protesting the idea and the institution of Miss America as a woman valued not for her intellect, but her appearance and her ability to portray largely unattainable and often contradictory feminine ideals.
Today, the concept and practice of feminism has expanded.  Women enjoy the freedom and opportunity to express themselves however they see fit, and rather than throwing away their bras and other feminine undergarments, many are choosing to embrace them as a way to feel beautiful and bold.
Bras, girdles, and corsets don't have to hold women back – when we decide how and when to use them to our benefit, they can be tools that help us to become the women we want to be.  This is especially true in the modern era, thanks to advances that have yielded a slew of comfortable, beautiful, and customizable options.
The journey to sculpting your physique and boosting your confidence begins with finding the steel boned corset that's perfect for you.  What should you look for when buying a steel boned corset?  Here are a few key features.
Sizing
With corsetry, one of the most important aspects of purchasing the right garment is nailing the fit, and this means starting with proper measurements.  You'll need to know your waist size in inches, and for some styles of corsets, you bust and cup size.  You should also measure your underbust, hips, and torso length (from under the bust to the top of the thigh when seated).
Once you know your measurements, you can select the right sizing options.  Women with a waist size of 38 inches or less are generally recommended to purchases a size 4-7 inches smaller than their measurement, depending on the results they ultimately hope to achieve through waist training.  If your waist measurement is 38 inches or more, you can usually choose a size that is 7-10 inches less.
Just remember that a proper steel boned corset will feature sizing in inches.  If you see S/M/L sizing, you're looking at cosmetic corsetry that will not deliver the same robust waist training benefits as a steel boned model.
Styles
The two main styles of corset are overbust and underbust, and the names pretty much tell you what they cover.  Standard corsets are longer in the front and shorter on the sides.
Underbust corsets can also come in compact, mini styles known as waspies that are no more that 8 inches tall at the side seams and are easy to hide under modern clothing.  Both overbust and underbust models can be longline, extending to about 11 inches at the side seam.  You'll want to choose a corset style that works best for your body, your measurements, and your goals for coverage.
Fit and Feel
If possible, it's always best to try before you buy.  Since you're going to spend a lot of time in this garment, you want to make sure it's comfortable, that it doesn't unduly impede movement, and that it fits like a glove.  This could mean creating a custom garment, but it's worth every penny to have a corset that helps you to transform your body, your self-esteem, and even the way you approach the world.
---
Stay up-to-date with weekly blog posts, waist training tips, and the chance to win one of our monthly corset giveaways, like us on Facebook & subscribe to our mailing list today! Want to find the perfect steel boned corset? Shop some of our favorites: underbust corsets, overbust corsets, corset dresses.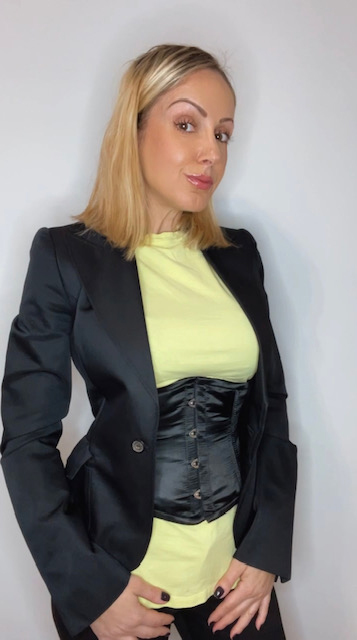 My name is Rachel, I am the owner of Glamorous Corset, a small business founded by me in 2010. Back In 2005, I was in a car accident that left me with a herniated disk. Much to my surprise I learned steel boned corsets were beneficial to several medical injuries including mine. I was always intrigued with corsetry, their history and their beautiful aesthetic. I love sharing knowledge about corsets, educating my wonderful readers and breaking the negative stigma related to corsetry. In combination with my years of research and personal experience I hope my articles are useful and can help anyone who has struggled with some of the same things I have. More about me…