It's hard to believe that a single garment could have the power to transform not only your body, but also your self-esteem and even your life, but that's exactly what the right corset can do for you.  Whether you're rebounding from childbirth, you're trying to lose a few pounds, or you simply want to accentuate your waistline to create an hourglass figure, a steel boned corset helps you to achieve instant results.  You can do even more with a long-term schedule of waist training.
Of course, if you want to nip in your waistline and get that Jessica Rabbit va-va-voom, you must wear your corset properly, and this means lacing it right.  If you're just wading into the waters of waist training, it's easy to get this critical aspect of corset usage wrong.  You might not think there's much to the process, but if you don't lace your corset properly, you could end up warping your garment or suffering from pinching, poking, and discomfort.
Why would you do that to yourself?  Whoever said you have to suffer for beauty was wrong!  You can have your corset and comfortably wear it, too, when you avoid the most common corset lacing mistakes.
Lacing too tightly
Like any new toy, you want to take your corset out for a test drive.  However, you must avoid the temptation to lace it too tightly too soon.  You need to spend some time seasoning a new corset to mold it to your body before you start tightening it up, otherwise you risk harming yourself or damaging your corset.
Even once you've seasoned your corset, you still shouldn't try tightlacing unless you know what you're doing.  You might love the wasp-like look of a super-cinched corset and the way it amplifies your bosom and hips, but there's nothing attractive about passing out because you have no sense of how to lace your corset.  Just remember, it should be snug, but not uncomfortable.
Tightening at the top or bottom
When you first get your corset, you might think the lacing is easy enough.  You simply lace it from top to bottom, right?  Or vice versa?  Unfortunately, it's not quite that simple.  You can't lace it like a shoe!  When you pull the laces tight at the top or the bottom of the corset, you could end up with uneven tightness or gaps at one end.
When you lace your corset properly, so that the pull-loops, or "rabbit ears", are situated in the middle of the corset, you can pull them more uniformly, ensuring a straight line down the back of the corset and a perfect fit on your body.  The good news is, there are plenty of tutorials available to show you exactly how to lace your corset right.
Looping extra laces around the waist
It's not uncommon for waist training corsets to include a lot of extra lacing.  This ensures that you have enough to start with, but you're going to end up with even more as you reduce the size of your waist over time.  What do you do with the extra laces?
Some ladies simply loop them around the waist like a hula hoop, but this can lead to chafing that affects the integrity of the laces and the garment.  Don't make this common mistake.  Instead, simply tuck extra lacing into the bottom of your corset to secret it away, maintain clean lines under clothing, and keep your corset gorgeous.
---
Stay up-to-date with weekly blog posts, waist training tips, and the chance to win one of our monthly corset giveaways, like us on Facebook & subscribe to our mailing list today! Want to find the perfect steel boned corset? Shop some of our favorites: underbust corsets, overbust corsets, corset dresses.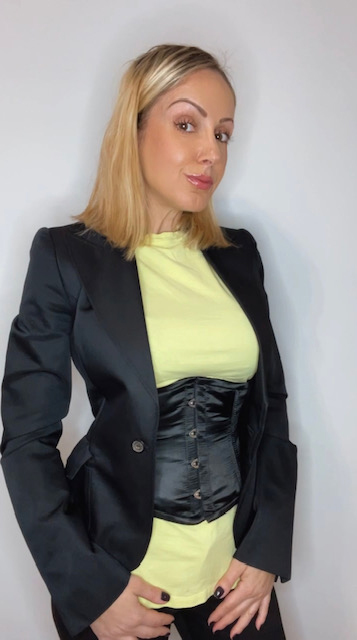 My name is Rachel, I am the owner of Glamorous Corset, a small business founded by me in 2010. Back In 2005, I was in a car accident that left me with a herniated disk. Much to my surprise I learned steel boned corsets were beneficial to several medical injuries including mine. I was always intrigued with corsetry, their history and their beautiful aesthetic. I love sharing knowledge about corsets, educating my wonderful readers and breaking the negative stigma related to corsetry. In combination with my years of research and personal experience I hope my articles are useful and can help anyone who has struggled with some of the same things I have. More about me…