Gender used to be clearly defined.  There were men and there were women.  Despite that, there have always been people who fall into one category but lean toward the other.  Historically, these people have been stigmatized and have had to hide their leanings for fear of being ridiculed, ostracized, and generally treated as second-class citizens.
Over time, attitudes toward gender, sexual orientation, and stereotypical spheres of masculinity and femininity have started to shift, creating a more inclusive landscape for individuals and groups that want to explore their gender preferences and turn gender norms on their head, among them cross dressers and drag queens.
The difficulty with donning garments designed for the opposite sex has always been finding ways to pull off a convincing transformation.  For drag queens looking to create a feminine physique when working within masculine parameters, this means taking a relatively straight torso and adding feminine curves.
One of the best ways to accomplish this is with corsetry.  What should you look for as a male purchasing shapewear traditionally designed for females?  Here are a few tips and tricks to turn female corsets into suitable drag queen corsets.
Steel Boned versus Fashion Corsets
When you put on a corset, the goal is to create a more feminine physique.  Padding can be added to the bust and hips, but you'll need to nip in the waist to complete the hourglass look, and this is where a proper corset can help.
It's important to understand the different categories of corsetry before you shell out your shekels on shapewear, and the most prominent feature to look for is sturdy steel boning.  This is the defining factor in choosing a corset that offers waist slimming properties, versus a fashion corset that will do virtually nothing for your shape.
Fashion, or costume corsets are designed for merely cosmetic appeal.  They include boning, but it's of the cheap, plastic variety.  If you try to cinch such corsets very tight, the likely result will be bent or broken boning that pokes and pinches you – and the garment still won't offer significant waist slimming benefits.
Rigid steel boning is strong, sturdy, and most importantly, intended to sculpt your body.  It won't bend or break and it offers the best opportunities for tightlacing, waist training, or simply creating a more feminine silhouette.
Corset Sizing
When purchasing a corset, it is imperative to get the sizing right.  This starts with taking proper measurements.  Women are generally advised to measure four key spots: the waist, the underbust, the hips, and the torso.  What does this mean for a man?
Your waist may not sit at exactly the same place on the torso as it does for a woman, but it's still the narrowest part of your torso.  If you can't find it, a good rule of thumb is to measure your torso circumference about an inch above the navel.
Your underbust will be the circumference of your torso just below your pectoral muscles.  Hips should be measured at or just below the hip bone and the torso measurement will be from the underbust to the top of the thigh when seated.
Once you know your measurements, you can choose the right size corset.  There are guidelines for sizing that women follow, but as a man, you'll want to start by choosing a corset that is about 4 inches smaller than your natural waist so you have plenty of room to cinch in.
Corset Styles
There are several corset styles to choose from, including overbust and underbust options, as well as waspies and longlines.  What should you choose?  Many drag queens prefer traditional underbust options or waspies for a couple of reasons.
For one thing, overbust options can be too roomy at the top and bottom, leaving gaps that may be hard to fill, even with added padding.  Wearing a bra may work better.  In addition, corsets that sit at the natural waist on a man may end up being too long at the bottom, impeding the ability to sit or move freely.
Waspies that measure no more than about 8 inches at the side seam can offer not only waist shaping benefits, but also freedom of movement that many drag queens, and especially performers, prefer.  Keep in mind, you can always try flipping a traditional corset upside down to get the right proportions for your body and enjoy greater coverage.
It's not always easy for drag queens to find the garments they need to feel beautiful and feminine, but with the right corset, you can achieve the look you want.  Don't forget, you can always consider custom corsets that are sized to fit you perfectly.
---
Stay up-to-date with weekly blog posts, waist training tips, and the chance to win one of our monthly corset giveaways, like us on Facebook & subscribe to our mailing list today! Want to find the perfect steel boned corset? Shop some of our favorites: underbust corsets, overbust corsets, corset dresses.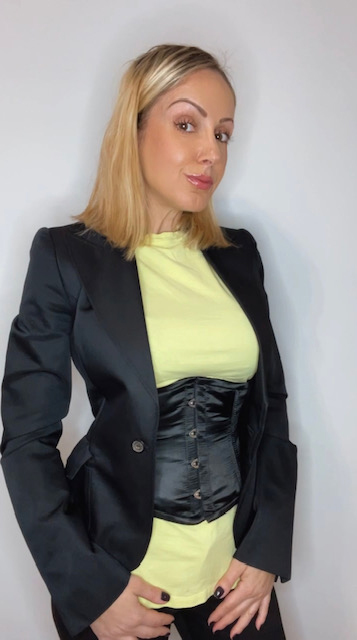 My name is Rachel, I am the owner of Glamorous Corset, a small business founded by me in 2010. Back In 2005, I was in a car accident that left me with a herniated disk. Much to my surprise I learned steel boned corsets were beneficial to several medical injuries including mine. I was always intrigued with corsetry, their history and their beautiful aesthetic. I love sharing knowledge about corsets, educating my wonderful readers and breaking the negative stigma related to corsetry. In combination with my years of research and personal experience I hope my articles are useful and can help anyone who has struggled with some of the same things I have. More about me…