Diamonds may be a girl's best friend, but corsets are her secret weapon.  Of course, it's always good to have a few different weapons in your arsenal, especially when it comes to controlling the shape of your body and whittling your waist line.  Whether you like to hide your corsets under clothing or they've become part of your personal style that you proudly display over dresses or under blazers, you should know that there are tons of options to choose from.
It's easy to get caught up in details like textiles, colors, and buttons and bows, but these features are really secondary to the finite number of styles available.  Before you get started, there's one important distinction to be aware of, and that's the boning that lends support to this enduring shapewear.  If you want waist training benefits, you must purchase corsets with steel boning.  If the boning isn't steel, your corset is of the costume variety and it will offer no waist training benefits.
Now that you know the importance of boning, it's time to take the next step and select the corset style that's right for your body and your fashion sensibilities.  Here are the most common and popular styles of corset to choose from.
Overbust
The overbust corset enjoys a long history and remains extremely popular today thanks to it's overall coverage and support.  As the name implies, this corset is worn not just over the waist, but also the bust area, providing the coverage, lift, and support needed to create a sleek silhouette from décolletage to derriere.
If you don't necessarily want to wear a bra with your corset, this style is like two garments in one.  All you have to do when selecting properly sized overbust corsets is make sure to look not just for waist sizing (in inches), but also for the right bust measurement and cup size so your garment fits you perfectly.
Underbust
The underbust corset, which extends from the hip to just under the bust line, has become popular with modern corsetry enthusiasts due to its versatility.  A century ago, women wore corsets as their main support garment, so having the built-in bra of an overbust corset was a godsend.
These days, we're used to wearing brassieres, and some women would rather continue to wear one even while waist training.  This is where underbust corsets come in handy.  Of course, whether you choose an overbust or underbust model, there are ways to find modifications that better fit your body shape.
Waspie
Every body is built differently, which is why there are both short and long versions of your favorite corset styles.  Women that have shorter torsos are likely to appreciate waspies, or underbust corsets that are more compact than regular fare.
Although there aren't any hard and fast rules, waspies tend to be no more than about eight inches in height at the side seam.  In some cases, waspies feature a more pronounced spring, or a greater variation between the width of the waist and the hip.  This helps to create the tiny, wasp-like waist that some women prefer.  However, it is not a prerequisite for waspies, and in fact, spring may vary dramatically among all styles of corsets.
Longline
Women with a longer torso or those who want the corset to extend over the belly, hips, and buttocks can opt for a longline corset, which comes in both overbust and underbust models.  Longline corsets come with the notorious distinction of causing some difficulty when sitting, but there are accommodations like scallops or extra slits with lacing at the hips to counteract this issue, making the garment more functional.
If you want to hide a little extra belly fat or extend the smooth line of your corset over the buttocks, longline corsets are the answer you're looking for.  As always, it's best to try on any corset before you buy it to make sure it offers the form and function you prefer.
Custom Corsetry
Because corsets are adjustable, many women can make off-the-rack options work for their body, especially with proper seasoning.  If you're having a little trouble finding the perfect fit, though, consider custom corsetry that is made to your specifications.  With precise measurements, you can get overbust, underbust, waspie, and/or longline options that fit like they were made for you, because they were!
---
Stay up-to-date with weekly blog posts, waist training tips, and the chance to win one of our monthly corset giveaways, like us on Facebook & subscribe to our mailing list today! Want to find the perfect steel boned corset? Shop some of our favorites: underbust corsets, overbust corsets, corset dresses.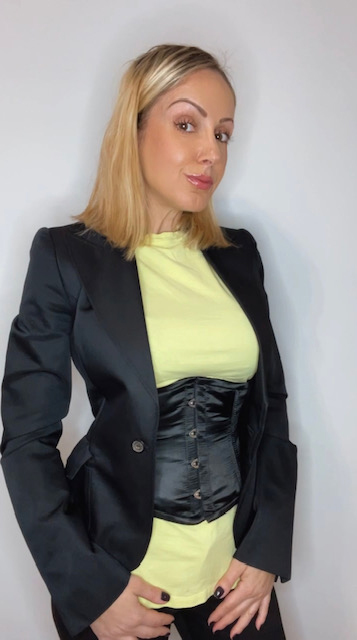 My name is Rachel, I am the owner of Glamorous Corset, a small business founded by me in 2010. Back In 2005, I was in a car accident that left me with a herniated disk. Much to my surprise I learned steel boned corsets were beneficial to several medical injuries including mine. I was always intrigued with corsetry, their history and their beautiful aesthetic. I love sharing knowledge about corsets, educating my wonderful readers and breaking the negative stigma related to corsetry. In combination with my years of research and personal experience I hope my articles are useful and can help anyone who has struggled with some of the same things I have. More about me…