In the world of corsetry, "waspies" do not refer to women who wear sweater sets and pearls, who ooze etiquette from every pore, and whose old-money sensibilities cause them to sprinkle every altruism with a heaping dose of condescension.  In other words, we're not talking about the type of WASP (White Anglo-Saxon Protestant) that can tell you the difference between white and black tie and that knows what every piece of flatware on a formal dining table is for.
A WASP would probably never talk about a waspie in mixed company, much less wear one openly.  The good news is, we're not WASPy around here, and we're perfectly happy to help truth seekers uncover the mysteries of the waspie waist trainer.  If you're interested in perfecting your petiole, or the slender waist of a wasp that separates its abdomen from its thorax, you've come to the right place.
What is a Waspie Corset?
A waspie is a type of underbust corset, which means it is situated under the bust and above the hips.  The defining characteristic is that it is shorter than the typical underbust model.  While many underbust corsets start just below the bustline and extend downward to skim the top of the hips, a waspie may fall well short of these marks, resembling a very wide belt around the torso, rather than what most people would recognize as a traditional corset.
There is no specific definition for a waspie, but generally speaking, it is understood that a waspie is no greater than eight inches from top to bottom on the seam side, and many are less.  Anything greater than eight inches would be considered a typical underbust corset.  Even so, waspies are true waist trainers (not to be confused with stretchy waist cinchers).  They have the same steel boning, sturdy materials, and durable construction that characterize any waist training corsets.
What Can it Do for Me?
A waspie fulfills the same basic purpose as any underbust or overbust corset in that it is used to slim your waist.  While it obviously can't do everything an overbust corset does (i.e. support the bosom), it can do certain things better.  Because waspies focus exclusively on narrowing the waist, they can be used to dramatic effect to create a waistline that looks more exaggerated than when you wear a longer corset style.
Are Waspies Better than Other Corsets?
It really depends on your purposes.  Waspies are a popular choice for modern waist training aficionados because their diminutive size delivers a wallop of waist training without a lot of added bulk under modern clothing.  Even better, they work great over clothing in lieu of the wide belts that are popular these days.
That said, you can work all kinds of corsets into your wardrobe, waspies included.  They won't provide the same level of torso control and breast support as, say, a longline, overbust corset, but they definitely have their uses.  If you're undertaking a waist training regimen, it pays to have several different types of corsets in your closet to pair with any and every ensemble.
---
Stay up-to-date with weekly blog posts, waist training tips, and the chance to win one of our monthly corset giveaways, like us on Facebook & subscribe to our mailing list today! Want to find the perfect steel boned corset? Shop some of our favorites: underbust corsets, overbust corsets, corset dresses.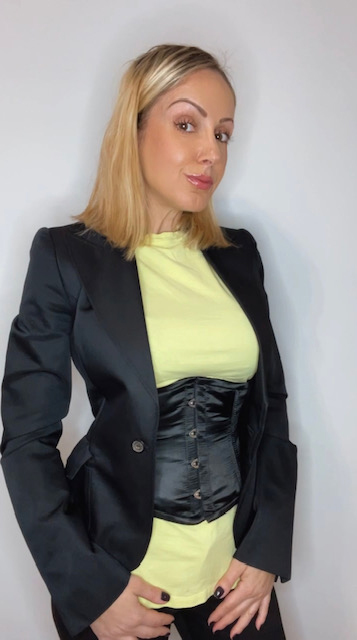 My name is Rachel, I am the owner of Glamorous Corset, a small business founded by me in 2010. Back In 2005, I was in a car accident that left me with a herniated disk. Much to my surprise I learned steel boned corsets were beneficial to several medical injuries including mine. I was always intrigued with corsetry, their history and their beautiful aesthetic. I love sharing knowledge about corsets, educating my wonderful readers and breaking the negative stigma related to corsetry. In combination with my years of research and personal experience I hope my articles are useful and can help anyone who has struggled with some of the same things I have. More about me…