Being a woman in today's world of advertising, airbrushing, and unrealistic expectations can be understandably frustrating.  Whether you're a woman with curves, an athletic figure, or a few extra pounds, chances are there's something about your body you want to change.
Some of the feminine characteristics we lust after are simply unattainable.  As comedian Maya Rudolph once quipped, women over 40 can't have a nice face and a nice ass – they either get a tight posterior and a gaunt face, or a fuller face and an equally full rear end.
Also, does spot training ever work?  In my experience, not so much.  The point is that there doesn't seem to be an entirely natural way of forming your figure into the precise shape you prefer, especially as you age and your body changes.
That said, shapewear can help you to achieve the ideal hourglass figure that many women covet.  Steel boned corsets are particularly appealing because with proper waist training, they can actually deliver semi-permanent results.
How does this happen?  How can you achieve a feminine, hourglass silhouette with the help of a corset?  Here are a few things you need to know about waist training to attain your ideal figure.
Finding the Right Corset
There is no shortage of women's support garments to slim, smooth, and shape you.  Some are for your top half, others are for your bottom, and then there are the one-piece models that make it impossible to pee without stripping off your entire outfit in a bathroom stall.  Who thought that was a good idea?  Probably a man.
Corsets have a long tradition in the fashion industry, dating back hundreds of years at least.  Although there was a movement not too long ago to reduce the number of restrictive undergarments women were socially required to wear, there has been a resurgence of interest in proper corsetry as a fashion and lifestyle choice.
The right corset for waist training purposes needs to fit certain parameters, though.  Most importantly, you need to find a steel boned corset.  Costume corsetry features cheap, plastic boning that is likely to bend, break, and possibly impale you if you cinch your garment too tight.  Then there are spandex waist cinchers, often confused with traditional waist training corsets, that have no boning at all and are really meant to smooth more than shape.
Steel boning is a necessity if you're interested in the prospect of slimming your waistline up to four inches, or more.  Traditional waist training corsets are also manufactured with sturdy construction, including strong and durable textiles like cotton, satin brocade, leather, and more recently, mesh.  These corsets are often lined on the interior for added comfort and durability and they generally feature sturdy busks for front closure.
The other factor to look for is sizing.  Costume corsetry generally comes in S/M/L sizing, whereas waist training corsets will not only feature waist size in inches, but also cup sizing and other measurements when applicable. [Also see: How to Choose the Right Corset Style for Your Body Type, Corset Sizing Chart: Choosing the Right Size Waist Training Corset]
What the Heck is Waist Training?
Waist training is a means of achieving an hourglass figure with the garments you choose to wear, specifically corsets.  As you may have noticed, the word "training" is part of the term.  This is because there's a lengthy process involved.
You may be under the misconception that you can simply slip into a corset, cinch the laces, and suddenly look like Scarlet O'Hara.  Sorry to say, you'd need some serious movie magic for that outcome.  Waist training is a marathon, not a sprint, but the results you can attain are well worth the wait.
The first step in a waist training regimen is seasoning your corset, or wearing it for relatively short periods of time (say, a few hours a day) for several days [see: corset seasoning schedule].  You'll want to make sure it is snug, but not tight.  This helps the corset conform to your body shape so you can begin wearing it throughout the day and comfortably tightening it to narrow your waistline.
Typically, you'll want to devote several weeks or even months to reaching your waist training goals.  Most women can shave 1-2 inches from the waist right off the bat, but if your ultimate goal is to lose 4 or more inches, it will take some time.  You'll have to wear your corset daily and tighten incrementally, but by the end, you'll enjoy a slimmer waistline in or out of your corset.
---
Stay up-to-date with weekly blog posts, waist training tips, and the chance to win one of our monthly corset giveaways, like us on Facebook & subscribe to our mailing list today! Want to find the perfect steel boned corset? Shop some of our favorites: underbust corsets, overbust corsets, corset dresses.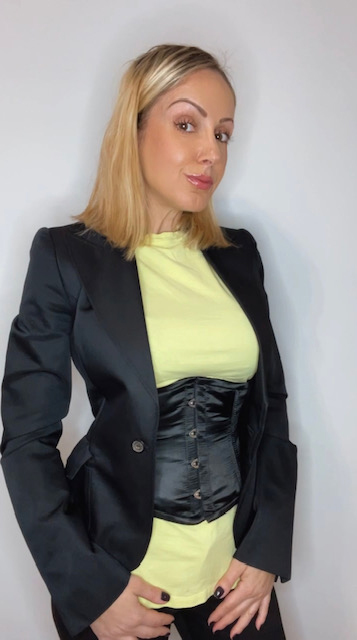 My name is Rachel, I am the owner of Glamorous Corset, a small business founded by me in 2010. Back In 2005, I was in a car accident that left me with a herniated disk. Much to my surprise I learned steel boned corsets were beneficial to several medical injuries including mine. I was always intrigued with corsetry, their history and their beautiful aesthetic. I love sharing knowledge about corsets, educating my wonderful readers and breaking the negative stigma related to corsetry. In combination with my years of research and personal experience I hope my articles are useful and can help anyone who has struggled with some of the same things I have. More about me…