There are definitely women in the world who don't need any help when it comes to looking perfectly trim and toit, even in body-con dresses.  Most of them are twenty and starving.  Okay, okay, that's a bit of a stereotype – plenty of women are blessed with naturally slim and trim physiques.  The truth, however, is that the vast majority of women do not have a "perfect" body, and most of us we wish we could look a little more like the ladies walking the red carpet with nary a muffin top or ripple of cellulite in sight.
How do they do it?  Do you need a million-dollar movie deal to afford personal trainers and chefs, or at least a regular diet of Botox and liposuction?  The answer is no!  Although celebrities tend to work their butts off to look flawless on the silver screen, we have yet to discover the secret to reversing aging.  We have, however, discovered the magic of shapewear, and you can get your hands on it just as easily as any actress or model.
The trick is to find the right shapewear for your needs, and there is a veritable smorgasbord of options to consider.  Shapewear 101: Here are just a few of the most popular products available and how they can help to mold your body into a desired shape.
Camisoles, Slipshorts, and Tights – Oh, My!
These days, the wide world of support garments delivers endless options for body shaping to go with any outfit, from a sleek, strapless sheath dress to your everyday office attire.  Whether you wear a simple control camisole to camouflage belly and back fat, you shimmy into tights or slipshorts that smooth away cellulite, or you strap on a bustier or waist clincher for smoothing and support, you'll find endless options to get the look you want without advertising that shapewear is in play.
Bodyshapers and Singlets Galore
Bodyshapers are garments that focus on shaping the torso.  Girdles are an outmoded example of this type of garment, so if you're talking to Grannie about her shapewear, this is a term she'll likely understand.
Today we have all kinds of bodyshapers.  Some cover only the midsection while others extend over the breasts.  Some have straps while others are strapless, but all are compression garments that help to smooth and shape the torso.
Singlets go a step further, rolling upper and lower body shaping into a single garment.  There's no denying the transformative power of these garments, but man, are they a pain to get in and out of.  You can just forget about going to the bathroom, unless you've got 20 minutes to spare while you try to wiggle out of your shapewear without removing your clothes, or alternately, you attempt to pee through that tiny hole in the crotch without saturating the garment.
A single piece of shapewear that covers all the bases sounds brilliant right up until you realize this major design flaw when your bladder is screaming at you for having one too many mimosas.  Luckily, there are plenty of options to explore.
The Spanx Revolution
Spanx is just another kind of shapewear, right?  What makes it so special?  This brand's claim to fame is attributed to more than just star power (although shoutouts from Oprah and Gwyneth Paltrow early on certainly didn't hurt).  It's also made for women, by women, and comfort is a top priority.  For consumers looking to corral their curves, look great under modern clothing, and carry on their daily lives as normal, Spanx has created a revolution.
Traditional Corsets
Traditional corsets went out the window with the Victorian era, but lately there's been a revival of interest in the incredibly results that can be accomplished with steel boned corsets.  The average woman might use them for bedroom fun or to create an hourglass silhouette under formal attire.
However, more and more women are using corsets for the purposes of more permanent body shaping.  With a waist training regimen that includes wearing a corset all day, every day, and incrementally cinching it over time, women who want an hourglass shape can achieve semi-permanent results, which is to say, they'll enjoy a smaller waistline even when no longer wearing a corset.
In the vast world of shapewear, there's a solution for every perceived flaw or unsightly wardrobe woe.  Whether you want to look better in your clothing or you'd like to significantly slim your waist, the right shapewear garment is available to help you reach your goals.
---
Stay up-to-date with weekly blog posts, waist training tips, and the chance to win one of our monthly corset giveaways, like us on Facebook & subscribe to our mailing list today! Want to find the perfect steel boned corset? Shop some of our favorites: underbust corsets, overbust corsets, corset dresses.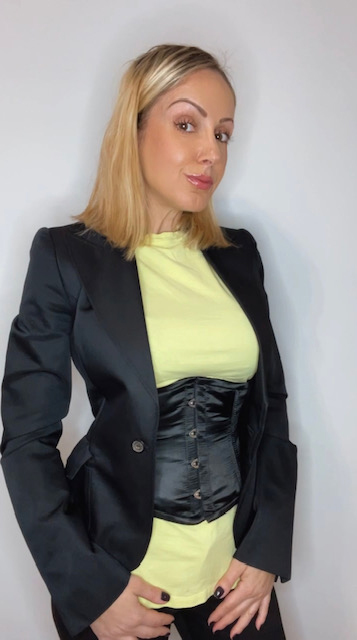 My name is Rachel, I am the owner of Glamorous Corset, a small business founded by me in 2010. Back In 2005, I was in a car accident that left me with a herniated disk. Much to my surprise I learned steel boned corsets were beneficial to several medical injuries including mine. I was always intrigued with corsetry, their history and their beautiful aesthetic. I love sharing knowledge about corsets, educating my wonderful readers and breaking the negative stigma related to corsetry. In combination with my years of research and personal experience I hope my articles are useful and can help anyone who has struggled with some of the same things I have. More about me…