Corsets are a beautiful addition to any woman's wardrobe that can add curves in a hidden capacity or spice up everything from dresses to button down blouses when worn as a fashion garment. They can also add some heat in the bedroom if you're into some sexy cosplay. Get it, girl! As garments go, however, steel boned corsets are a bit more complex than your average undergarment or finishing piece. If you bunch up your panties and throw them on the floor, a wash is all it takes to reshape them. The same is not true of your corset, which requires better care. Once you've followed tutorials on lacing your corset (the first time around it took me about three tries to get it right) and you've learned how to properly get in and out of this shapewear, you need to know how to store your corset properly to ensure that it stays in ship shape for years. Here are a few helpful tips on how to store your corset.
Button Up
Before you put your corset in mothballs, it's best to properly prep it for storage. This means leaving it laced and fastened until your next use. Laces should be tightened to close any gap in the back and busks should be fastened. Okay, I can already hear you mumbling out there about busks not staying closed. Without your body to fill in the corset, busks can easily slip open. Slow your roll, fussypants! There's a trick to it. In order to keep corsets closed while in storage, you'll have to slide the middle loop underneath the pin instead of over it before fastening the rest of the loops normally. In other words, it will look as though the middle loop is inside the corset while all the rest are outside and properly looped around pins. Now your corset is ready for storage.
Hang 'Em High
There are several options when it comes to where and how to store your corsets. One great option for easy access is to hang them in your closet, or even on wall hooks, on display, if you're intent on spicing up your decor. There are actually a couple of ways to hang corsets. One is to stick a safety pin through the inner lining on either side of the corset and attach the pins to a wire hanger (or alternately, attach ribbons that loop over more robust hangers). Another is to open the busks and drape your corset over a hanger or laundry line so that the laces run across the line. This is probably the most common and preferred method of storage if you have the space.
Laid Flat
Got an empty lingerie drawer you're itching to fill with fun and frilly undergarments? Hello, corsets! Once you've laced and fastened your corsets, simply lay them flat in a large drawer.
Rolled or Folded
If you're looking to save space, this is the most economical option. Closed corsets can either be folded or rolled for storage in drawers or upright in bins. Since high-end corsets come with a storage pouch for safety, it's best to return each corset to its pouch to avoid any damage that could be caused by heat, humidity, pests, and so on.
---
Want to learn more about storing your corset? Stay up-to-date with weekly blog posts, waist training tips, and the chance to win one of our monthly corset giveaways, like us on Facebook & subscribe to our mailing list today!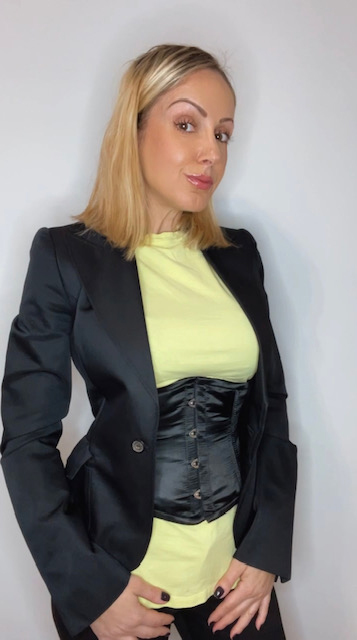 My name is Rachel, I am the owner of Glamorous Corset, a small business founded by me in 2010. Back In 2005, I was in a car accident that left me with a herniated disk. Much to my surprise I learned steel boned corsets were beneficial to several medical injuries including mine. I was always intrigued with corsetry, their history and their beautiful aesthetic. I love sharing knowledge about corsets, educating my wonderful readers and breaking the negative stigma related to corsetry. In combination with my years of research and personal experience I hope my articles are useful and can help anyone who has struggled with some of the same things I have. More about me…