Featured Corset: Jenna Bridal Satin Corset (Plus Size)
As all women know, finding the right size for clothing is never easy. There seems to be a conspiracy of inexplicable sizing for off-the-rack garments, because apparently, clothing manufacturers want to torture us into trying on 10 pairs of jeans (none of which fit very well), instead of just standardizing sizes.
When it comes to buying corsets, however, you're in for a nice treat. Sizing is based on a range of individual body dimensions. Once you know yours, you'll have no trouble finding the perfect support garment to fit you like a glove.
If you're wondering, "What size corset should I get?" you'll find it's surprisingly easy to nail down.
How Do You Measure Up (or More Accurately, Down)?
Measuring for a corset is not as difficult as you might imagine. All you really need is a soft tape measure to get started. An extra set of hands could prove expedient, as well, but you can probably get the job done on your own if you have to.
You'll start by taking five basic measurements:
Bust
Underbust
Waist
Hip
Torso length
The bust is pretty self-explanatory for anyone who's ever had a bra fitting (measure the widest part of the bust – shoot for dead center across the nipples and keep the tape measure level around the back). The underbust is the area where the abdomen meets the bust – that crease under your breasts.
Measure your waist at the smallest part – try bending to the side to see where it pinches in if you're uncertain about location.
Measure the hip right at the top of the hip bone. For torso length, try sitting in a chair and measuring from the underbust to the crease where the abdomen and thigh meet.
These measurements can help you to determine not only the waist and bust sizes for your perfect garment, but also the length, spring, S-bend, and overall form of your perfect corset.
Your Size vs. Your Corset Size
If you're new to the world of corsetry, you may find the sizing to be a little confusing, so let's cover the bases.
First and foremost, avoid corsets in general sizes like S/M/L/XL. These are not waist training corsets. Only fashion corsetry comes in such sizes, and those won't have the robust textiles, rigid steel boning, and strong construction that are necessary to provide proper compression and support.
What about numerical sizing? Do you need to order for the waist size you want or the one you have when you're trying to figure out, "What size corset should I get?" The answer may depend on the corset manufacturer.
In some cases, you'll simply order for your current waist size, and the corset should leave room to cinch in up to a few inches. However, you don't want to make any assumptions.
The first thing you should do is look for a chart that tells you what size to order for your measurements. For example, a waist size between 32" and 36" might be advised to order a size 30 corset. If the corsetmaker is taking this tack, they will almost certainly provide a size chart to help customers order the right garment for their bodies.
What Size Corset Should I Get for Proper Fit?
Size and fit aren't always the same thing. You may want to size down 10 inches, but if you purchase a corset with this future goal in mind, it's not going to fit well at all in the here and now – you have to size down to it over time.
Proper fit for any corset should be snug, but comfortable. If your corset pinches or chafes, you're spilling out over the edges, you have too much of a gap under laces, or the edges of the back gap are overlapping, your corset does not fit properly.
On a side note, it is important to season new corsets over several days so they start to mold to your body before you get serious about cinching. Skipping this critical step could leave you dealing with some discomfort and a corset that maybe never fits quite right.
The perfect balance will be snug enough to compress and support, but comfortable enough to wear all day.
Other helpful resources:
---
To stay up-to-date with weekly blog posts, waist training tips, and the chance to win one of our monthly corset giveaways, follow us on Facebook, Instagram & subscribe to our mailing list today! Want to find the perfect steel boned corset? Shop some of our favorites: underbust corsets, overbust corsets, corset dresses. You can also shop our corsets by material: cotton corsets, denim corsets, leather corsets, mesh corsets, pvc corsets, and satin corsets. Have questions about getting started with waist training or finding the right size corset? Contact us!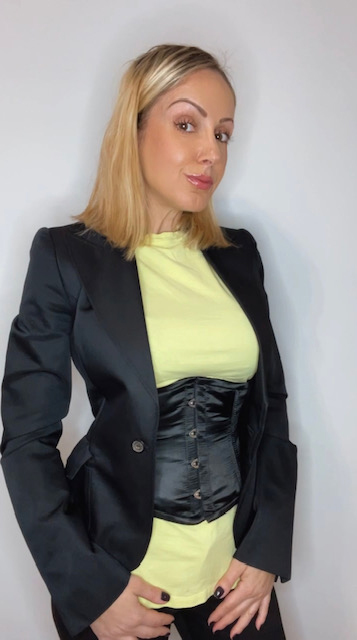 My name is Rachel, I am the owner of Glamorous Corset, a small business founded by me in 2010. Back In 2005, I was in a car accident that left me with a herniated disk. Much to my surprise I learned steel boned corsets were beneficial to several medical injuries including mine. I was always intrigued with corsetry, their history and their beautiful aesthetic. I love sharing knowledge about corsets, educating my wonderful readers and breaking the negative stigma related to corsetry. In combination with my years of research and personal experience I hope my articles are useful and can help anyone who has struggled with some of the same things I have. More about me…