Featured Corset: Lara Velvet Corset w/ Hip Ties
It's a common misconception that corsets are – or even should be – painful. This is not the case! Your corset should fit your body comfortably. To ensure you're working with a snug (but not painful) corset, you'll need to understand how "tightness" is used for waist training.
So How Tight Should a Corset Be for Waist Training?
The whole point of waist training is compression, right? Sure, but think of it as a slow movement, as opposed to pulling the laces so tight you can't breathe. Your body doesn't move like a cartoon character's would!
Getting the right size so that your corset fits right up against you without hurting is key – not only to proper waist training, but also to sticking with a waist training regimen. Even if you have willpower of steel, a painful corset can quickly keep you away from meeting your goals.
So how do you do it right?
You'll need to have very specific measurements to ensure that you're buying the right size for your corset. Proper, steel-boned corsets made for waist training will feature several measurements to ensure you're getting the right fit.
If you see generic sizes like small, medium, and large, you're looking at fashion corsets. While these can be pretty, they won't provide the structure and support necessary for waist training.
Here's the basic rundown of the measurements you'll need:
Underbust: Crease where breasts meet torso
Natural Waist: Where the body curves when bending
Hips: Just above where the body bends when seated
Torso Length: Measurement from underbust to each hip
When you're choosing a corset, you'll also need to consider your body type. If you are long through the torso, a corset with a short torso length will be quite uncomfortable. If you're more lean than curvy, a corset with a lot of spring won't be very effective.
When you try your new corset on with the laces loose, it should fit without pressure. When you pull the laces to be snug – not painful – the back lacing bones should just reach the corset's modesty panel. (Psst! If you need some help, or if you're still concerned about "How tight should a corset be?" – give us a call! We love helping customers to find their best fit!)
So just how tight should a corset be? It should be "snug" without any type of pinching, chafing, poking, or other uncomfortable sensations that make you want to rip the corset off with a vengeance.That's not fun! Pulling too tight on the laces right away can hurt you and damage the corset, too.
If My Corset Isn't Super Tight, How Can I Use It to Train My Waist?
This is where seasoning comes in. "Seasoning" is the process of getting your new, correctly sized corset to fit your body like a glove. You can consider the idea of seasoning like "breaking in" a new pair of shoes. Watch: Corset Seasoning 101 with Miss MonMon
The materials in the corset will adjust to the shape of your body to fit like a second skin…if you give them a bit of time to do so. You can find plenty of waist training guides and schedules that offer different ideas on how to go about this process. However, whatever you choose, it's important to remember that slow and steady is best when it comes to seasoning.
Once you have a corset that holds you like a hug, you can work into a more specific waist training schedule that cinches the waist.
Just like with seasoning, waist training is something that should be taken slowly. Tightening just a bit over time will give your body the proper adjustment period and allow you to stay on a waist training schedule. For many, it's that initial inclination to pull the laces as hard as possible that causes them to give up due to the pain.
---
To stay up-to-date with weekly blog posts, waist training tips, and the chance to win one of our monthly corset giveaways, follow us on Facebook, Instagram & subscribe to our mailing list today! Want to find the perfect steel boned corset? Shop some of our favorites: underbust corsets, overbust corsets, corset dresses. You can also shop our corsets by material: cotton corsets, denim corsets, leather corsets, mesh corsets, pvc corsets, and satin corsets. Have questions about getting started with waist training or finding the right size corset? Contact us!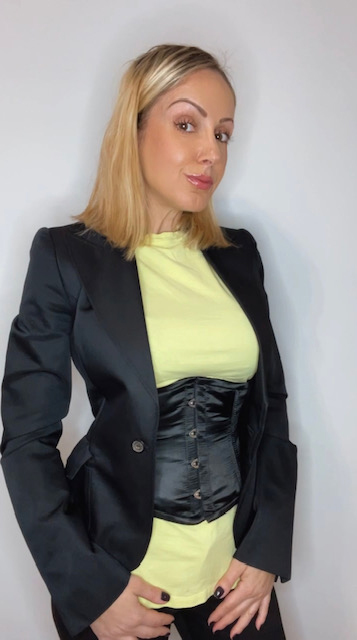 My name is Rachel, I am the owner of Glamorous Corset, a small business founded by me in 2010. Back In 2005, I was in a car accident that left me with a herniated disk. Much to my surprise I learned steel boned corsets were beneficial to several medical injuries including mine. I was always intrigued with corsetry, their history and their beautiful aesthetic. I love sharing knowledge about corsets, educating my wonderful readers and breaking the negative stigma related to corsetry. In combination with my years of research and personal experience I hope my articles are useful and can help anyone who has struggled with some of the same things I have. More about me…