Today's video includes what corset seasoning is, my own personal seasoning method and schedule, the difference between other types of corset wearing, tips and tricks and of course, how to know when your corset is seasoned to perfection.
Featured Corset: Jolie Short Beige Cotton Corset
Video Transcription
It's time to bust out the salt and pepper because today we are seasoning corsets.
Hi, everyone. I'm Miss MonMon. And welcome to my channel. Today we will be discussing all things corset seasoning. Now, corsets are amazing structural garments and have been around for hundreds and hundreds of years. Originally, you would have gone into a store, you'd be measured up, and your corset would be made for you. In today's wonderful magical world, you can buy corsets from all around the world. But they are no longer really personally made. They are more off the rack.
Corset seasoning came about with the idea of you breaking in your corset. It is basically the process you and your body getting to know the corset a little bit better. It's sort of like taking your corset out on a few dates to see if there is a spark.
Corset seasoning is not the same as waist training and it is also not the same as tight lacing. Waist training is wearing a structure garment around your waist to bring it in over a long period of time. Corset seasoning is creating a bond and a relationship between your body and the corset to make sure that it fits perfectly.
Whereas tight lacing is where we see in those old period dramas where the poor women is getting strapped into a corset. But we no longer really do tight lacing like that anymore. It is just not really done. And it's also just not necessary with today's other options in terms of structural garments.
Now, within the corset community, both makers and wearers alike, there is a bit of debate whether corset seasoning is necessary. Some people think that if a corset is absolutely perfect, it shouldn't need to be seasoned. Other people think that they might have a strange body shape and therefore seasoning really helps them get to know their corset a little bit better.
Today, I'm just going to be discussing corset seasoning and we will cover this debate a little bit more maybe in a later video. But today it's just all about the salt and pepper. Today's video is in part of collaboration with Glamorous Corsets'. Glamorous Corsets is a company that sells absolutely amazing corsets. They were kind enough to send me two. So, I have the Jade corset and the Jolie corset. I have done a full review on both in my blogs. So, you can find that in the description box below. But Glamorous Corsets are an amazing female run, newer owned business. And I have loved working with them. They were so patient and understanding and answered all of my questions. They really value their customer service. So, they took their time to make sure that I was getting the best possible corset for my body, shape, and size.
In order to demonstrate the seasoning process, I am going to be using my Jolie corset, which is this love corset right here. And I will explain to you my seasoning process.
So, this is how I corset seasoning. I will be sharing a two week corset seasoning. But if you go to my blog, there is the extra week, if you want just a bit more time with your corset.
Day one and two, wear your corset for about one hour. Days three and four, wear your corset for two hours. On days five and six, you should wear the corset for about three hours. And on days seven to nine, you should wear the corset for about four hours. Days 10 to 12 should be worn for about five hours. And days 13 to 14 should be worn for about six hours.
If you are new to wearing a corset and corset seasoning, my first piece of advice is start off slow. You might be super excited to get your corset and get that perfect wasp waist that you've always wanted. Take your time. Do it really nice and slowly. Because you can also hurt yourself and damage the corset.
If you are going to be corset seasoning for an event, make sure you have ample time to break your corset in. Now, corsets with a light fabric, might not need the full two weeks. And sometimes, corsets with a heavier fabric might need a bit more time. If during your corset seasoning process, one of the bones within the corset pops out or the fabric on the corset rips and frays, this means your corset was not very well made and it shouldn't be worn.
While wearing your corset, I always recommend wearing something underneath. But wearing something in between you and the corset, you help keep the corset clean. And it just makes it a big more comfortable to wear.
When wearing the corset, you should be able to put a few fingers into the top and the bottom so that way you don't have it on to tight and it will just make wearing the corset a bit more comfortable.
Finally, how do you know that the corset is fully seasoned? A corset is like a piece of chicken. On its own, it is bland. But once seasoned, it is absolute perfection. When a corset is fully seasoned, it will fit you like a glove. A well-seasoned corset should also be pretty quick and easy to put on. The front hooks should clip on quite easily. You shouldn't have to struggle to bring it in because it should know your body shape after the corset seasoning process is over.
And on the back of the corset, the lace should pull through the grommets really easily. I have been wearing this corset since about November, December. And it is now quite well shaped to me. I really enjoy wearing it and I'm now wearing it under some of my clothes. If you are wanting to try a Glamorous Corset for yourself, I do recommend the Jolie corset. I found it really comfortable. The shape is lovely. The quality was really sturdy. I do have an affiliate card you can use. I will put it here on the screen. And it is also in the description box if you are interested.
If you would like more information about corset seasoning or a full review on both of the corsets I received from Glamorous Corset, I will have both of those linked in the description below if you want to go to my blog and read all about that.
Thank you so much for being here today. I have loved having you and sharing with you this wonderful topic. I really hope it helps you. If you are interested in corset seasoning, I do have a few more corset themed blogs and videos planned. But they won't be out until probably June or July as I have a lot of content to catch up because I took that massive break.
Thank you so much for all those who have already subscribed. If you'd like to join my vintage adventures of Glamour and Tomfoolery, click the subscription down below. As always, you can also find me on my social media. Everything is linked do below. I will see you guys next week in a brand new video. Until then, be kind, be true, be you. Have a great week. Bye.
---
To stay up-to-date with weekly blog posts, waist training tips, and the chance to win one of our monthly corset giveaways, follow us on Facebook, Instagram & subscribe to our mailing list today! Want to find the perfect steel boned corset? Shop some of our favorites: underbust corsets, overbust corsets, corset dresses. You can also shop our corsets by material: cotton corsets, denim corsets, leather corsets, mesh corsets, pvc corsets, and satin corsets. Have questions about getting started with waist training or finding the right size corset? Contact us!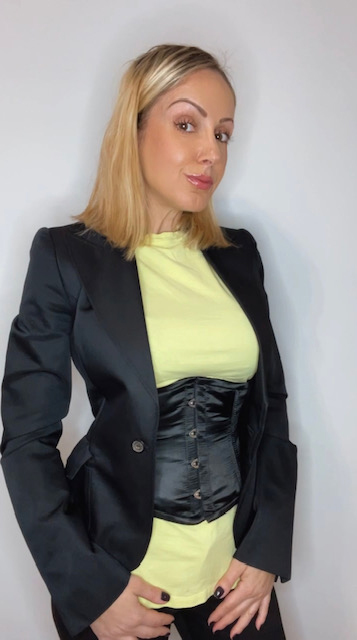 My name is Rachel, I am the owner of Glamorous Corset, a small business founded by me in 2010. Back In 2005, I was in a car accident that left me with a herniated disk. Much to my surprise I learned steel boned corsets were beneficial to several medical injuries including mine. I was always intrigued with corsetry, their history and their beautiful aesthetic. I love sharing knowledge about corsets, educating my wonderful readers and breaking the negative stigma related to corsetry. In combination with my years of research and personal experience I hope my articles are useful and can help anyone who has struggled with some of the same things I have. More about me…