Our society spends an undue amount of time considering the size of certain body parts, often those taboo bits related to procreation and sexual pleasure. The fixation is common among men, who tend to feel that bigger is better (although most women agree, it's the motion of the ocean, rather than the size of the boat, that matters). However, women aren't immune to comparisons, especially when it comes to having a bust that's considered disproportionate to the frame.
The good news is, you can work some modern magic with the right clothing, particularly supportive undergarments that help you enhance your natural assets.
If your bust is on the smaller side and you'd like to make the most of what you've got, you'll find that the right corsets can help immensely. How should you go about choosing the best corset for small busts? Here's what you need to know.
Over the Top
If you like the idea of skipping a bra in favor if a single garment that supports your bosom while shrinking your waist, you'll be happy to learn that an overbust model can be the best corset for small busts. In fact, many overbust corsets are designed with small to average sized bust lines in mind.
You shouldn't have too much trouble finding an overbust corset suitable for diminutive dimensions up top, whereas women with bigger busts will struggle to find the right fit without undue spillage. A smaller-busted gal can likely find her cup size off-the-rack, and the compression and support offered will lift and enhance, creating the illusion of a more proportionate shape (smaller waist, larger bust). Bustier ladies almost invariably have to invest in custom garments if they prefer overbust corsets.
Under the Bridge
Okay, so you're probably thinking that if overbust models are the bee's knees, underbust models must be out. This is where you'd be wrong. It turns out the right underbust corset can hold equal appeal.
You'll want to choose a model that extends all the way up to the underbust area (the crease where the breasts meet the abdomen). This will ensure that you still get the lift needed to help your bust look larger and perkier. While a tiny waspie will still nip in your waistline, adding curve that creates more dramatic dimensions, a taller underbust model offers some oomph up top, as well.
Is Every Corset the Best Corset for Small Busts?
Although both overbust and underbust models can complement and enhance a smaller bust, you can't expect every corset to deliver the same advantages. This is why you'll also need to consider the shape and spring of the corset.
For example, a conical shape will flatten everything out, minimizing differentiation between the bust and waist area and making your torso a bit like an ice cream cone. An hourglass model, on the other hand, emphasizes a small waist and makes the most of wider bust and hip areas.
As for spring, or the difference between the waist and wider top and bottom edges of the corset, you'll have to try before you buy to make sure you choose the right spring for your body. Otherwise, you could end up with extra space up above, instead of the snug fit that helps your cup runneth over, so to speak.
---
To stay up-to-date with weekly blog posts, waist training tips, and the chance to win one of our monthly corset giveaways, follow us on Facebook, Instagram & subscribe to our mailing list today! Want to find the perfect steel boned corset? Shop some of our favorites: underbust corsets, overbust corsets, corset dresses. You can also shop our corsets by material: cotton corsets, denim corsets, leather corsets, mesh corsets, pvc corsets, and satin corsets. Have questions about getting started with waist training or finding the right size corset? Contact us!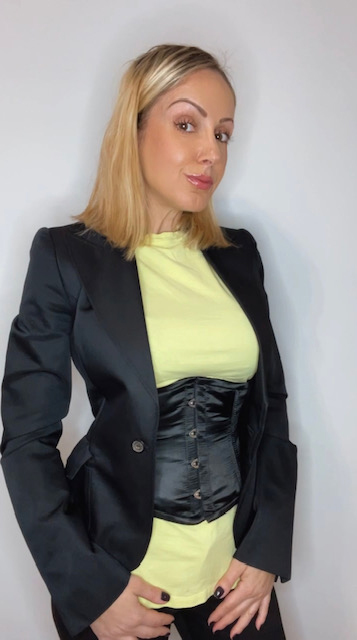 My name is Rachel, I am the owner of Glamorous Corset, a small business founded by me in 2010. Back In 2005, I was in a car accident that left me with a herniated disk. Much to my surprise I learned steel boned corsets were beneficial to several medical injuries including mine. I was always intrigued with corsetry, their history and their beautiful aesthetic. I love sharing knowledge about corsets, educating my wonderful readers and breaking the negative stigma related to corsetry. In combination with my years of research and personal experience I hope my articles are useful and can help anyone who has struggled with some of the same things I have. More about me…