Just think about what your body goes through in order to bring another human being into the world. The weight you gain, the stress to your organs, the places that stretch to a degree you never thought possible – it's all worth it when you hold your newborn for the first time and fall in love so completely, but let's all just recognize that you put your body through the ringer for the better part of a year to reach that point.
In other words, you should really give yourself a break when it comes to the prospect of bouncing back and reclaiming your pre-baby body. You've put incredible strain on your body and it's going to take some time to recover. In the weeks and months following childbirth, your body will heal and snap back to a degree, but don't forget, you still have a newborn, which often includes breastfeeding, sleep deprivation, and learning curve fraught with extreme anxiety for most new parents.
Now we reach the big question. How can waist training help after pregnancy? If you think it's all about forcing yourself into a tiny torture machine so you can look perfect in your IG posts post-childbirth, think again. There are so many benefits to this gradual process that you probably never considered, and they go far beyond looking good (although this is also a definite plus).
Postpartum Support
If you're a brand-new mom, you're probably starting to realize just what having that 8-pound baby inside your abdomen did to you. In addition to the many ways your body had to stretch to accommodate your little bundle of joy, your organs have been shifted and squished for at least several weeks. The outcome is a midsection you may find unsightly and uncomfortable as your body begins to heal and return to pre-baby proportions.
As a new mom, you need plenty of social and emotional support, but many women also need physical support. A properly sized corset, when worn snug but not overtight, can not only shape your midsection and correct your posture, but provide comforting support while your body rebounds. With an underbust model, you're free to breastfeed. Just remember, in the first six weeks following childbirth, it's best to go gentle on your body, so skip your typical waist training regimen in favor of a firm, but comfortable level of support.
Comforting Compression
Many women report that the abdominal compression a corset provides gives them a level of comfort, as if being hugged. However, gentle compression around the midsection following childbirth can have other benefits. For example, it can help to stimulate blood flow to areas that are healing.
It may also reduce common aches and pains following childbirth. Plus, it can help with posture if you're experiencing feelings of weakness in your core after not doing your regular crunch routine for months. Although individual experiences will vary, you may find that the gentle compression of a corset helps to alleviate some of the symptoms new moms commonly experience.
Confidence-Boosting Waist Slimming
People who don't understand the many benefits of waist training often focus on the cosmetic appeal of corsetry. While there are more important reasons for new moms to consider wearing a corset, there's no denying the appeal of instant gratification when you put on this supportive garment and look in a mirror.
With a slim waist and perfect posture, it's natural to feel beautiful, sexy, and self-confident – feelings that you may struggle with when looking at your post-baby body. It pays to remind yourself that this isn't forever, and that your body will recover, but there's no reason not to boost your comfort and confidence in the meantime with the support and gentle compression of a corset.
Motivation to Bounce Back
Even if you don't suffer the strain of postpartum depression, it's easy to feel down about the changes your body has undergone since you got pregnant. This can make it difficult to find the motivation to eat right and exercise, especially when you're dealing with sleep deprivation and the anxiety common to new parents.
When you don a corset, however, and see how great you look in (and out of) clothing, it can be just the boost you need to stay on track and make your health a priority, even when your newborn is taking up the lion's share of your time and attention.
So, How Can Waist Training Help after Pregnancy?
As you can see, there are plenty of reasons to consider embarking on a waist training journey following pregnancy and childbirth. Just make sure you do so in a safe way, and always listen to your body and do what feels right for you.
---
To stay up-to-date with weekly blog posts, waist training tips, and the chance to win one of our monthly corset giveaways, follow us on Facebook, Instagram & subscribe to our mailing list today! Want to find the perfect steel boned corset? Shop some of our favorites: underbust corsets, overbust corsets, corset dresses. You can also shop our corsets by material: cotton corsets, denim corsets, leather corsets, mesh corsets, pvc corsets, and satin corsets. Have questions about getting started with waist training or finding the right size corset? Contact us!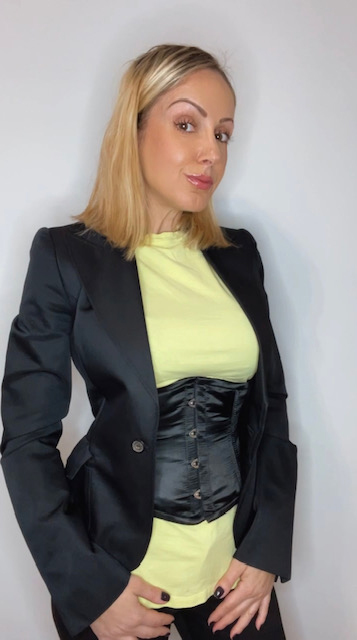 My name is Rachel, I am the owner of Glamorous Corset, a small business founded by me in 2010. Back In 2005, I was in a car accident that left me with a herniated disk. Much to my surprise I learned steel boned corsets were beneficial to several medical injuries including mine. I was always intrigued with corsetry, their history and their beautiful aesthetic. I love sharing knowledge about corsets, educating my wonderful readers and breaking the negative stigma related to corsetry. In combination with my years of research and personal experience I hope my articles are useful and can help anyone who has struggled with some of the same things I have. More about me…