Featured corset: Gia Black PVC Corset Belt
Corsets are perhaps the most intricate items found in a wardrobe. Because they're created to shape the body in a specific manner, they feature specially tailored pieces that are meant to perform different jobs. The end result is a lovely silhouette and a beautiful item that's both functional and fashionable.
Ready for a quick overview? Here's a rundown on what a corset is made out of!
Corset Anatomy
There are several parts and pieces to a well-designed corset. Let's take a peek at what they are.
Busks (Steel)
Busks are the clasps across the front of a waist trainer. They look like several sets of bra clasps stacked in rows. They put tension on the torso to press your waist into place. You won't find these on fashion corsets.
Bones (Steel)
As the vertical "skeleton" of a corset, these long strips of material maintain the corset's shape and help to press the waist into the proper placement. Once made out of the baleen (a keratinous material often mistaken as bone) from baleen whales, they can now be made out of a variety of more readily available materials.
However, steel is still the most common, as it can bend a bit while maintaining rigidity.
Channels and Panels (Various Soft, Breathable Materials)
Channels are the tubes of fabric that slide into place around the bones. Panels are the pieces of material that are stitched to the channels. They often appear to be the different "sections" of a corset, and their unique shapes create that fitted hourglass structure.
Grommets and Lacing (Metal and Ribbon or Cord)
Grommets are the metal-enforced holes at the back of the corset where the lacing is found. They protect the material from damage when you pull the lacing tighter.
Lining Layer (Cotton Coutil)
Also known as the strength layer, this piece should be comfortable, as it is what lies directly next to your skin.
Modesty Panel (Often Cotton Coutil)
This fabric sits behind the laces. Essentially, it hides any squished skin that can be caused by pulling the laces tighter.
Shell (Various More Durable Materials)
This is the material that faces outward. Fashionable and durable, this piece is made for the world to see!
Corset Materials
We call on our corsets to perform all sorts of jobs. Keeping corsets discreet while also ensuring that they are supportive enough to do the job can be a tricky balancing act.
In the same way, crafting gorgeous statement pieces while making sure they're light enough for comfortable waist training is almost a science of its own. Luckily, we've had a long time to perfect the art, and we've been able to adapt corsets for all sorts of uses, including posture correction!
Long ago, corsets were made of heavily starched linen and cotton (or even satin) – all materials we use today. However, our more modern renditions generally make use of stronger and more readily available materials. Corset wearers can even enjoy using them as part of their personal style. That's something Victorian women wouldn't dream of (oh my heavens, the scandal!).
Corsets today feature textiles that keep comfort and breathability in mind. Here's a few you'll see the most often.
Cotton
Both cheap to make and strong for extended use, cotton is the go-to for daily wear. In corsetry, "cotton" most often refers to cotton coutil, which is a twill specifically used for this type of garment.
Satin
This fabric is absolutely gorgeous, which means that you can wear it on the outside of clothing as a stunning statement piece. For this material, you don't want to skimp on price. (Hint: If it comes in a plastic bag with a costume, you probably don't want to use it for waist training!)
Silk Brocade
A show-stopper in our book, silk brocade makes for beautiful woven pieces.
Mesh
A more modern take, mesh is a go-to for the summer. It's lightweight and can be easily hidden beneath thinner fabrics or can rest on top without hiding the pattern of your clothing.
Leather
Leather is the winner when it comes to support and long-lasting sturdiness. This option is better for winter, since it can get a bit warm. It shouldn't be worn directly next to the skin. (For an eye-catching combo, put your leather corset over a button-up shirt!)
---
To stay up-to-date with weekly blog posts, waist training tips, and the chance to win one of our monthly corset giveaways, follow us on Facebook, Instagram & subscribe to our mailing list today! Want to find the perfect steel boned corset? Shop some of our favorites: underbust corsets, overbust corsets, corset dresses. You can also shop our corsets by material: cotton corsets, denim corsets, leather corsets, mesh corsets, pvc corsets, and satin corsets. Have questions about getting started with waist training or finding the right size corset? Contact us!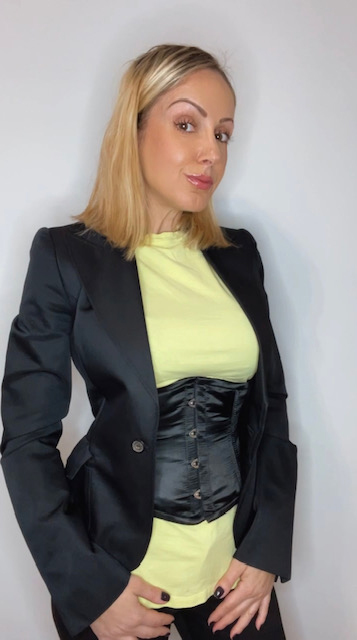 My name is Rachel, I am the owner of Glamorous Corset, a small business founded by me in 2010. Back In 2005, I was in a car accident that left me with a herniated disk. Much to my surprise I learned steel boned corsets were beneficial to several medical injuries including mine. I was always intrigued with corsetry, their history and their beautiful aesthetic. I love sharing knowledge about corsets, educating my wonderful readers and breaking the negative stigma related to corsetry. In combination with my years of research and personal experience I hope my articles are useful and can help anyone who has struggled with some of the same things I have. More about me…