Featured Corset: Jolie Beige Cotton Corset
Beauty is pain, so the saying goes, and throughout history, women have certainly found countless ways to torture themselves in a quest to achieve perceived feminine ideals.  From foot binding, to lead-based cosmetics, to ripping out body hair with strips of molten wax, we've certainly subscribed to some barbaric torment in the name of beauty.
That said, enjoying a feminine form shouldn't be a painful experience. While there's certainly a contingent of naysayers spouting ignorant rhetoric about the evils of corsetry, the truth is, corsets have literally been in use for centuries.
The reason for this longevity is that corsets are actually quite comfortable when worn properly. Far from the fainting stereotype, Victorian women were known to ride bikes, play lawn tennis, and generally lead normal, active lives, all while wearing corsets and sundry other layers of clothing.
For modern women, the process begins with finding the right style and fit for your body and your waist training goals. How should a corset fit? Here are a few things you should know when you're trying and buying corsets.
Size Appropriately
The first thing you need to do is choose the right corset size.  This starts with taking proper measurements, including the underbust (the crease where your breasts meet your torso), the natural waist (where it pinches in when you bend to the side), your hip (just above the crease where your legs bend when you sit), and your torso length (from the underbust to the hip on each side).  If you're interested in overbust models, you'll need to know your bust measurement, as well.
Also see: How to Measure Yourself for a Corset
You'll find that authentic, steel boned, waist training corsets will always have at least some, if not all of these measurements listed, ensuring that you can find the right size for your dimensions.  Avoid corsets with S/M/L/XL sizing, as they're fashion corsets that simply won't provide the strength, resilience, shaping, and compression waist training requires.
Also see: What Size Waist Trainer Should I Get?
Season Liberally
Once you've sized appropriately, the next question is how should a corset fit your body? This is an important point because our bodies are all unique, and while you can choose a garment with the right dimensions for your frame, a skintight corset really needs to fit like it was custom made for you.
This is where careful seasoning is essential. It's tempting to jump into waist cinching like you're running a new Ferrari through the paces, but unless you want to crash and burn, it's wise to take it slow. Seasoning your corset is the best way to mold it to your body so it fits like a second skin.
There are generic waist training schedules to help you get started if you're new to waist training, but it won't be long before you get a feel for seasoning and adjust the schedule to suit your personal comfort level.  When a corset is properly seasoned, it will conform to your body and fit you like a glove in no time.
Also see: Corset Seasoning Schedule: Seasoning for Waist Training
Follow a Waist Training Schedule
Okay, so your corset is seasoned and it looks and feels fantastic. Time to start tightlacing, right? Not quite. If you try to run before you learn to walk, you're going to faceplant in spectacular fashion. The same basic principle applies to waist training.
Just as you take your time seasoning your corset, you need to slow roll waist training instead of going from zero to six inches the first time you cinch the laces. Incremental tightening ensures a comfortable fit and continuing progress toward waist training goals.
Listen to Your Body
Your corset should never feel like a medieval torture device. It shouldn't pinch, poke, chafe, bruise, or otherwise harm your torso. How should a corset fit? Ideally, like a snug hug, with uniform compression all around.
If your corset is perennially uncomfortable, something has gone terribly wrong.  You may have the wrong size, or perhaps the wrong style for your body type.
Also see: Are Corsets Painful to Wear?
A longline isn't ideal for a short torso, and a significant spring won't work great for lean, athletic body types, for example.  Or maybe you're tightening too much too soon. This is important, because if your corset causes you pain, you're not likely to stick with your waist training regimen, and when the fit is bad, you're obviously not going to look and feel your best.
If you're having trouble finding the right corset for your body, don't hesitate to ask for professional help from the friendly and knowledgeable team of experts at Glamorous Corset.  We're available seven days a week to answer all of your questions and guide you toward the best styles and sizing. Contact the Glamorous Corset team now!
---
To stay up-to-date with weekly blog posts, waist training tips, and the chance to win one of our monthly corset giveaways, follow us on Facebook, Instagram & subscribe to our mailing list today! Want to find the perfect steel boned corset? Shop some of our favorites: underbust corsets, overbust corsets, corset dresses. You can also shop our corsets by material: cotton corsets, denim corsets, leather corsets, mesh corsets, pvc corsets, and satin corsets. Have questions about getting started with waist training or finding the right size corset? Contact us!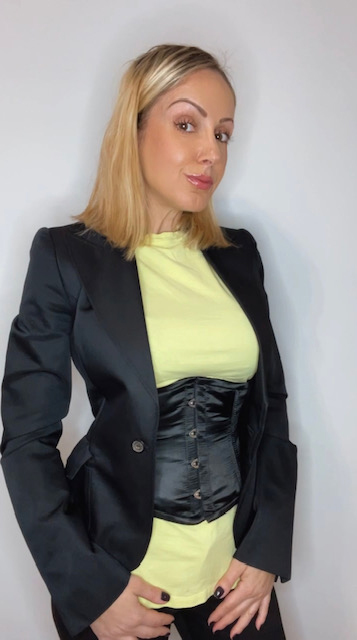 My name is Rachel, I am the owner of Glamorous Corset, a small business founded by me in 2010. Back In 2005, I was in a car accident that left me with a herniated disk. Much to my surprise I learned steel boned corsets were beneficial to several medical injuries including mine. I was always intrigued with corsetry, their history and their beautiful aesthetic. I love sharing knowledge about corsets, educating my wonderful readers and breaking the negative stigma related to corsetry. In combination with my years of research and personal experience I hope my articles are useful and can help anyone who has struggled with some of the same things I have. More about me…