Featured Corset: Bella Black Mesh Waspie Corset
The problem with ready-to-wear clothing has always been that it's designed based on averages.  What this means for many consumers is a near-constant battle to find clothing that merely fits well enough.  However, a top that hits perfectly just above the hip for some will expose a ribbon of belly above the waistband of jeans on others, or for others still, wear like a nightgown.
If you're one of many who constantly has to hem up shirts to better fit a shorter torso, you'll be happy to hear that corsetry has long served the needs of those with less real estate between the underbust and the hip.  While underbust corsets are often adequate, the best corset for a short torso is a wee waspie.
What's a Waspie Corset?
TBH, you'd be hard pressed to find a formal definition for this particular model of corset.  That said, within the corseting world, it is generally understood that a waspie is a particularly short underbust corset.  While the average underbust corset could be said to extend from the underbust (where the crease of your breasts meets your torso) to the hip (where your leg creases when you sit), we all know this length is not the same for every wearer.
A waspie corset handily eliminates this issue by converging on the waistline, falling significantly above the hip and often, below the underbust line of demarcation.  If you're looking for more specific parameters to go by, let's just say the rule of thumb is generally a height of no more than eight inches, although this is by no means absolute.  Often, however, waspies can be even shorter than this, which makes them significantly more practical and comfortable for anyone with a short torso.
What Gives with Waspies?
In a nutshell, nearly everything. These ultra-compact corsets are centered on your waist, which means you can focus solely on waist training without having to worry about the edges of your corset competing with the underwire in your bra or the waistband of your pants. This not only make them the best corset for a short torso, but an ideal option for anyone seeking an undergarment that's easy to stealth and comfortable to sit in throughout the day.
With a hyper-focused area of compression, you'll enjoy minimal restriction and greater mobility, so this is also a great choice for those who want to waist train without giving up an active lifestyle. And of course, waspies are still the best option for anyone who finds average-length underbust models of, say, 11 inches, too long for comfort.
Waspie Wear
When it comes to versatility, waspies aren't only the best corset for a short torso, but also for anyone seeking the double duty of waist training function and fashionable style. For starters, they're typically considered the easiest style to stealth under clothing.
In addition, however, they handily mimic the modern trend of wide belts situated at the waistline, which means you can pair them with tees, blouses, cardigans, Oxfords, high-waisted skirts or slacks, shirt dresses, and more to stunning effect. In essence, you can treat waspies like an accessory and gain waist training benefits, to boot.
Whether you pair a satin corset belt with a bodycon sweater dress or cinch a cool and casual mesh number over your favorite tee or tank, waspies elevate your average fashion, accentuate your tiny waist, and help you develop your statement style, even if your torso is shorter than average.
---
To stay up-to-date with weekly blog posts, waist training tips, and the chance to win one of our monthly corset giveaways, follow us on Facebook, Instagram & subscribe to our mailing list today! Want to find the perfect steel boned corset? Shop some of our favorites: underbust corsets, overbust corsets, corset dresses. You can also shop our corsets by material: cotton corsets, denim corsets, leather corsets, mesh corsets, pvc corsets, and satin corsets. Have questions about getting started with waist training or finding the right size corset? Contact us!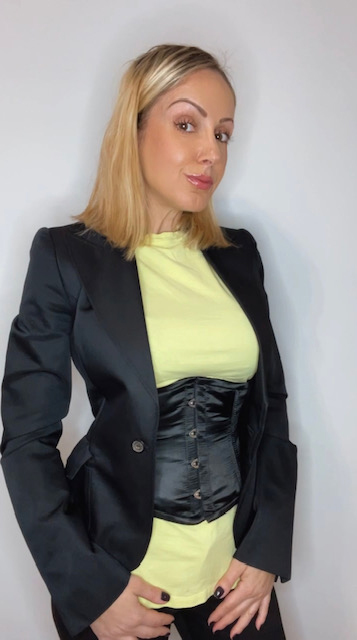 My name is Rachel, I am the owner of Glamorous Corset, a small business founded by me in 2010. Back In 2005, I was in a car accident that left me with a herniated disk. Much to my surprise I learned steel boned corsets were beneficial to several medical injuries including mine. I was always intrigued with corsetry, their history and their beautiful aesthetic. I love sharing knowledge about corsets, educating my wonderful readers and breaking the negative stigma related to corsetry. In combination with my years of research and personal experience I hope my articles are useful and can help anyone who has struggled with some of the same things I have. More about me…