While corsets are designed to wear under clothing, you may have noticed that it's not always easy to stealth this support garment under a bodycon dress or a thin jersey tee. The natural alternative, of course, is to switch from an underwear to outerwear mentality.
When you use your corsets as layering pieces and put them on full display, you not only gain practical benefits, like placing a layer of fabric between your skin and your corset for added comfort (and to prevent natural body oils and sweat from causing premature garment deterioration), but you'll also add a dose of panache and personal style to every ensemble.
Just as you utilize belts, jewelry, and other accessories to spice up your outfits, wearing a corset over clothing opens the door to new fashion opportunities.  The trick, of course, is choosing the right shirts to wear with underbust corsets.  Here are a few pairings you'll definitely want to try.
Classic Cotton Tees
Although you can certainly purchase fancy corsetry in satin and brocade, there's no reason you can't go cool and casual in cotton or mesh for everyday wear. These textiles also work perfectly with casual clothing like lightweight cotton tees or tank tops.
When it comes to the best shirts to wear with underbust corsets, breathable cotton is ideal to put between your skin and your waist trainer. Lightweight jersey knit that is soft, stretchy, and close-fitting will show off your svelte silhouette, while looser tees and tanks can be bloused for fashionable effect, or to hide any spillage you may be self-conscious about.
Upscale Oxfords
Nothing looks more put-together than a crisp, button-down Oxford paired with a stiff, underbust corset. If you're going for a modern twist on a collegiate standby, adding edge to office-appropriate attire, this look is everything. Paired with wide-leg slacks, an updo, and a lavalier necklace, you'll achieve a polished, almost editorial look that will earn you the envy of every woman in your office.
Breezy Blouses
If you want a look that's a step up from casual tees, but not quite as stiff as a starched Oxford, you're sure to appreciate the feminine appeal of a drapey silk or chiffon blouse, especially when juxtaposed against the rigidity of an underbust corset. You can add some volume up top and further accentuate your waist with a ruffled neckline and flutter or cap sleeves, or keep it simple and streamlines with a blouse that fits closer to the body.
Knitwear Notions
When the weather turns cold, you may fear that you'll no longer be able to wear your corset over your clothing, but you'll be glad to hear that there are plenty of cozy knitwear tops to wear with underbust corsets. Consider thin merino wool or buttery cashmere (possibly paired with a cotton undershirt for added breathability). You can also look for viscose/cotton blend sweaters for a lightweight mix of comfort and style. All will look lovely with knee-length, A-line skirts and flats or pumps.
For a chic statement that skews high fashion, consider a bodycon turtleneck paired with tweed trousers and kitten heels, or alternately, a mini skirt, opaque tights, and knee-high boots, for a slightly younger vibe. You'll want to steer clear of chunky knitwear, as anything too bulky will impact the efficacy of your corset, in terms of waist training. As you can see, however, there are plenty of options to match the weather, your style sensibilities, and even your mood when you opt to wear your underbust corset over clothing.
---
To stay up-to-date with weekly blog posts, waist training tips, and the chance to win one of our monthly corset giveaways, follow us on Facebook, Instagram & subscribe to our mailing list today! Want to find the perfect steel boned corset? Shop some of our favorites: underbust corsets, overbust corsets, corset dresses. You can also shop our corsets by material: cotton corsets, denim corsets, leather corsets, mesh corsets, pvc corsets, and satin corsets. Have questions about getting started with waist training or finding the right size corset? Contact us!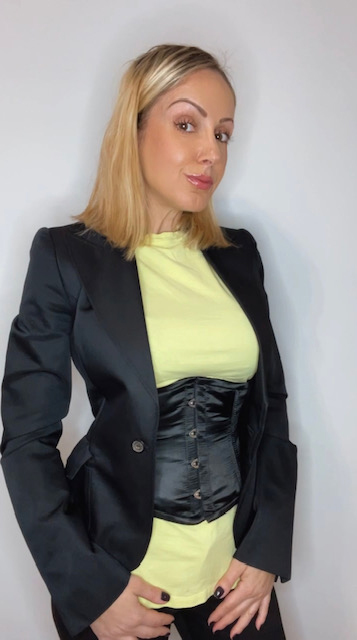 My name is Rachel, I am the owner of Glamorous Corset, a small business founded by me in 2010. Back In 2005, I was in a car accident that left me with a herniated disk. Much to my surprise I learned steel boned corsets were beneficial to several medical injuries including mine. I was always intrigued with corsetry, their history and their beautiful aesthetic. I love sharing knowledge about corsets, educating my wonderful readers and breaking the negative stigma related to corsetry. In combination with my years of research and personal experience I hope my articles are useful and can help anyone who has struggled with some of the same things I have. More about me…