Featured Corset: Jolie Plus Size Black Mesh Corset
One of the great advantages of living in a consumer culture is that we have endless options to choose from, which means everyone has the opportunity to find their preferred vehicle, from a Nissan Leaf to a Ford F-350; the comfiest mattress, from Sealy, to Serta, to Purple; and the perfect flavor of ice cream, from rocky road to rum raisin.  I don't know who eats rum raisin, but apparently, it's a thing you can choose to eat.
The downside of having so many options is that you can suffer the paradox of choice, by which you become so overwhelmed that you freeze and can't choose anything.
Hold up your hand if you've spent two hours watching trailers on Netflix only to turn off the TV in frustration without actually watching a movie.
Yeah, me, too…more times than I can count.
When it comes to waist training, you might start out with the idea that one corset is as good as the next, but you really have to understand the many different options available, so you can choose the best style, sizing, and features to suit your body and accomplish your goals.
The good news is, you needn't derail yourself with choice overload trying to answer the question: what corset is right for me? With a few simple tips, you can easily find the waist training options that are perfect for you.
Sizing Up Options for Sizing Down
Before you start looking at corsets, the first and arguably most important step is understanding how sizing works.
First of all, you don't want to buy corsets with typical S/M/L/XL type sizing. This generally indicates fashion corsets, which look nice, but offer none of the compression and support you'll need for waist training.
Steel boned corsets feature sizing in inches for the waist, and if you choose an overbust model that covers the breasts, you'll usually see bra-style measurements (cup size and bust size in inches), as well.
In fact, you'll need to take a few precise measurements to ensure that you find the perfect corsets for your body shape and size.
First, you need to measure your natural waist, or the smallest part of your torso. Bend from side to side – your waist is where the torso pinches in.
You'll also need to measure your underbust (the crease where the breasts meet your torso), the hip (just above the bend in your legs when you sit), and the torso length (from the underbust to the top of your thigh when seated – measure both sides).
Bust measurements will be necessary only if you plan to purchase an overbust corset.
Also See: How to Measure Yourself for a Corset
Different Corset Styles
Now that you know your measurements, it's time to decide which corset style is ideal for your body, your goals, and your preferences.
Also See: How to Choose the Right Corset Style for Your Body Type
There are two main categories to choose from: overbust and underbust. In truth, it's not a bad idea to have both in your wardrobe to wear with different outfits or for different occasions, but there are a couple of reasons why you might prefer one style over the other.
Some women prefer an overbust corset for the simple fact that it can eliminate the need to wear a bra. Since it has cups that offer the coverage, support, and lift you'd otherwise get from a bra, it doesn't make a lot of sense to double up. Plus, it can minimize overlap, gaps, or pinching that may occur when you pair an underbust model with a bra.
On the other hand, you may feel that overbust models are more constricting or harder to hide under modern clothing. In this case, a smaller underbust corset may be more your speed. You could even choose a tiny waspie corset that's similar to a wide belt.
Keep in mind, you may choose to wear your corset over clothing, instead of under, achieving double duty with waist training and fashion. A waspie could become a stylish belt over cardigans, blouses, shirt dresses, and more, while an overbust model could serve as a sleek vest-type layering piece over a button down and under a blazer.
Also See: Should I Wear My Steel Boned Corset Under or Over Clothes?
Material Importance
When determining what corset is right for me, the textiles your garment is made of should actually be the last factor you consider, even though it's the feature that first draws the eye.
The materials you choose will depend on whether you want to stealth, or hide, your corset wear, or alternately, show off this support garment, as well as other factors, like comfort, strength, and breathability, just for example.
Corsets are frequently available in durable cotton, mesh, satin, PVC, leather and more. Modern mesh is the lightest and most breathable option, so if you tend to run hot, this might be your best bet. It also fits very close to the body, which makes it easy to hide.
Stiff cotton canvas is also fairly breathable, being a natural fiber, and it's practical and affordable for everyday wear.
Satin is a great option if you want drapey fabrics to skim over your corset, and rich brocade is an outstanding option if you plan to show off your corset as outerwear and you want to make an impression.
Leather is extremely durable, but also a bit bulky and hot, so you may want to save it for colder weather and wear it over clothing.
No matter what you prefer, you have plenty of options to ensure that you find the perfect corset for your needs, and likely several that are suitable for different occasions, outfits, and moods.
---
To stay up-to-date with weekly blog posts, waist training tips, and the chance to win one of our monthly corset giveaways, follow us on Facebook, Instagram & subscribe to our mailing list today! Want to find the perfect steel boned corset? Shop some of our favorites: underbust corsets, overbust corsets, corset dresses. You can also shop our corsets by material: cotton corsets, denim corsets, leather corsets, mesh corsets, pvc corsets, and satin corsets. Have questions about getting started with waist training or finding the right size corset? Contact us!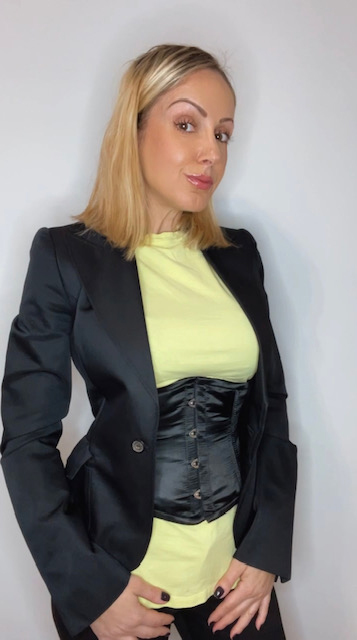 My name is Rachel, I am the owner of Glamorous Corset, a small business founded by me in 2010. Back In 2005, I was in a car accident that left me with a herniated disk. Much to my surprise I learned steel boned corsets were beneficial to several medical injuries including mine. I was always intrigued with corsetry, their history and their beautiful aesthetic. I love sharing knowledge about corsets, educating my wonderful readers and breaking the negative stigma related to corsetry. In combination with my years of research and personal experience I hope my articles are useful and can help anyone who has struggled with some of the same things I have. More about me…