Featured Corset: Jenna Black Satin Corset
It's a rare person who remains the same exact size throughout their adult life. Even those who subscribe to a strict diet and exercise regimen are likely to see their weight fluctuate by a few pounds here and there. Most of us go through dozens of pounds of weight gain and loss at various times, like during pregnancy, periods of inactivity, times of stress, or simply because we get older, our metabolism changes, and we struggle to adjust.
The point is that there are definitely going to be times when you think you're one size, but you end up being another. Plus, as every woman is painfully aware, sizing isn't necessarily universal. How many times have you found the perfect size for a brand of jeans, only to discover that the same size doesn't fit for other brands or even for other products manufactured by the same brand?
It's a challenge, to be sure, and it gets even more frustrating when it comes to garments designed to be form-fitting. Corsets are a prime example. These support garments need to fit perfectly in order to deliver the body-shaping, waist-slimming results for which they are intended.
In other words, you really have to make sure you know how to buy the right size corset going in, so you don't end up wasting money on garments that just don't fit or function as they should. How can you determine your dimensions and choose a corset that fits like a glove? Here are a few tips to get you on track.
Start by Considering Corset Styles
There are two main styles of corset – overbust and underbust – and knowing which one you prefer could help you to determine how to buy the right size corset. Essentially, the style you choose will dictate the measurements you have to take in order to ensure the perfect fit.
You'll also need to consider features like the spring of the garment (i.e., the ratio of waist circumference to the hip or underbust circumference), the waist style you prefer (hourglass, conical, pipe stem, etc.), and whether you want a longline garment or a shorter torso, for example. These features could all impact the measurements necessary to ensure proper fit and desired outcomes.
How to Buy the Right Size Corset Based on Your Measurements
There are four essential measurements you must take to get the right corset fit:
Underbust
Waist
Hip
Torso length
If you're interested in overbust models, you'll also need a bust measurement. How do you take these measurements? Ideally, with some helping hands, although you can certainly manage on your own, especially with the assistance of a mirror.
The bust measurement is one you've likely taken before if you wear a bra. You simply stretch a cloth measuring tape around the fullest part of the bust, looping it under your arms to center on the nipples. A mirror can help to make sure the measuring tape stays level across your back instead of drooping down.
Next, you'll measure the circumference of the underbust or the crease where breast tissue meets the abdominal wall. You can target your natural waist by bending to the side and pinpointing where your torso creases. Your hip measurement should be taken at the top of the hip bone, which you can find by bending forward at the hip to feel the crease.
Finally, you'll measure your torso length between the underbust crease and the hip crease. With these essential measurements, you'll be well on your way to finding the right size corset for your body.
Sizing for the Waist You Want
One of the biggest factors when it comes to how to buy the right size corset involves not only your current waist size, but also your goals for waist reduction. With that being said, if you purchase a corset 10 inches smaller than your natural waist, you're in for a disappointing attempt at squeezing into this compression garment.
The good news is that most corset manufacturers and retailers have charts to tell your ideal corset size based on your measurements so you don't have to figure it out on your own.
If your natural waist is 32"-36", for example, your corset size would be 30". This generally means you'll start out at the largest expansion of the garment so you have plenty of room to size down. When you need to size up or down, you'll simply take a new set of measurements to inform the purchase of your next corset size.
Planning for Wear and Tear
In truth, the way your corset will weather has little to do with knowing how to buy the right size corset, but you really do need to consider how durable certain materials are to ensure that the size you choose will last until you're ready to size down.
Corsets are often made from incredibly resilient materials, including cotton, satin, mesh, and even leather. You'll need to consider the bulk you're comfortable with, whether you want a natural or breathable textile, and the anticipated durability of the fabric that you choose.
This secondary consideration could save you money, as well as the time and hassle of seasoning a new corset prematurely. When you take the time to understand styles, take accurate measurements, and consider materials, you'll have the best opportunity to choose not only the right size corset, but also the one that will meet all of your expectations.
---
To stay up-to-date with weekly blog posts, waist training tips, and the chance to win one of our monthly corset giveaways, follow us on Facebook, Instagram & subscribe to our mailing list today! Want to find the perfect steel boned corset? Shop some of our favorites: underbust corsets, overbust corsets, corset dresses. You can also shop our corsets by material: cotton corsets, denim corsets, leather corsets, mesh corsets, pvc corsets, and satin corsets. Have questions about getting started with waist training or finding the right size corset? Contact us!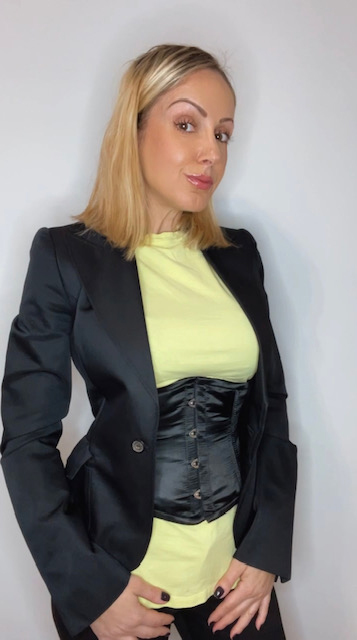 My name is Rachel, I am the owner of Glamorous Corset, a small business founded by me in 2010. Back In 2005, I was in a car accident that left me with a herniated disk. Much to my surprise I learned steel boned corsets were beneficial to several medical injuries including mine. I was always intrigued with corsetry, their history and their beautiful aesthetic. I love sharing knowledge about corsets, educating my wonderful readers and breaking the negative stigma related to corsetry. In combination with my years of research and personal experience I hope my articles are useful and can help anyone who has struggled with some of the same things I have. More about me…