Featured Corset: Lara Beige Cotton Corset (Plus Size)
Everyone knows that beauty comes at a price. Cosmetics, salon treatments, hair removal, and other common beautification measures not only put a dent in your bank account, but they can also take up an incredible amount of your time. Still, there's a lot to be said for the confidence you feel when you gaze in the mirror and see yourself in a flattering light because of the steps you've taken to pull together a look you love.
Of course, we all have our limits when it comes to the pursuit of physical beauty. Some women are willing to go as far as seeking cosmetic surgeries, while others feel beautiful with nothing more than a bit of blush and lip gloss. Where's the line in the sand when it comes to how far you'll go to look your best?
Generally speaking, you might want to set the beauty bar at a point where the downsides start to outweigh the benefits. For example, wearing a corset throughout the day for waist training purposes is a great way to work toward your goal of a slimmer waist, while ensuring the most flattering fit for clothing. However, you may naturally wonder about the benefits of sleeping with a corset, as well.
Do you stand to see faster results if you wear your corset during slumber, as well as during the day? Or are you risking problems that outweigh potential benefits when you make this choice? Here are a few things to consider before you decide to live in your corset full-time.
Physical Benefits of Sleeping with a Corset
The benefits of wearing a corset to bed are essentially the same as wearing one throughout the day. If you're waist training, extended wear is an essential component for generating semi-permanent waist slimming results. By following a regimen that includes several hours of daily wear, along with incremental tightening to size down over time, you can work toward your goal of reducing the size of your waist.
Some wearers enjoy back support when wearing a snug corset, and some use this garment for bust support. This may not be as useful when you're lying down as when you're standing and sitting throughout the day, but you will still have compression and support. Some women also swear by the menstrual relief the compression of a corset provides, and there's no reason this shouldn't carry over into the hours you spend sleeping.
Other Benefits
While people often start out wearing corsets because of the physical benefits they provide, some people also find that the snug embrace of this supportive garment helps to reduce stress, like being swaddled in a blanket. Corsets can also help people of all shapes and sizes to feel more confident about their appearance, by creating the curvy figure they crave and improving the drape of clothing. This may or may not apply in the bedroom setting, though.
Potential Downsides
There are many benefits to wearing a corset during the day, and some may extend to keeping it on when you sleep. Unfortunately, there are also some possible drawbacks to consider, too. First and foremost, you're likely to discover that sleeping in a corset is not the most comfortable experience.
A tight corset will significantly restrict movement, especially bending and twisting, so if you're a side or stomach sleeper or you tend to roll around, you're in for a rough night. Even back sleepers may have some trouble finding a comfortable resting position with rigid steel boning controlling the curvature of the torso. The garment could also cause you to overheat, perhaps interrupting normal sleep cycles.
A good night's sleep is incredibly important to overall health and wellness. Impacting your sleep with corset wear is one situation in which the potential benefits simply don't outweigh the possible downsides. In addition, you're going to put a lot of extra wear and tear on your corset. You could even cause significant damage (like bending a bone) that renders your garment unusable. Is it worth the cost of replacement? You'll have to decide.
Are the Benefits of Sleeping with a Corset Worth It?
In terms of waist training, it's generally recommended that you wear a corset at least eight hours a day to continue working toward your waist-slimming goals or to maintain semi-permanent results.
Although there are some benefits of sleeping with a corset, the truth is that you don't really need to, and you're unlikely to see faster or more significant results when you do. Considering that you could also impact your sleep and destroy your corset in the process, it's probably not worth it to wear this supportive garment to bed.
---
To stay up-to-date with weekly blog posts, waist training tips, and the chance to win one of our monthly corset giveaways, follow us on Facebook, Instagram & subscribe to our mailing list today! Want to find the perfect steel boned corset? Shop some of our favorites: underbust corsets, overbust corsets, corset dresses. You can also shop our corsets by material: cotton corsets, denim corsets, leather corsets, mesh corsets, pvc corsets, and satin corsets. Have questions about getting started with waist training or finding the right size corset? Contact us!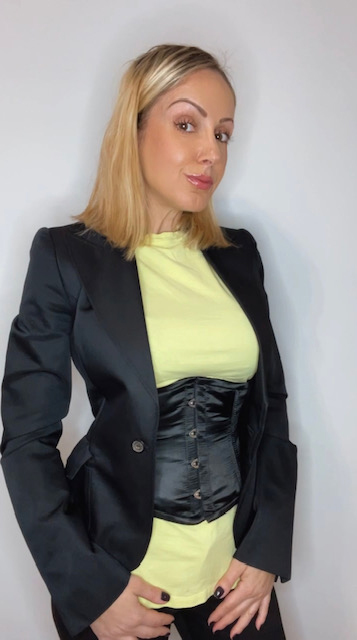 My name is Rachel, I am the owner of Glamorous Corset, a small business founded by me in 2010. Back In 2005, I was in a car accident that left me with a herniated disk. Much to my surprise I learned steel boned corsets were beneficial to several medical injuries including mine. I was always intrigued with corsetry, their history and their beautiful aesthetic. I love sharing knowledge about corsets, educating my wonderful readers and breaking the negative stigma related to corsetry. In combination with my years of research and personal experience I hope my articles are useful and can help anyone who has struggled with some of the same things I have. More about me…