Featured Corset: Lara Velvet Corset w/ Hip Ties
When you're just starting out with any new undertaking, there's going to be a learning curve. Unfortunately, corsetry is not the type of clothing that's terribly forgiving. 
Corsets are designed for compression and support, and they need to fit as closely to your body as possible. You wouldn't dream of wearing a bra in the wrong cup or band size. That same attention to detail must go into selecting the proper style, shape, and size of corset for a snug fit.
Struggling to wear an ill-fitting corset is very much like trying to cram a square peg into a round hole. As the square peg in this scenario, you're going to feel a bit worse for the wear around the edges when you opt for this strategy.
Luckily, there are a few tips and tricks that make corset fitting a cinch, so to speak. Here's what you need to know to choose a corset that fits your singular curvature just right.
Measurement Basics
Before we talk about corset fit, let's take a moment to quickly refresh your knowledge of measurements, as proper sizing is paramount to achieving a snug and comfortable fit.
There are four key measurements you need to choose the right corset size:
Underbust
Waist
Hip
Torso length
The underbust is the crease where your bust meets your abdominal wall. The natural waist is the smallest part of your torso – you can locate it by bending to the side and seeing where your waist pinches in. The hip measurement should cross the top of the hip bone (bend forward at the hip to see where it pinches in to find it).
Finally, the torso length extends from the underbust to the top of the hip bone. If you're interested in overbust corsets, you'll also want to measure the bust at the widest part (across the nipples, usually). Now you're ready to find the right corset for your body.
Understanding Waist Size
A lot of people that are new to the world of corsetry stress about choosing the right waist size. Do you pick a garment that's your current waist size or one that's the goal size you want your waist to be (say, 4-6" smaller than it is now)?
Actually, the answer is neither. Most manufacturers of waist training corsets recommend a waist size that is smaller than your natural waist by a specific amount, depending on your relative size.
For example, if your natural waist is under 38", you should choose a corset that is about 4-6" smaller than your waist. If your measurement is over 38", you could choose a garment 6-10" smaller.
Of course, if you're new to waist training and corset fitting, you'll want to err on the side of a smaller difference, say 4". More experienced practitioners could opt for 6" or more, depending on body size, shape, and personal preference.
Oftentimes, manufacturers will offer a sizing guide to help you select the right waist size for your garment.
In some cases, sellers will do the math for you – you'll buy a garment that's listed as your waist size, but it's actually 4" smaller, for example. It's always best to understand how different companies size, and if you have any questions, contact them before buying.
Underbust/Hip Sizing
Although waist sizing can be a little confusing in the beginning, the underbust and hip sizing portion of your corset fitting is much easier, as the measurements of the garment should match up precisely to your natural dimensions. Why does this disparity in measurements exist?
It's because you want the underbust and hip areas to stay the same while you work on incrementally narrowing the waist over time. Waist training is about creating semi-permanent waist slimming to achieve a more pronounced hourglass figure – this wouldn't work if you slimmed your bust and hips at the same time as your waist.
The Right Style for Your Body Type
In addition to matching up your body measurements to the right corset size, you need to consider the style you'll wear, as this will naturally impact how it fits.
For example, wearing a longline corset on a shorter torso could mean that the corset goes over the hips, and this could cause undue constriction or make it difficult to sit or bend.
Wearing a conical corset with a large bust could create undue spillage up top. Corset fitting is about more than just sizing – you need to consider your shape and proportions to select a style that's flattering and comfortable for your body.
The Spring in Your Corset Fitting
The final component of corset fitting lies in the spring size. The spring is the ratio between waist and hip/underbust size, or how pronounced the inward curve of the waist is. More spring equates to a more exaggerated hourglass shape.
If you're just starting out, less is more. As you size down, greater spring will help you to continue working toward your waist training goals.
When you understand the elements involved in choosing the right style, shape, and size of corset for your body and your goals, you'll always enjoy the best fit, allowing you to look fantastic and exude confidence.
---
To stay up-to-date with weekly blog posts, waist training tips, and the chance to win one of our monthly corset giveaways, follow us on Facebook, Instagram & subscribe to our mailing list today! Want to find the perfect steel boned corset? Shop some of our favorites: underbust corsets, overbust corsets, corset dresses. You can also shop our corsets by material: cotton corsets, denim corsets, leather corsets, mesh corsets, pvc corsets, and satin corsets. Have questions about getting started with waist training or finding the right size corset? Contact us!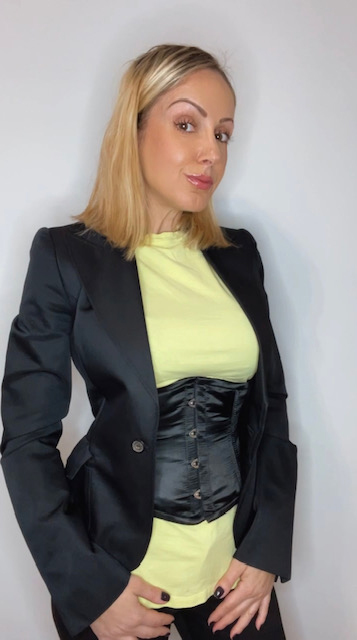 My name is Rachel, I am the owner of Glamorous Corset, a small business founded by me in 2010. Back In 2005, I was in a car accident that left me with a herniated disk. Much to my surprise I learned steel boned corsets were beneficial to several medical injuries including mine. I was always intrigued with corsetry, their history and their beautiful aesthetic. I love sharing knowledge about corsets, educating my wonderful readers and breaking the negative stigma related to corsetry. In combination with my years of research and personal experience I hope my articles are useful and can help anyone who has struggled with some of the same things I have. More about me…