Pairing your corsetry with clothing need not be a major conundrum.
Although certain aspects of modern clothing (primarily how thin and lightweight it can be) do not lend themselves well to hiding a corset, still there are plenty of ways to incorporate this elegant support garment into your everyday wardrobe, whether you're just testing the waters or you're invested in serious waist training.
Covering your corset doesn't have to be hard when you opt for stiff button-downs and tailored jackets, or you could simply find ways to wear your corset in plain view.
The question, then, is what bottoms to wear with a corset, and there are plenty of options. Here are just a few ways to find the perfect bottoms for your preferred mode of corset wear.
Stealth Management
Whether you want to camouflage your corset to maintain an office appropriate appearance, you're not keen to advertise your waist training regimen, or you're simply modest, you'll be happy to learn there are tricks to keep your corset under wraps, so to speak. A sleek corset and properly tucked laces can go a long way toward hiding the fact that you're sporting a corset under clothing, but the ensembles you choose are also essential.
When it comes to selecting bottoms, the trick is to avoid overlap if possible, as this can not only lead to unsightly bumps under clothing, but cause undue wear on your corset. A thicker fabric can help to hide any overlap, so consider choosing woolens, tweeds, suedes, and so on for slacks or skirts.
Too hot? Opt instead for garments designed to nip in at the waist and float away from the body, such as wide leg trousers or A-line skirts. You can also choose shorter corset styles (underbust models, waspies, etc.) to avoid the overlap issue completely.
Keeping it Cazh
Whether you're cool with your corset peeking out from a half-buttoned blouse or you're dying to try wearing corsets over clothing, you'll find that it's easy to incorporate your corsets into daytime and weekend looks. You don't necessarily want to choose your fanciest, ribbon-festooned, damask models that look more bordello than board room, but you can certainly pair your cotton, leather, or mesh models with everyday ensembles with ease.
You could, for example, pair an overbust corset with your favorite boyfriend jeans, cotton t-shirt and Chuck Taylors (See: How to Wear a Corset with Jeans), or maybe add a cardi if you want a bit more coverage.  A corset also goes great with form-fitting moto jeans and booties or strappy heels.  Or, if you want to wear a skirt or dress, consider a waspie corset that acts as a belt and provides the perfect transition between your upper and lower halves.
If you're keen to go super simple, just pair a long tee or tunic top with an underbust corset for shape. You can always add leggings underneath if your long top leaves too much skin exposed. Choose a mesh corset for casual styling that adds visual interest with texture.
Elevating Your Ensembles
While you can certainly dress corsets down for everyday looks, you can also use them to elevate your fancier evening ensembles. An overbust model paired with a full, floor-length skirt in high-end fabric (silk, satin, chiffon, layered tulle, etc.) can make for a passable evening gown. Or you can pair it with a mini skirt or leather leggings and throw on a blazer and platform heels to hit the club.
Wear a fancier underbust model over your LBD to up the style ante, or opt for haute couture suiting (think red carpet styling a la Evan Rachel Wood or Janelle Monae) with stilettos and a one-button (or open) suit jacket to show off your overbust corset. No matter what style you're going for, pairing your corset with the right bottoms can help you create a truly unique and eye-catching statement style.
---
Stay up-to-date with weekly blog posts, waist training tips, and the chance to win one of our monthly corset giveaways, like us on Facebook & subscribe to our mailing list today! Want to find the perfect steel boned corset? Shop some of our favorites: underbust corsets, overbust corsets, corset dresses. You can also shop our corsets by material: cotton corsets, denim corsets, leather corsets, mesh corsets, pvc corsets, and satin corsets.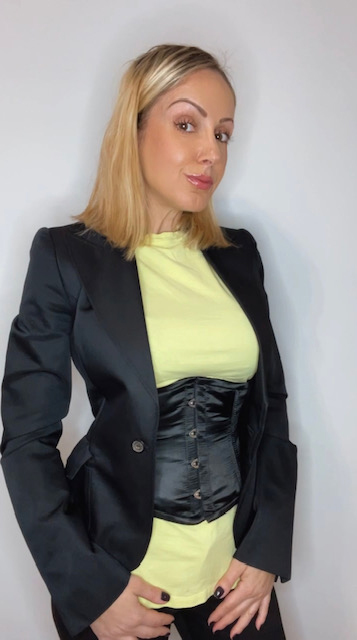 My name is Rachel, I am the owner of Glamorous Corset, a small business founded by me in 2010. Back In 2005, I was in a car accident that left me with a herniated disk. Much to my surprise I learned steel boned corsets were beneficial to several medical injuries including mine. I was always intrigued with corsetry, their history and their beautiful aesthetic. I love sharing knowledge about corsets, educating my wonderful readers and breaking the negative stigma related to corsetry. In combination with my years of research and personal experience I hope my articles are useful and can help anyone who has struggled with some of the same things I have. More about me…