There are some items of clothing you'll never be able to wear casually. Like, you can't just throw on a sleek evening gown and tiara and head to the supermarket. No matter how much you want to be Holly Golightly in Breakfast at Tiffany's, none of us can pull off a daytime look like that, especially not when pushing a shopping cart full of ground beef and breakfast cereal.
That said, there are some fancy items you can dress down to make them more versatile. An LBD is a great example. Just pair it with a cardigan and some flats for a great office or weekend look that can easily transition to a swanky, evening soiree with some heels, a diamond necklace, and a pashmina in place of the cardigan.
Believe it or not, you can also work high-end corsets into your casual wardrobe. While many waist training aficionados prefer to wear corsets under their clothing and out of sight, it's become easier than ever to make these one-time undergarments into visible clothing options. Here are just a few ideas for how to wear a corset casually.
As a Vest
Plenty of ladies like the menswear look, and if you're the type to wear trousers and a blazer to work, consider adding extra zhoosh by using your corset as a vest of sorts. When you choose an overbust corset, especially one with shoulder straps, you'll not only get plenty of coverage, but you can pair it with loose blouses or button-downs for a much more streamlined look.
Hiding your corset under thin, modern ladies' tops can seem well-nigh impossible, but you'll combat this problem neatly when you wear your corset on the outside. Just make sure to temper the style to go with your suiting. If you want to wear a fancier corset, choose plainer suiting fabric. If you're going with your patterned, overcheck twill, opt for an understated corset that won't compete visually.
As a Belt
This is one of the easiest ways to add corsetry to your everyday wardrobe without going over the top, so to speak. You'll want to use an underbust corset for sure, and probably narrow waspie, if you don't want to draw too much attention to this "accessory".
All you have to do to accentuate your natural waistline is wear a short corset as you would any waist belt. Pair it with everything from a tee, to a cardigan, to a shirtdress in order to nip in the waistline and add figure-flattering shape to any outfit. This will work equally well with your weekend tee and jeans look, an otherwise shapeless swing dress, or a blouse and skirt, hiding the seam where your top tucks in.
As a Top
When determining how to wear a corset casually, you're sure to appreciate the ease of skipping an undershirt altogether and simply wearing your corset in place of a top. Naturally, this will require the use of an overbust corset, but you can pair this type of top with nearly anything.
Try it out with rolled boyfriend jeans, sneakers, and a bomber jacket for a fly weekend look. Pair it with leather leggings, stilettos, and a moto jacket for a chic, modern club aesthetic. Or wear your overbust corset with wide-leg trousers, platform heels, and a chunky collar necklace for evening.
You could even go with a more work appropriate look when you pair your overbust corset with a buttoned blazer and slacks, but you really need to be careful when choosing the corset to make sure you don't show a scandalous amount of décolletage.  In truth, there are endless ways to style your corset when you wear it on the outside of clothing, and you'll have no trouble creating a modern, casual style when incorporating this garment.
---
Stay up-to-date with weekly blog posts, waist training tips, and the chance to win one of our monthly corset giveaways, like us on Facebook & subscribe to our mailing list today! Want to find the perfect steel boned corset? Shop some of our favorites: underbust corsets, overbust corsets, corset dresses. You can also shop our corsets by material: cotton corsets, denim corsets, leather corsets, mesh corsets, pvc corsets, and satin corsets.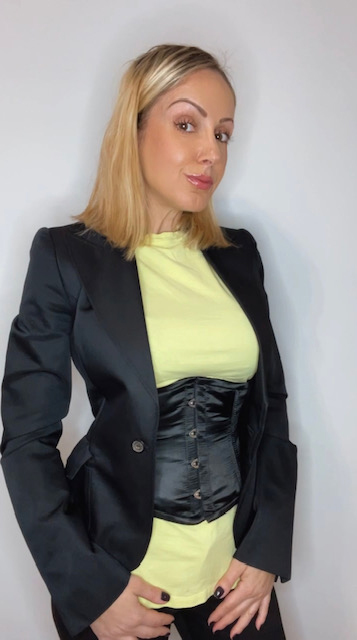 My name is Rachel, I am the owner of Glamorous Corset, a small business founded by me in 2010. Back In 2005, I was in a car accident that left me with a herniated disk. Much to my surprise I learned steel boned corsets were beneficial to several medical injuries including mine. I was always intrigued with corsetry, their history and their beautiful aesthetic. I love sharing knowledge about corsets, educating my wonderful readers and breaking the negative stigma related to corsetry. In combination with my years of research and personal experience I hope my articles are useful and can help anyone who has struggled with some of the same things I have. More about me…