Gaps aren't always a good thing. You might be keen to fix a gap-toothed smile with orthodontics or bonding, and taking a gap year before college could derail your educational plans. Many people just starting out with waist training mistakenly assume that a back gap is bad, but in fact, it's wise to leave a little room when you're working on slimming your waist with the aid of corsetry.
While your corset should always fit snugly, choosing a size that allows for a gap between the grommeted edges allows you the opportunity to incrementally tighten. If the back edges touch when laced, you can't tighten further without overlapping, and this can lead to discomfort and rubbing that leads to wear and garment failure before long. It can also derail your waist training progress.
The question is, how open should a corset be in the back? The answer may vary by wearer, garment, and goals, but here are a few basic guidelines to get you started.
Starting with the Right Corset Size
Before you figure out lacing, you must first buy the right size corset for your body and your goals. When it comes to finding your corset size, you typically want to choose not your waist size, but several inches smaller. You'll need to start by taking appropriate measurements (underbust, waist, hip, and torso length, as well as bust if you want an overbust model).
If your waist is under 38 inches, the waist size of your corset should be at least four inches smaller so that you can tighten that much during the course of waist training (starting at 1-2 inches and progressing from there). If your waist is over 38 inches, you could choose a corset size as much as 7-10 inches smaller. This gives you room to tighten incrementally over several weeks or months before you need a smaller corset size.
General Measurements
Now that you know how to pick a suitable corset size to help you on your way toward a smaller waistline, it's time to address the gap in the back. Generally speaking, you'll want a gap of at least 2-3 inches when you purchase off-the-rack corsets, although this will vary by wearer.
If, for example, your waist is over 30 inches, your gap could comfortably fall into the 3-4-inch range, whereas already small waists of 20 inches or less need no more than a 1-2-inch gap. This has to do with the amount of compression you can comfortably manage, and larger waists can typically accommodate greater compression, especially over time with continuous waist training.
Personalizing Your Fit
The gap in your garment is designed to give you room to cinch down more and more over time as your waist training regimen progresses.  If there's no gap from the get-go, you won't see the slimming you crave, and you're going to have to replace your corset almost immediately to continue seeing results.  This can get expensive fast. If the gap is too big, however, it could lead to discomfort and put too much stress on the garment.  By following guidelines, you can find the right size to start, and begin to tighten the laces in keeping with your level of comfort and your waist training goals.
---
Stay up-to-date with weekly blog posts, waist training tips, and the chance to win one of our monthly corset giveaways, like us on Facebook & subscribe to our mailing list today! Want to find the perfect steel boned corset? Shop some of our favorites: underbust corsets, overbust corsets, corset dresses. You can also shop our corsets by material: cotton corsets, denim corsets, leather corsets, mesh corsets, pvc corsets, and satin corsets.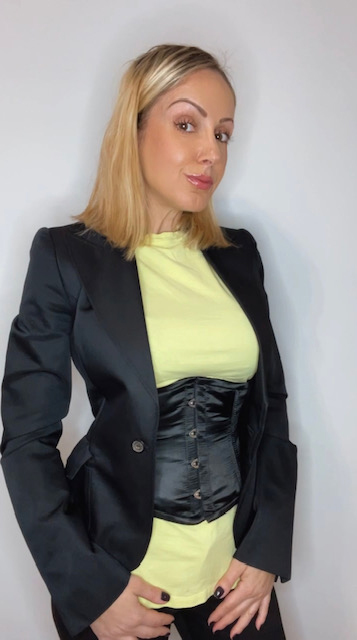 My name is Rachel, I am the owner of Glamorous Corset, a small business founded by me in 2010. Back In 2005, I was in a car accident that left me with a herniated disk. Much to my surprise I learned steel boned corsets were beneficial to several medical injuries including mine. I was always intrigued with corsetry, their history and their beautiful aesthetic. I love sharing knowledge about corsets, educating my wonderful readers and breaking the negative stigma related to corsetry. In combination with my years of research and personal experience I hope my articles are useful and can help anyone who has struggled with some of the same things I have. More about me…