First impressions can only be made once, and if you flub it, you may never get a second chance to change someone's mind. It's not just about checking to make sure none of your spinach salad remains in your teeth, or that your mascara hasn't smudged into a raccoon-eyed catastrophe – you want to look amazing and behave in a confident manner at all times. Making a good impression starts with putting together trendy, yet classic ensembles that help you to look and feel your best.
While most women's wardrobes include basics like a classic suit, a crisp, white Oxford button-down, and an LBD, the place where many fall short is when it comes to the accessories that help to complete every outfit. This is where your corset can come in handy. Not only can this undergarment help you to slim your waist line when hidden beneath clothing, but it can also be worn as an accessory for a wide variety of outfits. How can you turn your favorite shapewear into the perfect accessory? Here are a few tips and tricks.
Overbust Models
You might not think of a full-coverage, overbust corset as an accessory, and truly, it can stand as a replacement top in its own right, depending on the occasion and how you style it. While it may not be apropos to wear a strapless, overbust model to the office on its own, you can definitely pair it with a blazer at night when you head to the club with your girl squad.
However, you could also use an overbust model in place of a vest, making it perfectly suitable for an upscale office look when paired with a button-down top and your favorite power suit (a blazer with slacks or a skirt). Overbust models can also pair with everything from blouses and tees to dresses, elevating every outfit.
They do tend to look a bit fancier and more formal than your average underbust model simply because of the real estate they cover, so you'll want to carefully consider the statement you're trying to make. On the one hand, you don't necessarily want to look like an overstuffed Victorian armchair, but neither do you want to resemble a casual Friday gone horribly wrong. Editing is a must when you go for the visual oomph of an overbust corset, so choose simple pieces with classic appeal to pair with your favorite overbust model.
Underbust Corset Belts
You have a little more latitude to experiment when you trim down the coverage with an underbust or waspie, which essentially translates to a corset belt when worn outside clothing. Just adding this smaller accessory can really punch up any outfit, whether you pair it with a sheath or shirt dress, a simple jumpsuit, a tee or tunic, or a button-down shirt or blouse.
You can even wear it over a blazer or cardigan for added visual interest and an unexpected twist that will surely turn heads and earn you accolades for your fashion sense. Since an underbust corset makes for a smaller statement piece, you can really experiment with interesting fabrics, cuts, and designs without your accessories overwhelming your outfit.
Selecting the Perfect Style
When you opt to wear your undergarments as accessories, you need to think carefully about the image you're trying to project. When Emma Stone donned lingerie corsets as part of her crusade to change her image in the movie Easy A (a twist on Nathaniel Hawthorne's The Scarlet Letter), she wore them in a revealing manner that caused her peers to view her in a negative light.
You need to be careful with the styles you select and how you choose to incorporate them into your daily ensembles if you want to avoid creating the wrong impression. Sizing is obviously important – you want to choose a corset that fits snugly and doesn't impair movement too much, even if you're waist training.
However, the look of your corset is equally important if you're planning to use it as an accessory. Maybe save the satin and lace for the bedroom and opt instead for a classic leather look, especially for corset belts.
Brocades can also be beautiful if you're going for a more formal look, or you can find plenty of options in different colors and patterns of quality cotton. With the right textiles and cuts of corset, you can elevate the look of any outfit and take your ensembles seamlessly from corporate to club with a few simple style adjustments.
---
Stay up-to-date with weekly blog posts, waist training tips, and the chance to win one of our monthly corset giveaways, like us on Facebook & subscribe to our mailing list today! Want to find the perfect steel boned corset? Shop some of our favorites: underbust corsets, overbust corsets, corset dresses. You can also shop our corsets by material: cotton corsets, denim corsets, leather corsets, mesh corsets, pvc corsets, and satin corsets.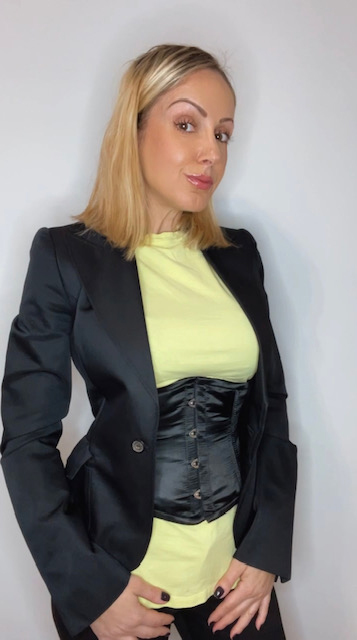 My name is Rachel, I am the owner of Glamorous Corset, a small business founded by me in 2010. Back In 2005, I was in a car accident that left me with a herniated disk. Much to my surprise I learned steel boned corsets were beneficial to several medical injuries including mine. I was always intrigued with corsetry, their history and their beautiful aesthetic. I love sharing knowledge about corsets, educating my wonderful readers and breaking the negative stigma related to corsetry. In combination with my years of research and personal experience I hope my articles are useful and can help anyone who has struggled with some of the same things I have. More about me…