Corsetry is no longer the sole domain of Victorian high society.  These days anyone can don this attractive support garment in order to waist train for semi-permanent results, or engage in intrigues of the intimate variety.
Many women wear a corset on their wedding day, but some see the instant slimming and improved posture these garments provide and decide they want more.  Even if you're not quite ready to make a corset your constant companion with intensive waist training, you might be keen to add this garment to your everyday wardrobe as a figure-enhancing friend, with benefits, so to speak.
The trick, of course, is learning how to utilize corsetry as part of your visible ensemble.  While you're probably pretty comfortable pairing this garment with a shirtdress or a snappy suit, you may be less certain how it works with more casual outfits.  If you're curious about how to wear a corset with jeans and a tee or tank top, here are a few tips to add this stylish item to your everyday outfits and own your new look.
Know Your Preferred Jean Style
If your goal is to wear your corset with jeans as a way to upgrade your casual style and sculpt your midsection in the process, you might want to start by pinpointing the style of jeans you prefer, because it will have an impact on how well certain corset types work for you, in terms of delivering desired results.  The last thing you want is to pair a waspie with some low rise jeans and end up with a dreaded muffin top.
That's not to say you can't go with a low rise, if that's your preference and your comfort zone for jeans – you just need to select a corset that pairs well with this feature.  The main consideration here is that you want to try to avoid overlap, or at least keep it to a minimum.
If you're fairly confident in your toit abs and you don't plan to cinch your corset tightly, you could always go for the midriff look and leave a gap between the bottom of the corset and the top of your jeans, but try to avoid having the two edges rub (straining the fabric and pinching your skin).  Longline corsets are probably out, but if you like a low rise jean, you could go for a model that extends to the top of the hip.
If you prefer a mid rise or high rise jean, keep in mind that your corset will do a lot of the work these jeans are intended for (i.e. covering your midsection).  That said, if you don't want to buy new jeans, simply select a shorter corset style, choose an exaggerated spring that accounts for the extra fabric of your jeans, or plan to loosen the laces, so you don't end up with your denim waistband imprinted on your torso at the end of the day.
This may not be a popular opinion, but if you like a higher waisted pant, you could always opt for a stretch waistband style of jeans (or alternately, jeggings) that's likely to rest more comfortably against your skin when you cinch a corset over the top of it.
Understand the Pros and Cons of Different Corset Styles
When choosing between an overbust and underbust corset, there are a few factors that will determine the best style for your body and your personal preferences, aside from your favorite jeans.  Maybe you need help controlling a bit of tummy pooch or you want bust support in the bargain.  This is where an overbust corset is ideal.
Perhaps your dedication to daily crunches has left you with enviable abs you like to show off, and you're simply looking to cinch in your waist for that hourglass shape.  In this case, an underbust model should work fine.  Consider trying on several styles, lengths, and springs with jeans to find what works best for your body.
What to Wear with a Corset and Jeans
This is pretty easy – anything!  A simple corset is the perfect complement for your average jeans and tee, while a fancy overbust model can be paired with heeled booties and a blazer to take your cazh look to the next level.
Wear it with a crisp, white Oxford and flats or a feminine, bell-sleeve blouse and strappy sandals.  The sky is the limit, but one thing is sure – you can easily work a corset into your everyday wardrobe with ease, pairing it with jeans to create all kinds of eye-catching ensembles.
---
Stay up-to-date with weekly blog posts, waist training tips, and the chance to win one of our monthly corset giveaways, like us on Facebook & subscribe to our mailing list today! Want to find the perfect steel boned corset? Shop some of our favorites: underbust corsets, overbust corsets, corset dresses. You can also shop our corsets by material: cotton corsets, denim corsets, leather corsets, mesh corsets, pvc corsets, and satin corsets.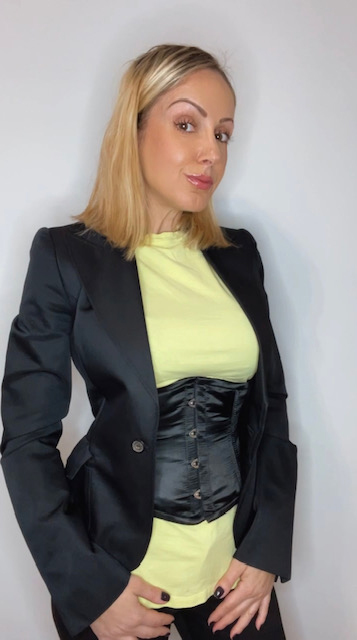 My name is Rachel, I am the owner of Glamorous Corset, a small business founded by me in 2010. Back In 2005, I was in a car accident that left me with a herniated disk. Much to my surprise I learned steel boned corsets were beneficial to several medical injuries including mine. I was always intrigued with corsetry, their history and their beautiful aesthetic. I love sharing knowledge about corsets, educating my wonderful readers and breaking the negative stigma related to corsetry. In combination with my years of research and personal experience I hope my articles are useful and can help anyone who has struggled with some of the same things I have. More about me…