Video Transcription
Hey guys, I am SouljaGirlShay (YouTube & Instagram). And this is going to be an unboxing video for you guys. I'm super excited about this video. Because up until this point, I have not done any type of corset video on any other company other than Orchard Corset, as you guys know, if you watched me for any period, period of time.
And so, I was contacted by Glamorous Corset. And I picked a corset. And they sent me one and I'm going to give you guys my honest opinion on it.
Now, backstory, I've been corset training for over five years now. I've had a pretty awesome experience with it, off and on. That is, I did have a child in the last, you know, he's almost four. So, I did have to stop for periods of time. But nonetheless, again, I have been corset training for a long time. I've never had any bad experiences with it whatsoever. If it's something you are considering doing, I just advise you to just do your research. And so, yeah.
All right, so this is how it comes. And they do have two day shipping, which is awesome. Because whenever you can get your corset in like a couple days, to me that's an awesome deal, all right? I did go through their site. Their prices are pretty reasonable. They have some low end priced corsets. They have some higher priced corsets as well.
The one that I got is a mesh one. And it was 85, I want to say. And so, I've been actually trying to get this video recorded the last, I feel like whenever I do a video, my son is on the verge of waking up.
All right. I've been trying to get this recorded the last week, but my oldest son, David, just went back home to Pittsburgh. And so, I was trying to wait to be able to spend time with him and stuff. And so, I know I have scissors here somewhere.
I've got to get this open. And get this done. Yeah, I'm super excited.
Now, with this corset, I went ahead and ordered a 24 inch. Up until this point, I've pretty much only did 22 inch corsets because that's kind of where I want my waist. This is what my waist is looking like right now, all right?
So, I am wearing my 22 inch corsets almost closed right now. I ordered this one in a 24 inch because I'm not familiar with the corsets and how they fit. And so, I kind of would just rather be on the safer side and order a 24 inch.
It comes with the pamphlet, basically just explains to you how to lace-up, how to put your corset on, how to season it, break it in, and how to clean it, all right? It also came into this cute little bag that says Glamorous Corset on it, right there. All right. Again, I did order this one in a 24 inch, all right?
And let's see, let me get up close for you guys. This is a steel boned corset. It's in mesh. And so, let me kind of give you some stats on it, sorry. This one is called the Emma black mesh corset. It was $84. It is the GC145. It has 18 steel bone corsets in it. It is for short to average torso lengths. It measures 10 inches in the front, 11 in the back, and 10 on the side. It has a 5 inch rib spring, 4 inch hip spring, and a 5 inch modesty panel, which is this here. And then it says right here at the very top, 24.
So, I'm going to get this loosened so I can get this laced up. I'm probably going to put a blouse on as well. Let's get this on.
The only reason why I wanted to get the 24 inch because I really want to wear it closed, you know. I almost have the 22 inches closed and if they were 24s, they would probably be closed. They would definitely be closed. So, with this one, I was like let me just go ahead and get a 24 inch.
And again, getting the mesh because it's going to be a lot cooler for me, especially with it being summertime in the desert. Yeah, it gets pretty hot here.
Let's see, if that is enough. I had to make sure. Okay, let's see if I got this right.
Okay, let's get this laced up.
So, I'm not going to lace it too tightly, obviously, it's my first time wearing it. But I do want to kind of get an idea of how its going to look.
Okay, I don't want to tighten it too much. But yeah, I really loving this corset you guys. I really, really am. And I'm actually really glad that I went ahead and got a 24 inch as well. If I didn't say it's cotton, it's cotton. Just has the waist tape as you can see. Yeah, I don't want to tighten it too much and I know I could actually go a little bit tighter.
Okay. So, that's as much as I'm going to do it for now. But I really, really like this. I like the length of it too. When I was trying to decide on a corset, I really wanted to get something that was going to, you know, do a pretty good job covering the length of my torso. So, yeah, really, really loving this though.
I think I'm going to keep it on for the next hour and just go ahead and start seasoning this one in since I have it on already.
Yeah, I'm really loving this you guys. And it's not tied at all right now. I know, I probably totally could have closed it. But I'm going take me time, take my time. Really loving it you guys. I really like it.
I love that fact that I did get the mesh. Because I was like got to get one that is going to be super comfortable. Got to get one that's going to be super comfortable. And espeicallly with it being still like summer. So, yes, I'm really loving it.
Other than that, I'll leave it at there. I'll definitely leave the links in the description box. I do also have a promo code that will save you 15%. I'll also include that in this video somewhere or in the description box. Other than that, I'll leave it there. You guys have an amazing day/night. And I'll see you guys in the next. And thanks again for watching. Bye guys.
---
Stay up-to-date with weekly blog posts, waist training tips, and the chance to win one of our monthly corset giveaways, like us on Facebook & subscribe to our mailing list today! Want to find the perfect steel boned corset? Shop some of our favorites: underbust corsets, overbust corsets, corset dresses. You can also shop our corsets by material: cotton corsets, denim corsets, leather corsets, mesh corsets, pvc corsets, and satin corsets.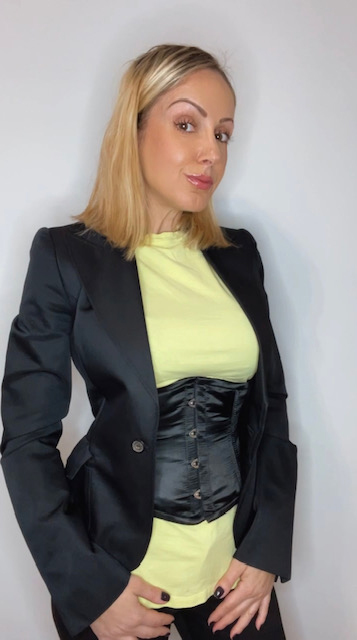 My name is Rachel, I am the owner of Glamorous Corset, a small business founded by me in 2010. Back In 2005, I was in a car accident that left me with a herniated disk. Much to my surprise I learned steel boned corsets were beneficial to several medical injuries including mine. I was always intrigued with corsetry, their history and their beautiful aesthetic. I love sharing knowledge about corsets, educating my wonderful readers and breaking the negative stigma related to corsetry. In combination with my years of research and personal experience I hope my articles are useful and can help anyone who has struggled with some of the same things I have. More about me…