Video Transcription
Hi moms. I'm Miss Audrey Monroe. Welcome back to my Glamour Channel here on YouTube. This is the second video in my Glamorous Corset Series. So, if you want to learn a little bit more about the brand, Glamorous Corsets, make sure you check that out.
Today's focus is going to be on the Jolie short torso corset (available in cotton or mesh), which is one of my absolute favorites. And the secret underneath all of my vintage clothes. So, if you'd like to see and learn a little bit more about this corset and how it may help you whether you dress vintage or you dress modern, then please come hang out with me.
[music]
As I mentioned, this is the second video in my Glamorous Corset series. So, if you want to make sure that you don't miss an episode, make sure to subscribe. And hit the bell notifier so you always know when I post something new. Also, if you are interested in coming along on my waist training journey, which I have been doing now for almost 45 days, and you want to see behind the scenes sneak peeks of all the Glamorous Corsetry that I have. And how I'm merging it with different outfits out of my vintage wardrobe, then please come say hi to me on social. My Instagram handle is @Miss.AudreyMonroe. And I share a whole lot of stuff there.
So, today's focus and video is on the Jolie short torso corset. And the reason why I say short torso is because Glamorous Corset offers this corset in a long torso version. And that is very important to note. I just want to explain a little bit more about that before I go more in depth. If you have a long torso, you need to be buying corsetry that is meant for a long torso. Because if you buy a torso that is meant for a short torso, it's not going to fit you right. It's not going to evenly disperse the weight, it's not going to help you with your back, and it might even pinch into your skin. The same if you have a short torso. If you buy a long torso corset, it's definitely going to dig in, it's not going to distribute the weight of your body right, and you're just not going to be comfortable. And you might even pitch the whole idea of wearing corsetry.
I personally love wearing corsets especially now that I'm affiliated with Glamorous Corsets. Being that I have wore corsetry off and on for the last decade, I've never found a corset that made me feel like I could live in it. So, the reason why the Jolie short torso corset is one of my favorites is because of the way it makes my body feels when I'm wearing it. The Jolie short torso corset is an underbust corset that comes down really nips in the waist, pads out the hip, and has a small tummy panel.
And what that means is that it is going to support your back. Help you have proper posture, stand up right, take weight off your back to reduce back pain, and it's going to help push up the breasts a bit. It's also going to bring in that waist and snatch it out for any style clothing that you're wearing, whether your dress vintage like I do, or you wear more modern clothing. And then it pads out the hips so that it really emphasizes that tiny, narrow waist.
I like the tummy panel because it's going to not have you suck in. It's going to protect a little bit of that tummy. Because in some cases, you might wear a corset and it brings you in on the middle. And then it pouches out your stomach. And you're like, "Okay, I just traded one equal for another." So, I love this one brings you in and helps to disguise a bit of your tummy. So, that you can just relax while you're wearing it.
Now, of course, I wanted to do a side by side comparison for you to show you what my dress that I'm wearing currently looks like with and without a corset. So, you're going to see in the split screen that my figure is a little bit more curvaceous looking in the corset. Because it's defining the shape. And the dress just falls slightly over top of the corset. So, it's really emphasizing it. So, when I'm not wearing the corset, although I do have a shape to my body. It is just not as emphasized. You're going to see that I'm standing a bit more erect. That has to do with the fact that the corset is pushing my body into proper posture. And you're going to see that my tummy really isn't sticking out.
Now, yes, this skirt that I'm wearing on this particular dress is a bit looser. This is a true vintage piece from the 40s. And it is silk, velvet. Now the corset that I'm showcasing is actually made out of cotton. So, there are different corsets sold on GlamorousCorset.com. And I highly encourage you to check out their website and see all the different offerings that they have. But they have different finishes to their corsets. All of those can play a role into what clothing pieces you are wearing on top. What I love about this particular corset is that the cotton really wears well underneath a number of my pieces.
This is not a corset that I would wear with pants. Manly because while it's padding at the hips, that tummy panel coming right across can kind of stick out underneath pants. Now, I wear pants that are 50s inspired and they are cigarette pants. So, they are a little bit more fitted. If you're pants are looser, you may not even see it. So, it's a bit of trial and error. However, this is not the corset that I reach for particularly when I'm wearing pants. I use one of my other Glamorous Corsets for that.
But for my skirts, pencil skirts, my full circle skirts, my dresses. Whether they are my bombshell wiggle dresses or something a little bit more loose like this one here. I wear the Jolie short torso corset. I absolutely love it. It's one of the first that I received from Glamorous Corsets. And I'm obsessed.
I also find that although this a longer version. And when I say longer version, I mean, the corset itself is a big longer because it's padding out the hip. It's still extremely easy to get in and out of. I can tight lace myself by myself. There is a privacy panel. All of their corsets come with privacy panels. That's going to help if you wear the corset on the outside of your clothes to look nice and neat. But even underneath, it's going to help keep your skin from pinching, which I think is absolutely glorious and important.
Every time you order from Glamorous Corset's you are going to receive a guide to your new corset. This is just going to have tips and tricks that you can use to waist training and wearing one of the corsets. And then, of course, it comes with a cute little valor bag with their logo on it for you to store your corset in. I will be bringing a proper storage or like how I store my corsets to this playlist. However, I would really love to hear from you guys. So, if you have any particular questions corsetry, if you love learning something, if you learned something new, please share it with me in the comments. I love communicating with you guys that way.
And I really want to make this playlist something of an education resource that you use especially if you've never worn corsetry. Maybe you are just getting into vintage and you're realizing that foundation garments are extremely important to creating that perfect silhouette. Or maybe you want to just waist train. And you want to look good underneath other styles of clothing. Glamorous Corset is a great place to do that. If you want to see girls in more modern clothing, please check out their Instagram. It is at Glamorous Corset. I will have their handle in the description box. And they showcase different figures, different types of styles on their feed showing you all the types of different corsetry that they have, and how you can wear it.
So, just because I dress old Hollywood, glamorous, or in vintage clothing, or true vintage clothing, doesn't mean that these corsets are just meant for that type of style. So, I really hope that you'll take a look into them. There is a coupon code in the description box for you to save 15% if you're interested. And there is a link in the description box as well. The link is an affiliate link, all that means is that I get a small commission if you choose to shop through it. But the coupon code will work whether you shop through that link or you go directly to their website.
If you would like to see more details or even photos of this particular corset, you can visit my blog which is MissAudreyMonroe.com. I am planning up to put a blog post out in correspondence to every YouTube that I'm releasing just so that you guys can see some further details that I can give you here on YouTube. Again, you can always join me on Instagram to see behind the scenes and be a part of my waist training journey.
I also just started my TikTok. I feel a little old for TikTok. But hey, it's another avenue for me to create fun videos. So, if you're on TikTok, I'm @missaudreymonroe. I'd love to meet you. And you can tell me what you think of my videos.
I hope you guys are having a fantastic day. If you don't want to miss anymore of these videos, make sure you subscribe and hit the bell notifier. I do post new videos every Friday at 4 o'clock. And yes, I do share different things. But right now, my focus is on this Glamorous Corset Series. So, there will be more of these coming in the future. I hope that you guys are safe and well. Remember to stay kind and glamorous to everybody. And I will see you next week. Bye.
---
Stay up-to-date with weekly blog posts, waist training tips, and the chance to win one of our monthly corset giveaways, like us on Facebook & subscribe to our mailing list today! Want to find the perfect steel boned corset? Shop some of our favorites: underbust corsets, overbust corsets, corset dresses. You can also shop our corsets by material: cotton corsets, denim corsets, leather corsets, mesh corsets, pvc corsets, and satin corsets.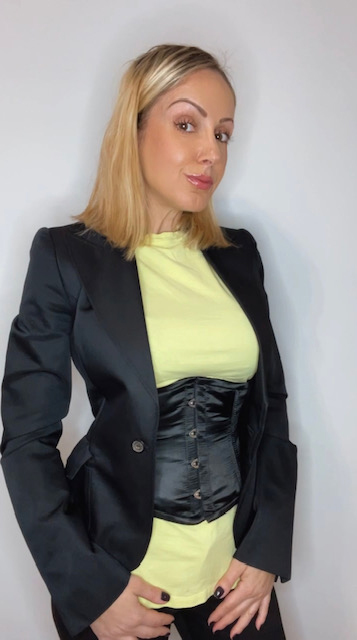 My name is Rachel, I am the owner of Glamorous Corset, a small business founded by me in 2010. Back In 2005, I was in a car accident that left me with a herniated disk. Much to my surprise I learned steel boned corsets were beneficial to several medical injuries including mine. I was always intrigued with corsetry, their history and their beautiful aesthetic. I love sharing knowledge about corsets, educating my wonderful readers and breaking the negative stigma related to corsetry. In combination with my years of research and personal experience I hope my articles are useful and can help anyone who has struggled with some of the same things I have. More about me…