Like most intimate garments, you want your corset to fit you like it was made for you.  While underwear that sags and bras that pinch are no picnic, corsets cover a lot more surface area, and if they poke or chafe, you're definitely going to notice.
The good news is, these support garments features a variety of forms designed to ensure that every wearer finds the exact fit for her body.  Here are just a few options you'll want to consider when it comes to finding the types of corset tops that perfectly suit your preferences.
Style Points
Let's start by discussing corset styles.  There are two overarching categories: overbust and underbust.  As you may have guessed, the former covers not only your abdomen, but also the bust area, serving to cinch the waist and replace a brassiere in one fell swoop.
Underbust models do not cover the bust, but rather rest just below the bust line, extending down to the top of the hip, in most cases.  There are also style variations, such as short waspies that focus primarily on the waistline, or longline corsets that can reach all the way down to the top of the thigh.
Overbust models may be strapless or include straps for extra support and style.  It's important to consider which type of corset most appeals to your sensibilities, and is most likely to suit your needs.  It's also wise to try on several different models to see what you like, paying attention to sizing and spring to ensure the comfort and physical transformation you crave.
Lengthy Discussion
Length is a major factor in determining the best corsets for you needs and your wardrobe.  There are essentially three categories of length – standard, long, and waspie – although there can be some variety within each category.
Standard corsets are so called because they're designed to fit an "average" torso, and feature a length (top to bottom) of about eight inches or more.  These corsets tend to be longer in front and curve up at the sides to accommodate hip movement.
Longline corsets, on the other hand, typically extend to cover the hip area, with a length of about 11 inches or more down the side.  They may rest on the top of thighs when seated, although you should still be able to sit when wearing one.
Waspies are no more than eight inches tall at the side seam, and are frequently shorter.  These are ideal for women with shorter torsos, but even taller women are using them of late as a stylish alternative to wearing a chunky belt at the waist, over a button-down, blouse, or shirtdress.
Material Girl
One last thing you'll definitely want to consider before buying a corset is the material it's made from.
True steel boned corsets are built to be tough, and as such, they typically feature sturdy textiles like thick, comfortable cotton, denim, leather, satin, and velvet, or more advanced materials like PVC or durable, breathable mesh.  Resilient fabric is a must to ensure comfort and longevity, but you still have plenty of options to choose from.
---
Stay up-to-date with weekly blog posts, waist training tips, and the chance to win one of our monthly corset giveaways, like us on Facebook & subscribe to our mailing list today! Want to find the perfect steel boned corset? Shop some of our favorites: underbust corsets, overbust corsets, corset dresses. You can also shop our corsets by material: cotton corsets, denim corsets, leather corsets, mesh corsets, pvc corsets, and satin corsets.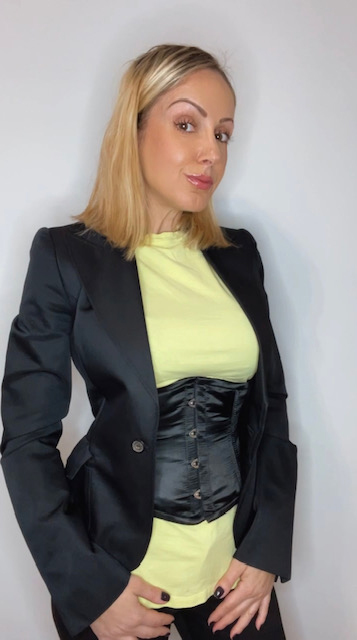 My name is Rachel, I am the owner of Glamorous Corset, a small business founded by me in 2010. Back In 2005, I was in a car accident that left me with a herniated disk. Much to my surprise I learned steel boned corsets were beneficial to several medical injuries including mine. I was always intrigued with corsetry, their history and their beautiful aesthetic. I love sharing knowledge about corsets, educating my wonderful readers and breaking the negative stigma related to corsetry. In combination with my years of research and personal experience I hope my articles are useful and can help anyone who has struggled with some of the same things I have. More about me…