Picture your favorite outfit. Is a pair of worn-in jeans with a soft t-shirt? A fancy dress with crinoline underneath? Something black and sleeveless to show off your tattoos?
No matter what your sense of style, there's no denying that the best outfits are the ones we look and feel good wearing.
It doesn't matter how cute an outfit is – if it's pinching your skin or riding up uncomfortably, you're not going to have a good day.
While corsets are known for looking great under wedding dresses (see bridal corsets) and formal wear, that's not exactly practical for every day.
If you get a kick out of grocery shopping in heels and silk, by all means, go for it, but the majority of us aren't our most comfortable when dressed to the nines.
Luckily, there are many ways to wear your corset under everyday clothes, whether you prefer jeans, trousers, leggings, pants or skirts.
Before we let you in on our secrets, a word to the wise – wear your corset on your next shopping trip!
Then, take special care to look for the clothing designs and features we've listed below.
By trying on a variety of styles while in your corset, you'll be able to find the styles that work best for your body type.
Corsets with Jeans
A typical corset rests along the top of your hip bones, so any high-waisted jeans meant to button around the mid-section won't be a good match. Instead, look for jeans that ride low or have an elastic waistband.
While elastic jeans might sound like something meant only for pregnant women, they've grown in popularity in the last few years.
If there is any overlap between the bottom of your corset and top of your jeans, position your corset on top of the waistband rather than tucking it in, which can bend the steel bones and damage your corset beyond repair.
If you find that the combination of a corset and jeans is resulting in a "muffin top," try layering with shapewear.
You should already be wearing a tank top or liner under your corset, both for comfort and hygiene purposes, but choosing a spandex one can help smooth out that undesired pudge.
Corsets with Trousers
Much like jeans, trousers that sit fairly low on your waist are going to be your best bet when pairing with a corset.
However, something else to look for is a wide waistband, which will provide your hips with extra padding and comfort.
Wide waistband trousers are available in flair, skinny, and crop styles, so your options won't be limited.
One of our favorite looks, especially for professionals, is trousers paired with a blazer.
Not only will the jacket help hide any bumps or bulges, but it will accentuate the tiny waist that you've been working so hard for!
Corsets with Leggings
Leggings can be a touchy subject with fashionistas.
Are they pants or should they be left as gymwear and pajamas? Whatever the case, there are plenty of people who love to wear leggings, and it's a comfortable option when wearing a corset.
Leggings typically have a very small waistband, which should tuck neatly under the bottom of your corset. Stay away from joggers and other soft pants that tie around the waist, as these will add bulk to your waistline.
And remember, just because you are wearing leggings doesn't mean you can't dress up!
Crop-ankle leggings look great with a pair of heels and a blazer, while full-length styles pair well under a long shirt, skirt, or dress with a pair of flats or boots.
When it comes to legging outfits, Pinterest has thousands of ideas – there's literally something for every season, body type, and style!
Corsets With Skirts
While you can certainly wear skirts that buckle, clasp, or zip closed, you might not find them as comfortable as those with an elastic waistband.
Luckily, Maxi skirts are a popular item right now. Maxi skirts can be worn with sandals for summer or boots for fall and winter, and if you're worried about getting cold, just throw some leggings or tights on underneath.
Another type of skirt that looks particularly good with a corset are those with crinoline or tulle underneath.
These make the skirt puff out, which draws attention to your hourglass figure and tiny waist. Adding an around-the-waist belt or button-up sweater will emphasize these features even more.
Corsets with Dresses
A few weeks ago we published a how-to guide for wearing a corset under a dress, but today, we're going to share a few tips that we didn't get around to last time.
As with skirts, an around-the waist belt is a good look when wearing a corset under a dress, but if that's not for you, there are other options.
One is to choose an empire waist dress, which will gather under your bust and flow loose over your abdomen and thighs. However, a downside is that this style will do nothing to show off your hourglass figure.
A personal favorite of ours are flouncy dresses with spaghetti straps or an around-the-neck halter.
These often have a v-shape neckline that calls attention to your bust, as well as a gathered waist to highlight your waist and hips.
Depending on the style and material, many of these dresses can be recycled from summer to fall by simply adding tights, boots, a light sweater, and a scarf.
Have questions or advice about wearing a corset under everyday clothes? Let us know!
---
Stay up-to-date with weekly blog posts, waist training tips, and the chance to win one of our monthly corset giveaways, like us on Facebook & subscribe to our mailing list today! Want to find the perfect steel boned corset? Shop some of our favorites: underbust corsets, overbust corsets, corset dresses. You can also shop our corsets by material: cotton corsets, denim corsets, leather corsets, mesh corsets, pvc corsets, and satin corsets.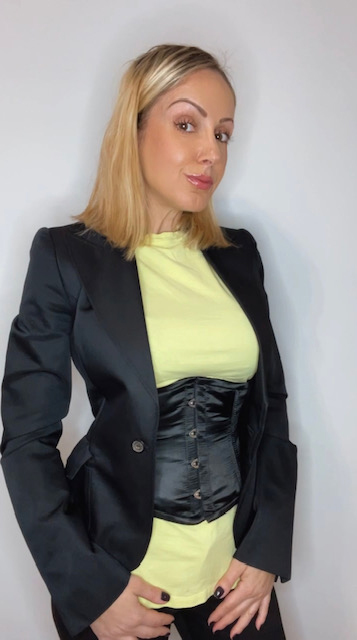 My name is Rachel, I am the owner of Glamorous Corset, a small business founded by me in 2010. Back In 2005, I was in a car accident that left me with a herniated disk. Much to my surprise I learned steel boned corsets were beneficial to several medical injuries including mine. I was always intrigued with corsetry, their history and their beautiful aesthetic. I love sharing knowledge about corsets, educating my wonderful readers and breaking the negative stigma related to corsetry. In combination with my years of research and personal experience I hope my articles are useful and can help anyone who has struggled with some of the same things I have. More about me…