Our society has long held that dresses are for girls. So are dolls, make-up, and pretty much anything that smacks of domesticity. What do boys get? Pants, dull colors (black, gray, or navy, anyone?), Nerf weapons, and a sparse emotional vocabulary.
Okay, this is a bit of an over-exaggeration, but there's no denying the difficulties that lie ahead when an individual bucks ingrained gender norms. The good news is that the way we define gender and orientation is starting to change.
It used to be that lesbian, gay, bisexual, transgender, and queer (LGBTQ) people were the outliers, but modern terminology has expanded significantly to allow people to identify as cis-gendered, nonbinary or gender fluid, demigender, gender neutral, two-spirit, AMAB or AFAB, transitioning, and more. Opportunities for self-expression are also expanding, with options to present as traditionally masculine or feminine, regardless of the gender assigned at birth, or to present as androgynous or neutral.
Best of all, these definitions of identity need not be linked to sexuality, creating pathways for individuals to explore and express their preferred gender identities separate from their sexual orientation. This is great news for anyone interested in the prospect of waist training for men.
Although not inherently linked to gender identity, the wearing of typically feminine garments can be fraught with uncertainty for many men. Whether you're a straight, cis-gender male, a transitioning female AMAB, or a drag queen or transvestite, for example, you should know that waist training isn't reserved for cis-females, and it can provide countless benefits.
Men Can Waist Train, Too
Although corsets have long been created primarily for female use, you may be surprised to learn that men have long turned to corsetry for a variety of reasons. It's not uncommon for males to choose the support and compression of steel boned corsets to improve their posture, relieve back pain, and generally look better in clothing. Corsets can boost confidence in one's physique for all genders and gender identities.
When it comes to waist training, specifically, there are a number of reasons why men might want to participate. Waist training is a type of transformation. When you think about it, both women and men transform themselves in a variety of ways – through weight loss, exercise, make-up, hairstyles, tattoos and piercings, orthodontic braces, and even cosmetic surgery. Waist training is just another way to achieve an ideal appearance, one that includes a smaller waist.
Whether you're looking to flatten a tummy pooch while you work off a few extra pounds or you want to achieve a more feminine, hourglass figure, safe and effective waist training for men can help you accomplish your goals.
Benefits of Waist Training for Men
There are countless potential benefits for men interested in waist training. For starters, not all male bodies are the same. Big shock, I know. If you don't represent the ideal inverted triangle physique (broad chest and shoulders, smaller waist), you may suffer from self-esteem issues that impact your social and emotional life. Waist training, especially when paired with diet and exercise, can help to create the epitomized male form you prefer.
Of course, the goal of waist training for men needn't necessarily be to mold the ideal masculine figure. Corsets, by and large, are intended to deliver a patently feminine shape, and many men can benefit from this common feature.
In some cases, there may be a sexual component involved with wearing feminine undergarments and adopting a feminine figure as part of intimate encounters, or hiding corsets under everyday male clothing. In some cases, men may desire a more feminine figure to explore or express a gender fluid or other gender identities.
Transitioning or transgender females (AMAB), drag queens, and transvestites might be looking for more permanent ways to create their ideal feminine form. Waist training can be a major component in all of these scenarios, providing immediate results, semi-permanent waist slimming over time, improved drape of clothing (traditionally male or female), and a confidence boost.
Above all else, corsets can help men of all shapes, sizes, and gender orientations to feel more authentically themselves, and to love their own bodies. Whether you're looking to minimize your waistline as a way to create a more masculine or feminine physique, waist training can help you to create a physical form matches your self-image and provides you with social, emotional, and psychological confidence.
---
To stay up-to-date with weekly blog posts, waist training tips, and the chance to win one of our monthly corset giveaways, follow us on Facebook, Instagram & subscribe to our mailing list today! Want to find the perfect steel boned corset? Shop some of our favorites: underbust corsets, overbust corsets, corset dresses. You can also shop our corsets by material: cotton corsets, denim corsets, leather corsets, mesh corsets, pvc corsets, and satin corsets. Have questions about getting started with waist training or finding the right size corset? Contact us!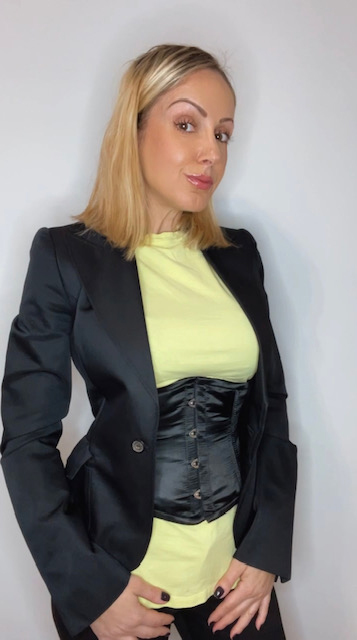 My name is Rachel, I am the owner of Glamorous Corset, a small business founded by me in 2010. Back In 2005, I was in a car accident that left me with a herniated disk. Much to my surprise I learned steel boned corsets were beneficial to several medical injuries including mine. I was always intrigued with corsetry, their history and their beautiful aesthetic. I love sharing knowledge about corsets, educating my wonderful readers and breaking the negative stigma related to corsetry. In combination with my years of research and personal experience I hope my articles are useful and can help anyone who has struggled with some of the same things I have. More about me…