The greatest appeal of corsetry is its power to transform the body.  Whether you're looking to enhance your figure, look great during weight loss, or waist train to create the hourglass shape you crave, the right steel boned corset can help you accomplish your goals, look and feel great, and boost your confidence.
The best part is that corsets can do this for men and women alike.  While corsetry has traditionally been a standby of the feminine bailiwick, men, too, can use corsets for support and shaping.  In some cases, corsets are made specifically for the male form, and there are always corset makers willing to create bespoke garments.  Some men even don female corsets upside down to better suit their shaping.
What about transgender women?  Should transitioning women wear corsetry for both physical and psychological support during their transition and beyond?  Is there corsetry designed specifically for individuals undergoing this physical transition?  Here are a few things to consider when it comes to the benefits of corsetry for all wearers, including those involved in gender reassignment.
Working with Off-the-Rack Corsetry
The corset community, in general, strives to be very inclusive, which is why you can certainly find corsets for both feminine and masculine shapes, and even some corsets designed specifically for transitioning women.  How can you find the ready-to-wear corsets that are best suited to your body?
There are a couple of options.  First and foremost, you need to take precise measurements, and there are online tutorials that can teach you how if you're not sure which measurements you'll need.  This will help you to determine if specific corsets are going to work with your particular dimension, or if they can be made to fit your body with a bit of creativity.
Women's and men's physiques are obviously different in a variety of ways, but when it comes to corsetry, in particular, women tend to be slimmer at the underbust and wider at the hips.  Men's bodies are typically the opposite, which is why some men simply take women's corset and turn them upside down for a better fit.
This obviously won't work for every body, and wearers will have to pay particular attention to the spring, but the point is that sometimes with a little finagling, you can get an otherwise unsuitable garment to better fit your needs.  Of course, this generally isn't ideal.  You'd probably rather have a garment with your needs and proportions in mind.
The good news is, there are corset makers who offer garments geared toward transgender populations.  You'll want to search for companies that cater to all genders, shapes, and sizes.  Some transgender women will be able to find suitable garments right off-the-rack while others will need greater customization options.  Your best bet is to start trying corsets to see what looks and feels right for you.
Bespoke Corsets
If you have some money to invest in corsetry, there's really no substitute for bespoke corsetry that is designed to your specifications.  The issue, of course, is the price tag.  While you can buy a good steel boned corset for $100-$200, and you can get some level of customization for $300 and up, a truly bespoke corset could end up costing roughly $500-$1,000 or more, depending on a number of factors.
You really must view this as an investment and act accordingly.  A corset can last for years with proper care, and if you're a daily wearer, for comfort, shaping, or waist training purposes, bespoke corsetry is ideal.  However, if you simply don't have the coin, start with off-the-rack options and upgrade to custom fitting when you can.
Benefits of Using Corsetry for Transitioning
People who have never worn corsets are often quick to condemn them as constrictive torture devices, but those who use them for waist training, support, and comfort understand that there are all kinds of benefits to be gained from corsetry.  They physical benefits are the most obvious – corsets can help anyone to slim down, create a svelte silhouette, and with time and training, even create a smaller waistline in a semi-permanent capacity.
These garments can help women and men alike to look and feel beautiful every day, which brings us to psychological benefits.  When you look your best, you're going to feel more confident, and for many wearers, more feminine.  This is key for transgender women during and after transition.
Many wearers also feel a sense of calm and comfort when wearing a corset.  Some describe it as an emotional armor of sorts.  Not only can the act of lacing into a corset create a deep sense of calm, but having some constriction around the torso has been known to induce a feeling of comfort, similar to being embraced.
Although you may turn to corsetry during your transition as a way to see an immediate physical change that feminizes the body, you're sure to find that using the right steel boned corsets can also help you to feel calm, confident, and comfortable in your body.  All of us could use a little more of that!
---
Stay up-to-date with weekly blog posts, waist training tips, and the chance to win one of our monthly corset giveaways, like us on Facebook & subscribe to our mailing list today! Want to find the perfect steel boned corset? Shop some of our favorites: underbust corsets, overbust corsets, corset dresses. You can also shop our corsets by material: cotton corsets, denim corsets, leather corsets, mesh corsets, pvc corsets, and satin corsets.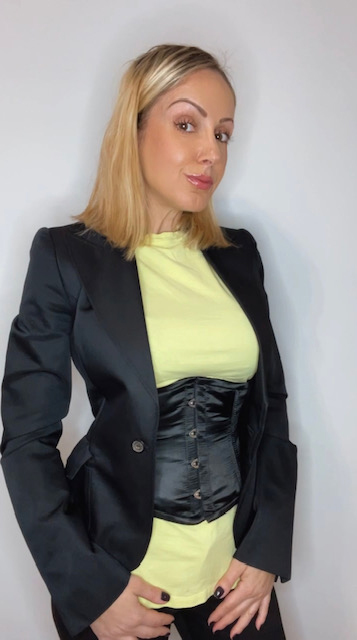 My name is Rachel, I am the owner of Glamorous Corset, a small business founded by me in 2010. Back In 2005, I was in a car accident that left me with a herniated disk. Much to my surprise I learned steel boned corsets were beneficial to several medical injuries including mine. I was always intrigued with corsetry, their history and their beautiful aesthetic. I love sharing knowledge about corsets, educating my wonderful readers and breaking the negative stigma related to corsetry. In combination with my years of research and personal experience I hope my articles are useful and can help anyone who has struggled with some of the same things I have. More about me…