Most of us would be more than happy with Scarlet O'Hara's post-baby 20-inch waist (although she complains that she needs to get back to her pre-baby eighteen and a half).  However, we're not all cut out for this tiny waist size.  That doesn't mean you can't winnow your waist with proper tools and training, but you need to be realistic when setting your waist training goals.
We all have different body types, and some of us are going to be able to achieve more dramatic reductions.  Knowing your body can help you to choose appropriate goals for waist training.  Here are a few things to think about along the way.
Starting Slow
Consider that waist training is similar to weight loss in one respect – if you don't set attainable goals, you're going to struggle to reach them, and you could lose your motivation and feel like a failure as a result.  Depending on how much weight someone ultimately wants to lose, they could start out by setting 5-10-pound goals for reduction, instead of focusing on the 30, 40, or more they hope to lose eventually.
The same basic principle could apply to your waist training journey.  Instead of focusing on shaving 6 or more inches off your current waist size, start with 2-4 and see how that progresses, understanding that you can always adjust your expectations as you go along, learning about your body and what you're likely capable of achieving.
Know Your Body
So many factors can affect your ability to slim your waist line through waist training, including the size of your ribcage and your relative tolerance for compression.  What do we mean by tolerance for compression?
Suppose two women have the same size waist, but one is extremely fit and muscular while the other has little abdominal muscle tone and more fatty tissue.  The second woman could see a much more dramatic reduction in waist size when using a corset because the fat will yield to compression more easily than the muscle, helping to slim the waist and create a more defined hourglass figure.
It's important to understand this point because no two bodies are the same, and you need to temper your expectations for what a corset can reasonably do when it comes to shaping your body and reducing your waist size.  Over time, waist training can deliver exceptional results, but only if you're realistic about what your body will tolerate.
Losing Weight Simultaneously
Some women use waist training in conjunction with weight loss.  Whether you've recently had a baby and you want to look slim and shapely as you return to your pre-baby body or you've simply gained some weight over time and you're working to shed the pounds, wearing waist training corsets can help you to look and feel your best along the way, as well as maximize results over time.
Waist training during weight loss is a great way to see instant results that help to boost your confidence and keep your motivation high.  With appropriate waist reduction goals in place and a willingness to adjust as you go, you should be able to see the results you crave in time.
---
Stay up-to-date with weekly blog posts, waist training tips, and the chance to win one of our monthly corset giveaways, like us on Facebook & subscribe to our mailing list today! Want to find the perfect steel boned corset? Shop some of our favorites: underbust corsets, overbust corsets, corset dresses. You can also shop our corsets by material: cotton corsets, denim corsets, leather corsets, mesh corsets, pvc corsets, and satin corsets.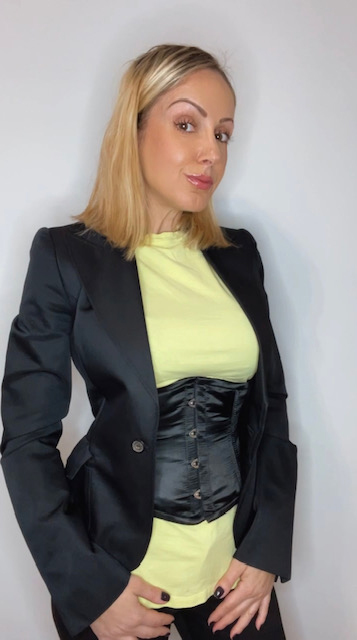 My name is Rachel, I am the owner of Glamorous Corset, a small business founded by me in 2010. Back In 2005, I was in a car accident that left me with a herniated disk. Much to my surprise I learned steel boned corsets were beneficial to several medical injuries including mine. I was always intrigued with corsetry, their history and their beautiful aesthetic. I love sharing knowledge about corsets, educating my wonderful readers and breaking the negative stigma related to corsetry. In combination with my years of research and personal experience I hope my articles are useful and can help anyone who has struggled with some of the same things I have. More about me…