While many people think of corsets as a feminine garment, there is nothing gendered about them.
Throughout history, they've mostly been worn by women, but that is no longer the case.
Today, males (and transgender) also take advantage of the many benefits that corsets have to offer.
Here, we'd like to share some of the reasons that male clients come to us. If you're a male seeking a corset, don't hesitate to contact us with any questions. We love helping people of all genders and sizes find the corset that is right for them!
Men Wear Corsets to Help with Posture
These days, more people than ever spend hours hunched over their computer and phone.
If you work at a desk, you already know how hard it can be to sit up straight, even when being mindful of the problem. In the long-term, bad posture can lead to severe back and neck pain.
The steel bones of a corset help to correct these issues.
When wearing a corset, the mobility of your mid-section is limited. You won't be able to hunch, bend at the waist, or sit or move in other positions that are known to cause injury to the body.
Over time, frequent corset wear can help build up muscles that will get your body used to good posture, even when the garment is off.
Men Wear Corsets for Costuming & Cross-Dressing
Corsets have many practical uses, but let's not forget that they're also fabulous!
Whether you're attending a screening of "The Rocking Horror Picture Show," a gay pride event, or just feel like dressing up, our leather, mesh, and PVC corsets can compliment a variety of looks.
On the other hand, we suggest cotton or satin for more casual, everyday wear.
Also – Transgender People Wear Corsets for Waist Training
Among our many customers, we also have individuals who were ascribed men at birth and are now transitioning to female.
Like other women, they desire the much-sought after hourglass shape, which can only be achieved by waist-training. If you have questioning about waist-training, check out FAQs and more here.
Another great thing about corsets is that unlike brassieres and other feminine undergarments, your body doesn't have to fit a certain shape for our corsets to fit you.
When buying your first corset, you'll answer a variety of questions and take your own measurements. And if you're still not sure that you've found the perfect one? We're always here to help.
The audience for corsets is much larger than most people expect and continuing to grow!
---
Stay up-to-date with weekly blog posts, waist training tips, and the chance to win one of our monthly corset giveaways, like us on Facebook & subscribe to our mailing list today! Want to find the perfect steel boned corset? Shop some of our favorites: underbust corsets, overbust corsets, corset dresses. You can also shop our corsets by material: cotton corsets, denim corsets, leather corsets, mesh corsets, pvc corsets, and satin corsets.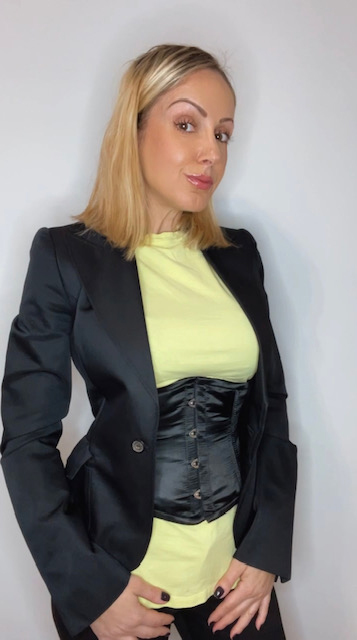 My name is Rachel, I am the owner of Glamorous Corset, a small business founded by me in 2010. Back In 2005, I was in a car accident that left me with a herniated disk. Much to my surprise I learned steel boned corsets were beneficial to several medical injuries including mine. I was always intrigued with corsetry, their history and their beautiful aesthetic. I love sharing knowledge about corsets, educating my wonderful readers and breaking the negative stigma related to corsetry. In combination with my years of research and personal experience I hope my articles are useful and can help anyone who has struggled with some of the same things I have. More about me…