There's nothing quite like the excitement of buying your very first corset. I can still remember going online with my credit card in hand to buy my first, then – stopping dead in my tracks. I had no idea that there would be so many choices for a waist-training corset.
As I came to find out, the variety found in corsets is a great thing. Unlike other clothes that may be tailored with a specific body shape in mind, the choices you make when buying a corset is what makes it fit so fantastically. Still, if you are buying your first, it can be a little overwhelming.
That's where we come in. From length to material to boning, we'll walk you through exactly how to pick out your very first waist-training corset.
There Are No Exceptions to Steel Bones
If you are buying a corset for waist-training purposes, you absolutely have to have steel bones. The best way to describe these bones is to say that they are kind of like braces for your teeth. Just like braces straighten your teeth over time, wearing your corset diligently will work with your body to shape your abdomen into an hourglass shape.
If you see a "waist-trainer" that promises to shape your waist with elastic or plastic bones, do not believe it! Although a garment may be marketed that way, waist-training is a job that only steel bones can do. When shopping our collection, you don't have to worry – 100% of our corsets are made with steel bones.
Pick the Perfect Fabric
For your very first corset, we suggest choosing a satin, cotton, or mesh material. Any one of these is breathable and can be worn under virtually any clothes. How long you choose to wear your corset daily is up to you, but many newbies stick with the rule of 2: Wear your corset for 2 hours a day for 2 weeks to see a waist-reduction of 2 inches. Results will vary, but it's a good place to start – and if you're wearing it for at least 2 hours a day, you'll want it to be comfortable.
As you get adjusted in the world of waist-training and corseting, you may want to expand your collection with a leather, denim, or PVC corset. Each has steel bones, so you'll be waist-training while  wearing them. However, for your very first one, it's best to go with something more versatile.
Underbust or Overbust Corset?
The difference between an overbust and underbust is exactly what it sounds like – overbusts cover the bust and eliminate the need to wear a bra, while underbusts stop just below the bust line. Although many larger-busted women prefer overbusts, small-busted women like them as well for their ability to be cinched tighter and padded for a fuller bust line.
On the flip side, underbusts are a bit easier to hide under clothes. In addition, they can help your breasts look up to a whole size larger. The decision is up to you!
Find the Style That Right's For Your Torso
What style will work best for you can be roughly broken down into three categories of torso length: short, standard, and long. However, just because you fit into one of these categories doesn't mean that corsets from the others are off limit. They're simply suggestions to help make your first corset as perfect as it can be.
While the Emma or Lara are good for a short torso, the standard-sized Dita and Jenna are customer favorites and can be worn by just about anyone. If you have a longer torso, check out the Elvira or Kelly.
Don't Forget to Take Your Measurements!
For a full-guide on taking measurements for your first waist-training corset, click here.
Still have questions about purchasing your first corset? Don't hesitate to contact us or send us a message on Facebook!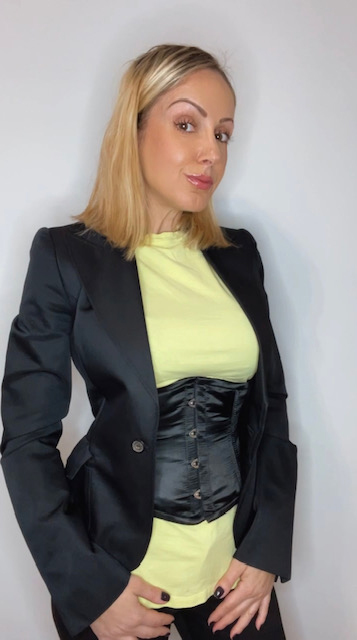 My name is Rachel, I am the owner of Glamorous Corset, a small business founded by me in 2010. Back In 2005, I was in a car accident that left me with a herniated disk. Much to my surprise I learned steel boned corsets were beneficial to several medical injuries including mine. I was always intrigued with corsetry, their history and their beautiful aesthetic. I love sharing knowledge about corsets, educating my wonderful readers and breaking the negative stigma related to corsetry. In combination with my years of research and personal experience I hope my articles are useful and can help anyone who has struggled with some of the same things I have. More about me…