Imagine that you've been wanting to start waist-training. You checked out corsets online, but you weren't ready to make the investment. All of a sudden, you're walking through Target or Wal-Mart or some other big box store and you see a sign that says, "Waist-Trainers: $19.99." That certainly seems like a good place to start, right?
Wrong. Although many think that waist-trainers and corsets are the same thing, nothing could be further from the truth. In short, corsets are waist-trainers, but waist-trainers don't actually train your waist. Confused yet? Let me explain.
From material to purpose to price, corsets and waist-trainers couldn't be more different. In this article, you'll learn not only what makes them unique, but the reason why corsets are the only garments that can effectively train your waist into an hourglass figure.
Steel Bones Versus Plastic (Or No) Bones
The first and most important difference between corsets and waist-trainers are steel bones. Like all quality corsets, our entire collection is made with steel bones. When worn over a period of time, these bones actually train your body into an hourglass figure. The results are semi-permanent, but if worn diligently, can be as effective as braces are for teeth.
On the other hand, the plastic bones of waist-trainers will lead no results, semi-permanent or otherwise. Also bear in mind that some waist-trainers have no bones at all, but are made of materials like lycra, spandex, or rubber, which brings me to my next point…
Corsets Are Breathable, Waist-Trainers Are Not
We sell a variety of denim, leather, and PVC corsets, but these are mostly for fashion or outerwear purposes. The majority of people who are wearing corsets daily for waist-training purposes choose either satin, cotton, or mesh, all of which look good under clothes and allow your skin to breathe.
If you're wearing a spandex, rubber, or lycra waist-trainer for hours on end, you're going to get sweaty. If you have sensitive skin or are prone to breakouts this can lead to body acne or rashes, as well as general discomfort.
One Size Fits All Versus Personalized Measurements
Waist-trainers range in size from xs to xxl, but it's up to you to find the one that fits best. As for the length, inseam, fabric, etc. – you probably won't be able to specify that unless you go on an all-day shopping hunt.
Shopping for a corset is a lot easier. For starters, you take your own measurements, which are specific to your bust, underbust, waist, hips, and torso. You can also choose what kind of coverage you'd prefer, underbust or overbust, as well as a variety of fabrics and styles. Oh, and did I mention that you can do all this from your home computer, for $69 – $144? It's almost too easy to be true.
Why Ever Wear A Waist-Trainer?
While a waist-trainer is not suitable for waist-training (ironic, I know), it can come in handy for smoothing lumps and bulges. If you have a dress that's too slim-fitting for a corset or plan to attend an active event, it may be worth it to have a waist-trainer or two stashed in your closet.
Although celebrities like Kim Kardashian have been known to wear waist-trainers to the gym, we advise against wearing corsets or waist-trainers while exercising. Likewise, we believe that our bodies and muscles should be free to relax and refresh while sleeping.
If you have questions about corsets, don't hesitate to contact us or reach out to us on Facebook.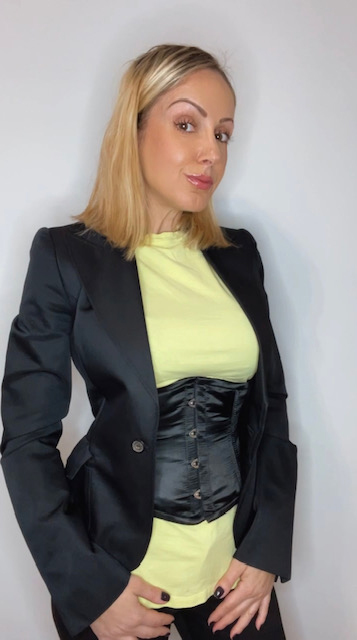 My name is Rachel, I am the owner of Glamorous Corset, a small business founded by me in 2010. Back In 2005, I was in a car accident that left me with a herniated disk. Much to my surprise I learned steel boned corsets were beneficial to several medical injuries including mine. I was always intrigued with corsetry, their history and their beautiful aesthetic. I love sharing knowledge about corsets, educating my wonderful readers and breaking the negative stigma related to corsetry. In combination with my years of research and personal experience I hope my articles are useful and can help anyone who has struggled with some of the same things I have. More about me…