We all know the transformative power of a makeover.
All you have to do is watch a few episodes of "What Not to Wear" or "Queer Eye for the Straight Guy" to see the difference a haircut, some makeup, and a new wardrobe can make.
There's almost always more to the story than physical transformation, though.
Often, the participants on these shows end up changing the way they look at themselves and the world, gaining confidence and self-worth in the process.
Specific changes to your wardrobe can have the same effect, and none more so than adding corsets to your every ensemble.
You might not think a corset can give you a much-needed ego boost – after all, these support garments might not even be visible if you're wearing them under your everyday clothing.
How can they improve your confidence and help to create a positive self-image?
If you don't have a Carson Kressley, Stacy London, or Clinton Kelly in your back pocket helping to create your personal style and you can't seem to stick to your healthy diet or gym schedule, it's time to find out just what the right corsets can do to help you look and feel your best every day.
Related: The Mental & Emotional Benefits of Corsets
Creating Your Ideal Figure
When you look in the mirror and you don't see the shape you remember, or the shape you want, it can take a big bite out of your confidence and self-esteem.
It's all too easy to criticize and make unfair comparisons to the models that grace magazine covers and billboards.
Unfortunately, reminding yourself that they're all airbrushed into unreal proportions may not be enough.
While you should always try to love yourself for who and what you are in this moment, there's nothing wrong with working to create an ideal version of yourself, or making the most of what you have in order to feel beautiful and confident.
A corset can give you the boost you need by helping to create the svelte silhouette that emphasizes your feminine shape.
Whether you're interested in waist training or you merely want to smooth out the lumps and bumps with a supportive undergarment, your corset can not only meet your physical needs, but also provide the means of creating the ideal figure you crave so you feel fantastic and gorgeous every time you look in the mirror.
Correcting Your Posture
Whether you started wearing a corset because you had bad posture or you realized after strapping one on that it made you stand up noticeably straighter, you'll find that better posture is a natural perk of tightening a corset around your core.
Since few of us girls go to finishing school these days, and mothers are more likely to scold teens for the length of their cutoffs and crop tops than the straightness of their backs, having some help in the posture department certainly doesn't hurt.
Did you know that your posture can play a role in how you feel?  Some psychologists have posited that people who suffer depression are more likely to slouch, creating a closed body position in tune with their mental state.
According to a study from the University of Auckland published in the Journal of Behavior Therapy and Experimental Psychiatry in March 2017, those who improve their posture can actually change their mood, reducing fatigue and increasing confidence.
When you first start wearing a corset, being forced into an upright position can seem unnatural, not to mention uncomfortable.
Over time, however, you'll become accustomed to the physical sensation, and you'll start to enjoy the positive mental and emotional aspects of better posture.
You may even notice that people find you more attractive and treat you with greater respect, further boosting your confidence.
Related: Waist Trainer for Posture: How a Corset Can Improve Your Posture
Increasing Motivation
We all strive to improve ourselves in a variety of ways, but it's easy to fall off the wagon and let efforts wane over time.
If you're trying hard to stick to a healthy diet and exercise regimen but you're disappointed by the results or you're simply having trouble feeling motivated, donning a corset can give you the boost you need to ramp up your efforts again.
When you see the instant enhancement a corset provides, you may be more motivated to stick with self-improvement efforts increasing positive outcomes and truly becoming your ideal self.
---
Stay up-to-date with weekly blog posts, waist training tips, and the chance to win one of our monthly corset giveaways, like us on Facebook & subscribe to our mailing list today! Want to find the perfect steel boned corset? Shop some of our favorites: underbust corsets, overbust corsets, corset dresses. You can also shop our corsets by material: cotton corsets, denim corsets, leather corsets, mesh corsets, pvc corsets, and satin corsets.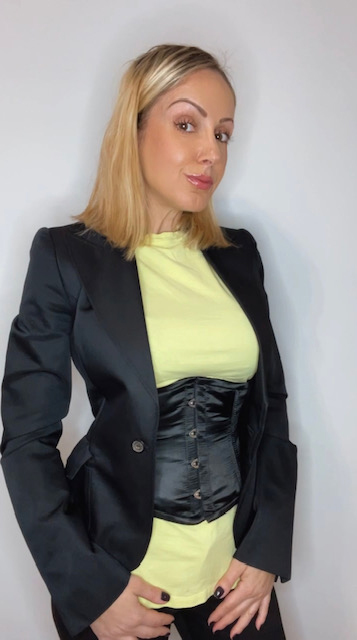 My name is Rachel, I am the owner of Glamorous Corset, a small business founded by me in 2010. Back In 2005, I was in a car accident that left me with a herniated disk. Much to my surprise I learned steel boned corsets were beneficial to several medical injuries including mine. I was always intrigued with corsetry, their history and their beautiful aesthetic. I love sharing knowledge about corsets, educating my wonderful readers and breaking the negative stigma related to corsetry. In combination with my years of research and personal experience I hope my articles are useful and can help anyone who has struggled with some of the same things I have. More about me…