We all want the best in life, but this means something different for everyone.  One person might think a mint chocolate chip ice cream cone is the bee's knees, while another can't conceive of anything better than a sundae with a scoop of butter pecan and a scoop of chocolate fudge.  There's no denying we like to customize everything from our restaurant orders, to the cars we drive, to the clothing we put on our bodies.
The only problem is, bespoke, or custom-made garments, can be very costly.  Sure, they fit like they were made for you – because they were – but who can afford to shell out double, triple, or quadruple what the average, off-the-rack garment costs just to get that perfect fit?  When you factor in how frequently our bodies change weight and shape, anyone on a tight budget simply can't justify the bespoke lifestyle.
The good news for waist training aficionados is that there is a massive market for ready-to-wear corsets that can be just as good as custom if you're careful with measurements and seasoning.  Here are a few reasons why you should explore this convenient and affordable alternative to custom corsetry.
Cash Money
For those watching their finances, there's no bigger difference between bespoke and ready-to-wear than the price.  Whereas a ready-to-wear corset could set you back a mere hundred bucks (or run as high as $200-300, depending on the brand, materials, and complexity of design), a custom corset starts around $500 and can go up quite a bit from there, depending on the options you choose.
If you're going to enter the world of custom corsetry, you should be in a position to say that cost is not a factor, because you could end up shelling out over a grand for custom, couture corsetry.  Most of us operate on a budget, and getting the right ready-to-wear corsets can deliver desired waist training tools and gorgeous garments without breaking the bank.
Convenience
When it comes to instant gratification, custom corsetry cannot compete with off-the-rack garments, which are readily available in stores and online.  Custom corsets not only require you to send in precise measurements, but there could also be rounds of fittings during construction to ensure a truly one-of-a-kind fit.
Purchasing a custom corset means waiting roughly 8-12 weeks to get your garment, and it could be longer if you're not getting your corset locally and you want to have muslin sent for the most accurate fitting.  If you don't want to wait 2-3 months or more to start your waist training journey, you really can't beat ready-to-wear.
The Vast Variety of Ready-to-Wear Corsets
It's true that you can get exactly what you want when you order a custom corset, but there are so many options for ready-to-wear corsets these days that you may find plenty to love, and even some options that you didn't know were possible.  Whether you're looking for over- or underbust options, waspies or longlines, leather or brocade, or different lacing options, for example, you'll have no trouble locating tons of options to satisfy your longing for variety.
The revival of corsetry, not only as an undergarment, but as a visible style choice when worn in lieu of a traditional top, under a jacket, or over a blouse or a dress, for example, has led to an increasing number of brands, models, and features.  As a result, modern corset lovers have no end of options to suit their sizing and styling needs.
Try Before You Buy!
The one caveat with ready-to-wear corsets is that you may have to try on several before you find the fit that's right for your body, your style, and your waist training goals.  A bespoke corset is made to fit every curve (at a cost), but that doesn't mean you can't find suitable off-the-rack corsets that do the job just as well.  It just takes a bit of trial and error.
There's a common misconception in the corset world that because ready-made corsets come in standard sizes, they don't really fit anyone perfectly.  This simply isn't true.  By trying a variety of corsets in different sizes, lengths, springs, and so on, you'll figure out which features are the best fit, and from there you can buy the best ready-to-wear corsets at a fraction of the cost of bespoke.  It's a win both physically and financially that you can feel great about.
---
Stay up-to-date with weekly blog posts, waist training tips, and the chance to win one of our monthly corset giveaways, like us on Facebook & subscribe to our mailing list today! Want to find the perfect steel boned corset? Shop some of our favorites: underbust corsets, overbust corsets, corset dresses. You can also shop our corsets by material: cotton corsets, denim corsets, leather corsets, mesh corsets, pvc corsets, and satin corsets.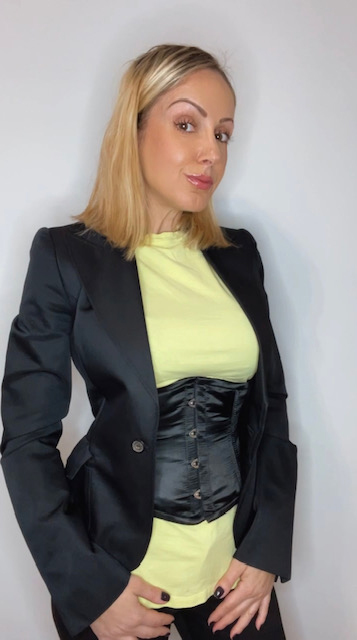 My name is Rachel, I am the owner of Glamorous Corset, a small business founded by me in 2010. Back In 2005, I was in a car accident that left me with a herniated disk. Much to my surprise I learned steel boned corsets were beneficial to several medical injuries including mine. I was always intrigued with corsetry, their history and their beautiful aesthetic. I love sharing knowledge about corsets, educating my wonderful readers and breaking the negative stigma related to corsetry. In combination with my years of research and personal experience I hope my articles are useful and can help anyone who has struggled with some of the same things I have. More about me…