Burlesque has many connotations as an art form.
Traditionally, it has been seen as low-brow entertainment, but in recent years, burlesque has enjoyed a resurgence, not only as a form of stylized theatrical performance, but as a fashion choice.
What's truly surprising is how features of the style have not only become a valid form of personal expression, but have entered the realm of haute couture.
One of the most notable adoptions into modern fashion from the burlesque style is the use of corsetry, which celebrities ranging from Rihanna and Selena Gomez, to Charlize Theron and Victoria Beckham have popularized in recent years.
In truth, the list of celebs adding burlesque corset styling to their wardrobes goes on and on (Kardashians, Hadids, and many more).
As an average woman, not a celebrity with a paid stylist planning your wardrobe, you might not think you could pull off styling a burlesque corset.
However, with just a few tips and tricks you can take this look from boudoir to boardroom with very little fuss.
Here's how
Styling a Burlesque Corset as Lingerie
Corsetry has traditionally been used as shapewear and lingerie, which means you can either hide it under clothing to accentuate your waist and make you look divine in any outfit, or you can wear it sans clothing for your own private pleasure or as a means of spicing up your love life.
Of course, you probably don't want to wear it alone.
There are several pieces that can accentuate a burlesque corset, which is meant to encompass a fun, flirty attitude, as well as over-the-top styling particular to cabarets.
This is no time to opt for simple, black panties.  Instead, consider choosing a frilly pair with layers of ruffles on the sides or back.
Since you won't be wearing anything over them, you don't have to worry about bulk under your jeans or skirt.
You'll definitely want to add some thigh-high stockings, as well.
This staple of the burlesque style can be sheer, fishnet, patterned, or if you want to go with a classic, accentuated by a seam running up the back of the leg.
Think about adding a garter belt to secure your stockings if your corset doesn't include garters.  Add a feathered boa to your burlesque corset styling and you're ready to sashay your way into a saucy tryst.
Burlesque Corset Styling for Fashion – Foundations and Accent Pieces
There's so much more to modern corsets than provocative boudoir attire.
What if you want to wear your corset as part of your ensemble instead of hiding it away under clothing? With the right styling, your corsets can be the star of every outfit.
Wearing an overbust model with a pencil skirt and an open jacket will give you that sexy secretary vibe, but if you're looking for everyday appeal, you might opt for skinny jeans and a jacket instead.
Pop a plain oxford button-down underneath and pair with some wide-leg slacks for a totally office appropriate ensemble.
Or get your club look on point with an overbust corset, satin joggers, and stiletto heels.
Accessorize with a chunky necklace and a glittery clutch for a chic, easy style that all of your friends will want to steal.
You can also use underbust models and waspies in place of a belt, pairing them with blouses, tees, and dresses to cinch the waist and add polish to literally any outfit.
There's just no end to the potential for styling a burlesque corset.
All you have to do is experiment with different corsets and ensembles to find the match-ups that perfectly define your personal style, helping you to look and feel your best in every outfit.
---
Stay up-to-date with weekly blog posts, waist training tips, and the chance to win one of our monthly corset giveaways, like us on Facebook & subscribe to our mailing list today! Want to find the perfect steel boned corset? Shop some of our favorites: underbust corsets, overbust corsets, corset dresses. You can also shop our corsets by material: cotton corsets, denim corsets, leather corsets, mesh corsets, pvc corsets, and satin corsets.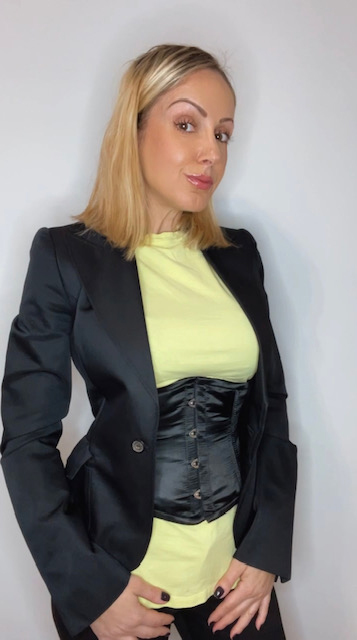 My name is Rachel, I am the owner of Glamorous Corset, a small business founded by me in 2010. Back In 2005, I was in a car accident that left me with a herniated disk. Much to my surprise I learned steel boned corsets were beneficial to several medical injuries including mine. I was always intrigued with corsetry, their history and their beautiful aesthetic. I love sharing knowledge about corsets, educating my wonderful readers and breaking the negative stigma related to corsetry. In combination with my years of research and personal experience I hope my articles are useful and can help anyone who has struggled with some of the same things I have. More about me…